Knowledge, Attitude, and Practices Regarding Menopause Among Elderly Women Attending Tertiary Health Care Centers in Lahore, Pakistan
Menopause Among Elderly Women
Keywords:
Menopause, Weight Gain, Dietary Modification
Abstract
Menopause is a stage in life in which female periods are stopped, as it is a normal part of ending of your fertile, reproductive years. Objective: To assess the knowledge, attitude and practices regarding menopause among elderly women of Lahore. Methods: A cross sectional study was conducted in the Tertiary Health Care Centers in Lahore, Pakistan. Data were collected by non-probability convenient sampling technique. Inclusion criteria includes all females age between 45 to 60 and above. Whereas the exclusion criteria include non-cooperative individuals, women on any drug therapy. After taking informed written consent, data were collected by using self-structured questionnaire. Results: According to the study, 70% women had prior knowledge of menopause. 60% believe menopause is life-altering. Additionally, 67% believe menopause causes weight gain, 67% believe that food changes assist manage menopause. In addition, 65% practice the lifestyle changes help managing menopause. 44% had mild hot flashes and sweating episodes, 23% had severe symptoms, 45% of women had mild sleep issues. 36% were suffering from mild depression, and 30% had no symptoms.  In 29% women had osteoporosis, 46% women have joint pain 25% of women made dietary modification for menopause. Conclusions:  The majority of women were aware of menopause and its symptoms because they were educated, but they did not live a healthy lifestyle that included dietary practices and physical activities such as yoga and exercise. Providing menopause management could be a strategy to encourage successful menopausal transition in middle-aged women
References
AlQuaiz AM, Tayel SA, Habiba FA. Assessment of symptoms of menopause and their severity among Saudi women in Riyadh. Annals of Saudi Medicine. 2013 Jan; 33(1): 63-7. doi: 10.5144/0256-4947.2013.63.
Santoro N, Roeca C, Peters BA, Neal-Perry G. The menopause transition: signs, symptoms, and management options. The Journal of Clinical Endocrinology & Metabolism. 2021 Jan; 106(1): 1-5. doi: 10.1210/clinem/dgaa764.
Pajalić Z and Raboteg-Šarić Z. Determinants of menopause-related symptoms in women during the transition to menopause and the postmenopausal period–a systematic literature review. Journal of Health Sciences. 2020 Apr; 10(1): 1-33. doi: 10.17532/jhsci.2020.885.
Jungari SB and Chauhan BG. Prevalence and determinants of premature menopause among indian women: issues and challenges ahead. Health & Social Work. 2017 May; 42(2): 79-86. doi: 10.1093/hsw/hlx010.
Monteleone P, Mascagni G, Giannini A, Genazzani AR, Simoncini T. Symptoms of menopause—global prevalence, physiology and implications. Nature Reviews Endocrinology. 2018 Apr; 14(4): 199-215. doi: 10.1038/nrendo.2017.180.
El Hajj A, Wardy N, Haidar S, Bourgi D, Haddad ME, Chammas DE, et al. Menopausal symptoms, physical activity level and quality of life of women living in the Mediterranean region. PloS one. 2020 Mar; 15(3): e0230515. doi: 10.1371/journal.pone.0230515.
Kalhan M, Singhania K, Choudhary P, Verma S, Kaushal P, Singh T. Prevalence of menopausal symptoms and its effect on quality of life among rural middle-aged women (40–60 Years) of Haryana, India. International Journal of Applied and Basic Medical Research. 2020 Jul; 10(3): 183. doi: 10.4103/ijabmr.IJABMR_428_19.
Ilankoon IM, Samarasinghe K, Elgán C. Menopause is a natural stage of aging: a qualitative study. BMC Women's Health. 2021 Dec; 21: 1-9. doi: 10.1186/s12905-020-01164-6.
Yadav V, Jain A, Dabar D, Goel AD, Sood A, Joshi A, et al. A meta-analysis on the prevalence of depression in perimenopausal and postmenopausal women in India. Asian Journal of Psychiatry. 2021 Mar; 57: 102581. doi: 10.1016/j.ajp.2021.102581.
Sharma S and Mahajan N. Menopausal symptoms and its effect on quality of life in urban versus rural women: A cross-sectional study. Journal of Mid-Life Health. 2015 Jan; 6(1): 16. doi: 10.4103/0976-7800.153606.
Zhang L, Ruan X, Cui Y, Gu M, Mueck AO. Menopausal symptoms and associated social and environmental factors in midlife Chinese women. Clinical Interventions in Aging. 2020 Nov; 15: 2195-208. doi: 10.2147/CIA.S278976.
Shahzad D, Thakur AA, Kidwai S, Shaikh HO, AlSuwaidi AO, AlOtaibi AF, et al. Women's knowledge and awareness on menopause symptoms and its treatment options remains inadequate: a report from the United Arab Emirates. Menopause. 2021 Aug; 28(8): 918-27. doi: 10.1097/GME.0000000000001783.
Geukes M, Oosterhof H, van Aalst MP, Anema JR. Attitude, confidence and social norm of Dutch occupational physicians regarding menopause in a work context. Maturitas. 2020 Sep; 139: 27-32. doi: 10.1016/j.maturitas.2020.05.015.
Simkin-Silverman LR and Wing RR. Weight gain during menopause: is it inevitable or can it be prevented? Postgraduate medicine. 2000 Sep; 108(3): 47-56. doi: 10.3810/pgm.2000.09.1.1204.
Wing RR, Matthews KA, Kuller LH, Meilahn EN, Plantinga PL. Weight gain at the time of menopause. Archives of Internal Medicine. 1991 Jan; 151(1): 97-102. doi: 10.1001/archinte.151.1.97.
Alshogran OY, Mahmoud FM, Alkhatatbeh MJ. Knowledge and awareness toward menopause and hormone therapy among premenopausal women in Jordan. Climacteric. 2021 Mar; 24(2): 171-8. doi: 10.1080/13697137.2020.1813099.
İkiişik H, Turan G, Kutay F, Karamanli DC, Gülen E, Özdemir E, et al. Awareness of menopause and strategies to cope with menopausal symptoms of the women aged between 40 and 65 who consulted to a tertiary care hospital. ESTÜDAM Halk Sağlığı Dergisi. 2020 Jan; 5(1): 10-21. doi: 10.35232/estudamhsd.632194.
Moilanen JM, Aalto AM, Raitanen J, Hemminki E, Aro AR, Luoto R. Physical activity and change in quality of life during menopause-an 8-year follow-up study. Health and Quality of Life Outcomes. 2012 Dec; 10: 1-7. doi: 10.1186/1477-7525-10-8.
Reed SD, Ludman EJ, Newton KM, Grothaus LC, LaCroix AZ, Nekhlyudov L, et al. Depressive symptoms and menopausal burden in the midlife. Maturitas. 2009 Mar; 62(3): 306-10. doi: 10.1016/j.maturitas.2009.01.002.
Guidozzi F. Sleep and sleep disorders in menopausal women. Climacteric. 2013 Apr; 16(2): 214-9. doi: 10.3109/13697137.2012.753873.
Ameratunga D, Goldin J, Hickey M. Sleep disturbance in menopause. Internal Medicine Journal. 2012 Jul; 42(7): 742-7. doi: 10.1111/j.1445-5994.2012.02723.x.
Jehan S, Masters-Isarilov A, Salifu I, Zizi F, Jean-Louis G, Pandi-Perumal SR, Gupta R, Brzezinski A, McFarlane SI. Sleep disorders in postmenopausal women. Journal of Sleep Disorders & Therapy. 2015 Aug; 4(5): 212.
Duval K, Prud'Homme D, Rabasa-Lhoret R, Strychar I, Brochu M, Lavoie JM, et al. Effects of the menopausal transition on dietary intake and appetite: a MONET Group Study. European Journal of Clinical Nutrition. 2014 Feb; 68(2): 271-6. doi: 10.1038/ejcn.2013.171.
Freeman EW. Associations of depression with the transition to menopause. Menopause. 2010 Jul; 17(4): 823-7. doi: 10.1097/gme.0b013e3181db9f8b.
Shaikh S, Noor FA, Azli S, Sajjad S. Hypothyroidism screening in menopausal women. Pakistan Journal of Medical Health Sciences. 2017 Jan; 11: 14-7.
Borji S and Nasri H. An update on prevention and treatment of osteoporosis. Journal of Parathyroid Disease. 2017 Mar; 5(2): 28-31. doi: 10.15171/jpd.2017.01.
Al-Safi ZA and Polotsky AJ. Obesity and menopause. Best Practice & Research Clinical Obstetrics & Gynaecology. 2015 May; 29(4): 548-53. doi: 10.1016/j.bpobgyn.2014.12.002.
Kozakowski J, Gietka-Czernel M, Leszczyńska D, Majos A. Obesity in menopause–our negligence or an unfortunate inevitability? Menopause Review/Przegląd Menopauzalny. 2017 Jun; 16(2): 61-5. doi: 10.5114/pm.2017.68594.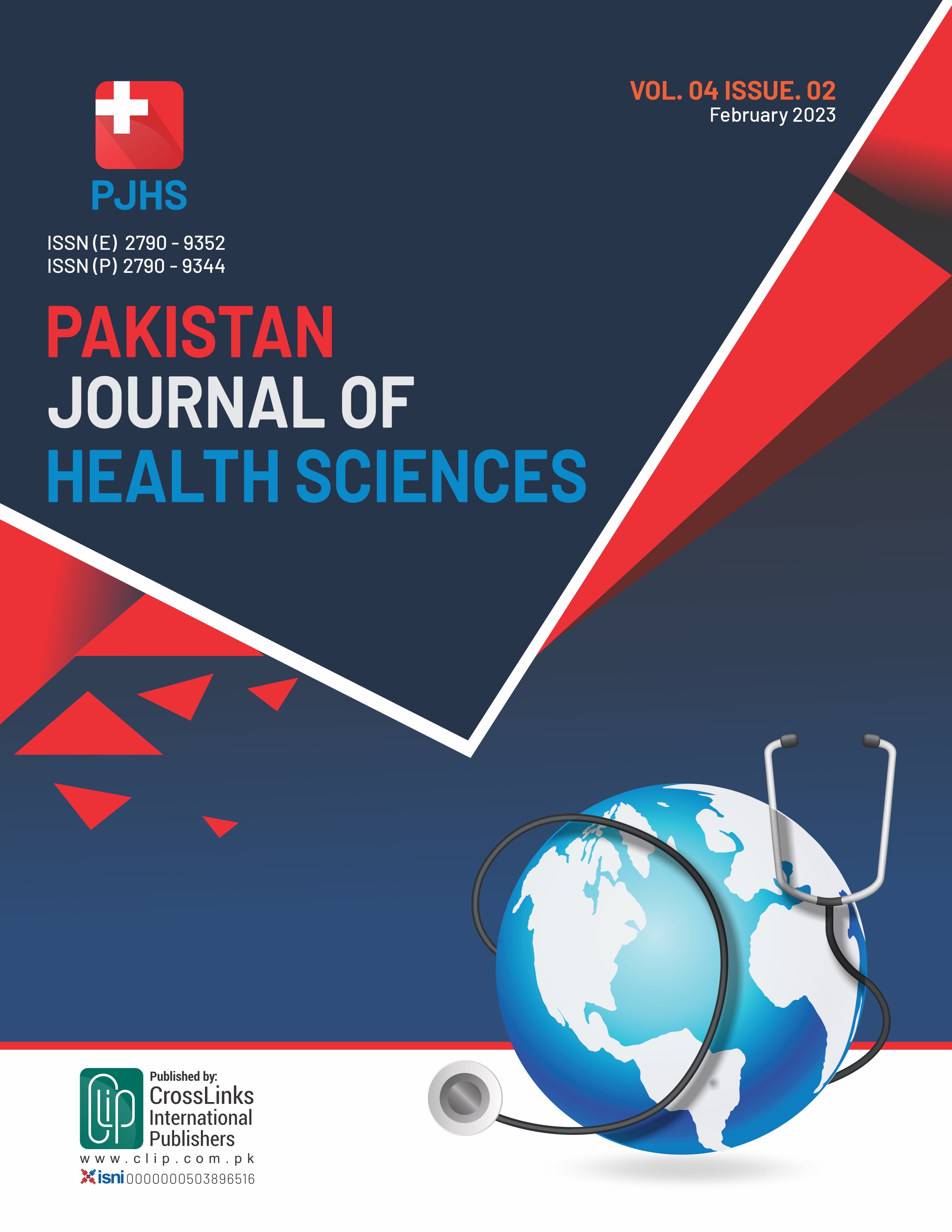 Downloads
How to Cite
Bin Waqar, M. ., Noreen, S. ., Rizwan, B. ., Khan, A., Bashir, I. ., Tanveer, R., Akram, T. ., Tariq, M. ., Khalid, I. ., & Asif, M. . (2023). Knowledge, Attitude, and Practices Regarding Menopause Among Elderly Women Attending Tertiary Health Care Centers in Lahore, Pakistan: Menopause Among Elderly Women. Pakistan Journal of Health Sciences, 4(02), 12–17. https://doi.org/10.54393/pjhs.v4i02.151
License
Copyright (c) 2023 Pakistan Journal of Health Sciences
This work is licensed under a Creative Commons Attribution 4.0 International License.
This is an open-access journal and all the published articles / items are distributed under the terms of the Creative Commons Attribution License, which permits unrestricted use, distribution, and reproduction in any medium, provided the original author and source are credited. For comments