Policies & Guidelines
Double Blind Peer Review Process & Editorial Process
Publication Frequency
Open Access Policy
Archiving
Crossmark Policy Statement
Publication Ethics and Policy Guidelines
Plagiarism Policy
Repository Policy
Data Sharing Policy
Advertisement Policy
Appeals Process
Complaint Process
Authorship Criteria
1.DOUBLE BLIND PEER REVIEW PROCESS & EDITORIAL PROCESS
This Policy is applicable to all publications submitted to the research journals of the Lahore Medical Research Center and operates a double-blind peer review process. All the submitted manuscripts undergo an initial evaluation (1-2 days) which includes assessment of the scope of the article along with its originality. Upon receiving a satisfactory report, the manuscript is sent to two reviewers for a peer review. The experts/reviewers in the field are given a time of 1 week to make decisions accordingly. In case of major/minor revisions, the manuscript is returned to authors for further amendments and its resubmission in a period of 3 days (The duration is further extended on special requests by authors). The revised manuscript is then again reviewed by the reviewers with a final decision of the editor to get it accepted or rejected which takes up to 2 days. The manuscript upon acceptance is preceded for final copy editing, English editing, proof reading with the confirmation of article processing charges meanwhile. The final version of the manuscript is published within 3 days after the acceptance. The entire publication process completes in a range of 15-20 days. In case of conflict of interest regarding a specific manuscript, a member of the Editorial Board will be assigned to assume responsibility for overseeing peer review. Reviewers will be treated anonymously and the pre-publication history of each article will not be made available online. Intentionally falsifying information, for example, authors or reviewers with a false name or email address, will result in rejection of the manuscript and may lead to penalty according to misconduct policy. Guest editorial submitted by authors is reviewed internally by Editor-in-Chief or Editor and is then sent externally to another guest editor for final verdict.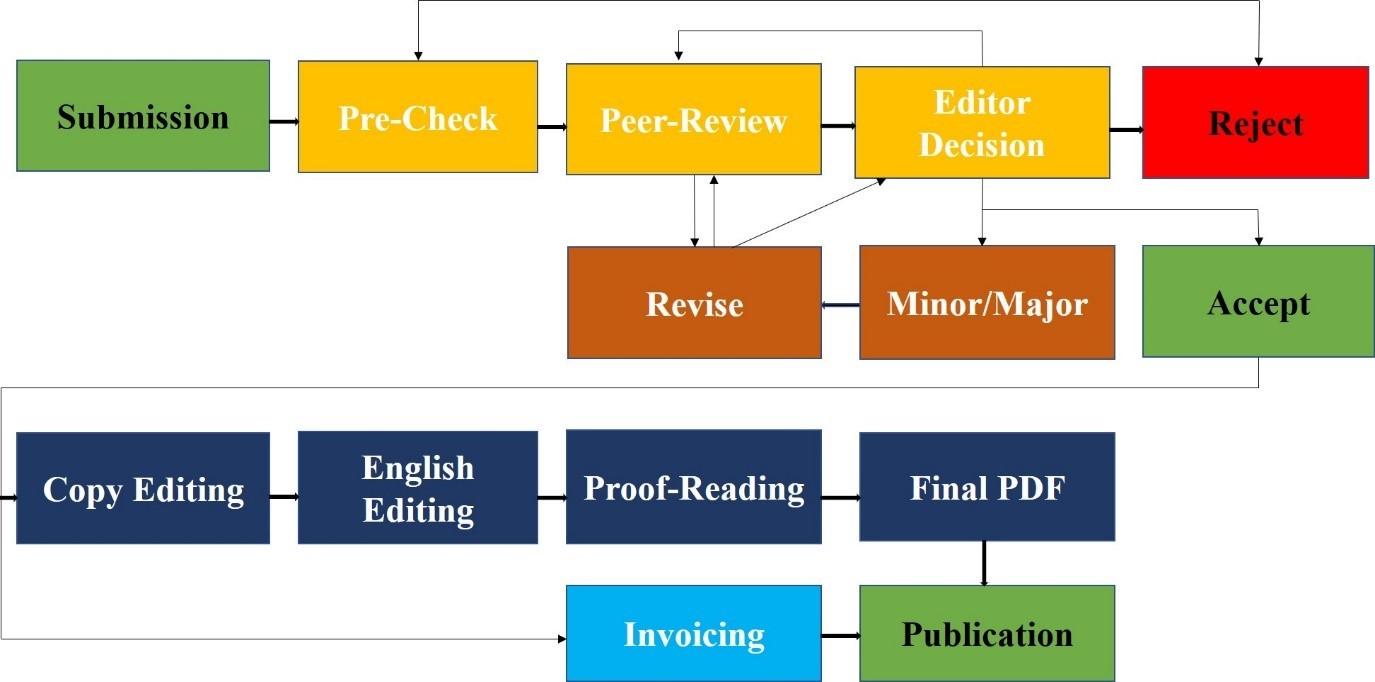 PUBLICATION FREQUENCY
Monthly
OPEN ACCESS POLICY
All articles in PJHS are open access and freely available online. The journal's contents are released under the Creative Commons Attribution licence, which allows for unrestricted use, distribution, and reproduction in any medium as long as the original authors and source are cited.
ARCHIVING
Long-term preservation and archiving (LPTA) of data ensures that the journal's data is backed up in a network of libraries created by a dedicated digital archiving and preservation service. PJHS employs PKP Private's LOCKSS network to create a file distributed among the participated libraries, allowing these libraries to create permanent files of the journal with goals to preserve and restore the digital data. Other than that, a separate doi has been assigned to each article.
CROSSMARK POLICY STATEMENT
DOI: 10.54393/pjhs/crossmark
All articles published in Pakistan Journal of Health Sciences (PJHS) receive a DOI and are permanently published. This applies regardless of the outcome of the peer review that follows after publication.
Authors can revise, change and update their articles by publishing new versions, which are added to the article's history; however, the individual versions, once published, cannot be altered or withdrawn and are permanently available on the Pakistan Journal of Health Sciences (PJHS) website. Pakistan Journal of Health Sciences (PJHS) participates in the CrossMark scheme, a multi-publisher initiative that has developed a standard way for readers to locate the current version of an article. By applying the CrossMark policies, Pakistan Journal of Health Sciences (PJHS) is committed to maintaining the content it publishes and to alerting readers to changes if and when they occur.
Addendum
If critical results were accidentally omitted from the original publication, an Addendum may be submitted to include the missing information. This Addendum will be published in the current issue of the journal and hyperlinked to the original publication, without requiring an update to the original paper.
Erratum
An Erratum should be published for scientifically relevant formatting changes or errors in the author or contributor list. Minor errors, such as spelling or grammatical mistakes that do not impact the meaning or readability of the article, do not qualify for an Erratum. All authors should carefully proofread the final version of their manuscript.
Corrections
If an author wishes to change their name following publication, they can contact the Editorial Office with their request. PJHS will update and republish the article, with updated metadata provided to indexing services. An Erratum will not be published to protect author identity, and co-authors will not be notified.
Corrections should be submitted for scientifically relevant errors in published articles. Any changes may be evaluated by the academic editors. Any changes that affect the scientific interpretation, such as correcting a misleading portion of a reliable publication, adding missing method details, or errors in data that do not affect conclusions, will be announced using a separate publication called a Correction. The original paper will be updated, and a note will be added to the Article Versions Notes and the abstract page to inform readers of the updated version.
Retractions
Retractions are necessary in cases where articles pose a threat to the integrity of scientific records, such as inadvertent errors, ethical breaches, data fabrication, or plagiarism. PJHS follows the recommendations of the Committee on Publication Ethics (COPE) for retraction. The Editorial Office investigates potential retractions, with support from the Editorial Board and final approval from the Editor-in-Chief. The article will be amended with a "RETRACTED" watermark but will remain available on the journal's website. Retracted articles should not be cited or used for future research. Retractions are published as a separate item in the current issue of the journal, with the same authorship and affiliation as the original article, and page numbers added. Partial retractions may be published in cases where only some results are incorrect. Complete removal of an article is a rare occurrence, reserved only for cases where leaving it online would be illegal or cause significant harm.
PUBLICATION ETHICS AND POLICY GUIDELINES
AUTHORSHIP DISPUTES
Acknowledgements
This journal advocates acknowledging contributions to a scientific work where authorship is not claimed. All additional individuals who contributed to the study and are not a part of authorship should be credited, and their contributions should be detailed, according to ICMJE criteria. All authors must reserve the right to know their contributions were acknowledged along with the technical assistance, data gathering assistance, writing assistance and services offered from departmental head. Support in terms of funding and access to scientific instrumentation should also acknowledged.
Number and order of authors
The number of authors is not limited, although it shouldn't be substantially higher than the amount of work produced. The contribution to the work should determine the rank of the authors. All authors should concur on the number and arrangement.
Principal and corresponding authors
Author with the most significant contribution should be ranked as the principal/first author. First author or the primary author should be the person who contributed the most. The principal author may, with the consent of all authors, either be the corresponding author himself or nominate another author for it.
Informed consent & maintaining the confidentiality of research participants
Before including case specifics, other personal information, or images of patients and other persons in their work, writers must first obtain the relevant authorization forms, permits, and releases in order to be in compliance with the country's or region's data protection and privacy laws.
Each participant who appears in any video, audio, photograph, image, illustration, case report, or other form in which they can be identified, or who is the person's legal guardian, or another person with legal authority to act on their behalf, is informed beforehand that such photographs are being taken or such video, recording, photograph, image, illustration, or report is being made and of all the purposes for which they might be used, including disclosure. That person, their legal guardian, or another person in a position of authority must express their written consent in order for it to be accepted.
The written consent must abide by all applicable privacy and data protection laws in its entirety. When minors are involved (especially those with special needs or learning difficulties), when an individual's head or face appears, or while the individual's name or other personal information is mentioned, extra caution should be given when acquiring consent.
In the instance of a child, consent should be regarded not to have been provided and those photographs should not be disseminated if the child's parents or legal guardians disagree with the use of those images. To decrease the probability of images being used improperly, it is also crucial to make sure that only pictures of child wearing appropriate clothing are displayed.
Even if permission has been granted, care must be taken to ensure that the person being depicted and captioned are courteous and cannot be seen as disparaging that person.
In order to publish a manuscript, authors must persuade the editors that "informed consent to participate" was obtained from all adult subjects or from the parents or guardians of any minor subjects.
Names, initials, hospital or social security numbers, dates of birth, or other personal or identifiable information should not be used for patients or research participants.
Images of patients or research subjects should not be used for publication unless it is absolutely necessary for the scientific investigation and the patient (or parent/guardian) has given written, informed consent. Identifying information ought to be omitted if it is unnecessary, even when consent has been given. Editors may request to submit the written consent.
In cases where there is any ambiguity regarding anonymity, informed consent is required.
The authors must make sure that the editors do not misrepresent the scientific meaning while choosing the themes.
For the use of completely anonymized images from which the individual cannot be identified, such as X-rays, ultrasound images, pathology slides, or laparoscopic images, formal consent is not necessary so long as the images are free of any identifying marks and are not accompanied by text that could place the individual at risk of being identified.
It is typically insufficient to anonymize a photo simply by adding eye bars or obscuring the subject's face if authorization has not been obtained.
The CARE case report writing guidelines should be followed by authors.
Conflicts of interest/ Grant support and financial disclosure
Any conflicts of interest including financial or personal ties to other people, businesses, or organizations that can improperly affect (bias) their work must be disclosed by all authors.
Financial conflicts include, but are not limited to, work-related consultancy, stock ownership, honoraria, expert testimony that was paid for, patents or patent applications, and travel grants; all of which started within three years of the work that was submitted.
Authors should declare no conflict of interest.
Authors of studies who have received funding from an organization are required to sign a statement attesting to their full access to all the study's data and their full responsibility for the validity of the data they gathered and the reliability of their data analysis. This declaration must be included with the manuscript.
A further obligation for reviewers is to disclose any conflicts they may have with the work they are assigned to assess.
This journal publishes conflicts of interest/ grant support and financial disclosure along with all published items.
PROTECTION OF RESEARCH PARTICIPANTS
Approval of Ethical Committee/ Use of humans and animals/ Helsinki Declaration
We presume that the authors believe in the culture of responsible research.
In order to uphold the fundamental principles of research objectivity, honesty, openness, fairness, accountability, and stewardship we encourage research integrity.
We support the fundamental principles of the COPE standards and handle any alleged conduct in accordance with them.
At the time the article is submitted, the ethical approval certificate for any research involving individuals or animals must be provided.
The most recent version of the Helsinki Declaration must be used and noted when reporting studies involving human participants.
For medical research involving human subjects, we abide by the ICMJE Recommendations on protection of research participants and the Declaration of Helsinki-related ethical principles of the World Medical Association (WMA)
If there is any question about whether the study was carried out in line with the Helsinki Declaration, the authors must justify their strategy and show that the institutional review board specifically accepted any questionable components of the trial.
The WMA declaration on animal use in biomedical research, the consensus author guidelines on animal ethics and welfare from the International Association of Veterinary Editors, and the guide for the care and use of laboratory animals should all be followed by authors.
Authors must certify in writing that all legal and ethical regulations for the human treatment of the animals used in the study have been complied with.
The relevant steps used to reduce pain or discomfort should be noted in the Methods (experimental methods) section, and information regarding animal care should be included.
This journal suggests the following 3Rs principal for using people and animals in research.
Replacement: approaches, which avoid or replace the use of animals.
Reduction: approaches, which minimize the number of animals used per experiment.
Refinement: approaches which minimize animal suffering and improve welfare.
Research Ethics Policies for Studies Involving Clinical Trials (CT) Registration
This policy aligns with the criteria set forth by the International Committee of Medical Journal Editors (ICMJE). The ICMJE defines a clinical trial as a research project that assigns human subjects to intervention or comparison groups in a prospective manner to investigate the causal relationship between a medical intervention and a health outcome. Studies with different objectives, such as examining pharmacokinetics or significant toxicity (e.g., phase 1 trials), would be exempt from this definition.
While the ICMJE doesn't endorse a specific registry, authors submitting to the Pakistan Journal of Health Sciences are required to register their trials in an international trial registry system that meets specific criteria.
This registry should be accessible to the public without any charges, open to all potential registrants, and managed by an established organization.
It is essential for the registration data to be validated, and the registry itself should be searchable electronically.
A comprehensive registry should encompass the following details at a minimum: a unique identification number, a description of the interventions and comparisons under study, the study hypothesis, definitions of primary and secondary outcome measures, eligibility criteria, crucial trial dates (registration, anticipated or actual start, last follow-up, closure to data entry, and completion date), the expected number of participants, funding source, and contact information for the principal investigator.
Registration is just one facet of achieving complete transparency regarding the execution and reporting of clinical trials.
Participants who volunteer for clinical trials should be informed that their valuable contribution to advancing human health will be accessible to guide healthcare decisions. The collective generosity of these individuals should result in knowledge that's accessible to everyone. Mandatory trial registration serves as a step toward this objective. The Clinical Trial Registration number must be included in the manuscript and clearly stated.
PLAGIARISM POLICY
Plagiarism is the presenting of another author's language, text, thoughts, ideas, or expressions as one's own unique work. Self-plagiarism is also included, which includes duplicate/redundant publication, content recycling, and salami slicing. PJHS adheres to the COPE, ICMJE, and HEC (Higher Education Commission) of Pakistan recommendations, norms, and policies on plagiarism. PJHS uses TURNITIN to check the similarity index, and notifications are sent to the authors if it is greater than 50%. If it is greater than 50%, it will be rejected without further inspection or processing. For authenticity, the Higher Education Commission (HEC) of Pakistan needs a similarity of less than 20%. If the authors have already checked the paper with the same software, they can submit the similarity report as a supplementary file. Plagiarism is considered academic dishonesty. If it is proven after the article has been published, it will be retracted, the authors may be permanently or temporarily blocked, and the parent institution may be notified for departmental proceedings against the author. If it is proven before publication, the present work will be rejected, and the authors may be prohibited from submitting to this journal for one or more years.
REPOSITROY POLICY
Authors are permitted to deposit all versions of their paper in an institutional or subject repository:
1. Preprint
2. Author's Accepted Manuscript
3. Version of Record
No embargo is applied.
DATA SHARING POLICY
Authors can submit their data in any public repository and share the information or link under this section at the end of the manuscript.
ADVERTISEMENT POLICY
All advertisements are subject to the approval of the PJHS Management, which reserves the right to reject or cancel any ad at any time.
All advertisements are accepted and published by PJHS on the warranty of the agency and advertiser that both are authorized to publish the entire contents and subject matter of the advertisement.
In consideration of publication of an advertisement, the advertiser and the agency, jointly and severally, agree to indemnify and hold harmless Publisher, its officers, agents and employees against expenses (including legal fees) and losses resulting from the publication of the contents of the advertisement, including, without limitation, claims or suits for libel, violation of privacy, copyright infringement, or plagiarism.
PJHS will not be liable for any failure to publish any advertisement accepted by PJHS; however, PJHS shall use its reasonable efforts to place such advertisement in subsequent available space.
All advertisements must clearly and prominently identify the advertiser by trademark or signature.
Any references to PJHS or its products or services in advertisements, promotional material, or merchandising by the advertiser or agency is subject to PJHS's written approval for such use.
All advertising contract position clauses are treated as requests. PJHS cannot guarantee fixed positioning.
PJHS is not responsible for incidental or consequential damage for errors in displaying or printing an ad.
PJHS may change the terms set forth herein at any time, provided that no such change applies to ads whose closing date precedes the announcement of the change.
PJHS will not be bound by any condition, printed or otherwise, appearing on any insertion order or copy instructions.
In the event of nonpayment, PJHS reserves the right to hold advertiser and/or its advertising agency jointly and severally liable for such monies as are past due and payable to PJHS.
Proprietary names of pharmaceutical products must be accompanied by the chemical, generic, or official name; the quantity of all active substances must be stated along with the recommended dosage. New ad copies and creative for pharmaceutical products should be sent to the advertising department. Please allow two weeks for clearance.
Advertiser represents and warrants that all advertisements and pharmaceutical products they advertise are compliant with all applicable laws, rules, and regulations in the country where the advertisement will be seen. Advertisements for pharmaceutical products must comply with Concerned Government Department regulations regarding advertising and promotion.
DIGITAL ADS: Any use of PJHS trademarks or copyrighted material for links to and from PJHS's website must be approved in advance by PJHS. Any unauthorized linking is prohibited. PJHS does not endorse or support any product or organization linked to its website, nor is PJHS responsible for the content of any website promoted in an ad. The use by advertiser or its agency of pixels, beacons, cookies, tracking tags, or similar technology in advertising creative for the purpose of collecting personally identifiable information is prohibited.
Digital Cancellation Policies
Advertiser may cancel the entire insertion Order, or any portion thereof, as follows:
RUN-OF-SITE BANNER PROGRAMS
On written notice to the PJHS, advertiser may cancel all, or a portion of the campaign, without penalty 21 days or more before the campaign start date. For cancellations made within 21 days of the start date, the advertiser will be responsible for 50% of the campaign amount that was reserved for delivery.
FLAT FEE-BASED, SOV-BASED, OR FIXED PLACEMENT PROGRAMS
On written notice to the Publisher, advertiser may cancel all, or a portion of the campaign, without penalty 30 days or more before the start date of the campaign. For cancellations made 30 to 15 days before the start date, advertiser will be responsible for 50% of the campaign amount that was reserved for delivery. For cancellations made within 14 days of the start date, advertiser will be responsible for 100% of the campaign amount that was reserved for delivery.
APPEALS PROCESS
The readers, authors, reviewers or any other person may submit a formal appeal through official email (editor@thejas.com.pk) of the journal regarding any problem, including but not limited to any conflict, delays in review or publishing or article processing charges or rejection of manuscripts to the Chief Editor. The case will be referred for examination/ investigation to the Appeals Committee of the Editorial Board/ Advisory Board to give recommendations to the Board for decision. The Committee is comprised of;
Dr. Asif Nadeem
Dr. Shahzad Anwar
Dr. Shahbaz Ahmad Zakki
COMPLAINTS PROCESS
Regarding any publication misconduct on the part of an author, a reviewer, or the Editor/Editorial Board, readers, writers, or any other person may send a written complaint to the Chief Editor using the journal's official email address (editor@thejas.com.pk). The Complaints Process Committee of the Editorial Board/Advisory Board will be asked to investigate the issue and make suggestions to the Board regarding its course of action. The Committee is comprised of;
Dr. Riffat Mehboob
Dr. Nasir Siddiqui
Dr. Tania Shakoori
AUTHORSHIP CRITERIA
PJHS follows the International Committee of Medical Journals Editor (ICMJE) guidelines for authorship criteria as "Defining the Role of Authors and Contributors"
Each author must have made enough contributions to the work to be considered an author, according to the principal author. One must fulfil all four of the following criteria for authorship, according to ICMJE rules.
Idea or creation
The gathering, examination, or interpretation of data
Writing and approval of the manuscript
Each author accepts responsibility for the entirety of the work, ensuring that any concerns about the veracity or integrity of any part of it are duly examined and addressed.
The mere arrangement of a research grant, the gathering of data, or general project management cannot justify authorship. Such actions could also be acknowledged in various ways. When submitting the work, the primary author must include the names of other authors in the proper order. Later additions of authors are not permitted. Contributions from authors will be published alongside the document. The editorial board will decide on any authorship disputes in accordance with ICMJE and COPE norms. The authors who assume primary responsibility for the manuscript should be identified when the study was carried out by a sizable, multi-center group. The above-described standards for authorship should be fully met by these. The corresponding author should explicitly identify all authors in a group author manuscript before submitting it. The acknowledgements section needs to list the other group members. After submission, changes to the authors' names or order are not permitted.
AUTHOR GUIDELINES
Submission of Manuscripts
Only original material in the manuscript will be considered for publication. Neither the manuscript nor essential substance of the manuscript should be submitted for publication elsewhere before appearing in this journal.
Online submission
On our website, the corresponding author must create an account or login to an existing account. Then he must complete a 5-step simple submission process. The manuscript must be blinded, with no indication of the authors' names, designations, departments, institutions, or towns. Author information should be included in metadata. If required, supplemental files such as data files, fee submission documents, and so on can be included.
Language
PJHS is published in English. Use of British English is preferred however American English can also be employed where convenient.
Writing Style and format
Please use Times New Roman, size 12, justified, with a line spacing of 1.0. Tables and illustrations (figure/ chart/ image) should be placed where specified, not at the conclusion of the document.
Submission Format According to the type of Manuscript
Review article: Maximum 3500 words excluding references.
Original article: Maximum 2500 words excluding structured abstract of 250 words and 20 references (minimum).
Case Report: Abstract; Introduction; Case Report; Discussion and Conclusion
Short Report: Abstract; Introduction; Patients Methods and Result; and Conclusion
Special Communication: Abstract; Introduction; Methods and Result; and Conclusion
Short Reports / Short Communications / Special Communications / Case reports: Maximum 1250 words excluding title page and an unstructured abstract of 150 words with no more than two tables or figures and 10 references. It should not be signed by more than six authors.
Letters to the Editor: Maximum 250 words if it is in reference to a recent journal article, or 400 words in all other cases. It must have no more than five references and one figure or table. It must not be signed by any more than three authors. Letters referring to a recent journal article must be received within four weeks of its publication.
Title of the manuscript
It must include the study's design, objectives, and variables. It should also include information about the characteristics and geographical location of the population of interest. Use of abbreviations should be avoided in title. Each manuscript should include five to ten key words. These should be included in the Medical Subject Headings (MeSH) of the United States National Library of Medicine, which may be found at: https://meshb.nlm.nih.gov/
Abbreviations
Only standard abbreviations should be used. For each abbreviation, the full term should be presented first, followed by the abbreviation in parenthesis. A well-known and widely used abbreviation may be used in this capacity.
Tables and Illustrations
There is no limit to the number of tables and illustrations (graphs/ charts/ images) that can be included. These should be in accordance with the manuscript's rational demand.
Each table and illustration should stand alone, displaying all of its contents/meanings without referring to the text.
Each table and illustration must have a legend below the table/illustration. The title of the table and picture should be a summary of the manuscript's tile.
Illustrations must be of high quality. Graphs and charts should be editable.
Where applicable, a legend should be included with the table or illustration.
If a table or illustration is taken from a published work, the source must be cited.
To reproduce a previously published illustration, the author must obtain permission from the author/publisher.
References
Vancouver style must be followed.
References should be numbered serially and given in digits within the text, as in standard medical journals.
Add authors. Give last/family/surname in full, then first letter of 1st and 2nd names as capital with no gap. Add six authors. In case of more than six authors, et al should be added after six authors.
Journal titles should be abbreviated as in Index Medicus/Medline/PubMed/NLM Catalogue. If not in Index Medicus, then it should be abbreviated as by the journal itself.
Add DOI where available; otherwise add online link.
Here is an example for a journal article: Ishaq T, Khattak MI, Amin S, Haq NU. Frequency and risk factors for hepatitis C among pregnant women. Gomal J Med Sci 2011; 9:166-9.
Units of Measurements
Please use Systems International (SI) units, where possible.
Drug Names
Generic names of drugs are preferred. Where essential the brand names can be given in parenthesis.
ORIGINAL ARTICLE
Abstract: Word count should be within 250. It may be up to 350 in exceptional cases. It should have the following sub-headings: Background, Material & Methods, Results, and Conclusion. Background includes 1-3 sentences regarding the introduction of your problem/s of interest and objective/s. Material & Methods include study design, duration, setting, population & sampling, and data collection (variables and their attributes and types) and analysis plans (descriptive, estimation of parameters and hypotheses testing). Conclusion is the summary of your results in simple words.
Text
The main part of the original research article should follow IMRAD; to have the following sub-headings: Introduction, Material and Methods, Results, AND Discussion & Conclusion.
INTRODUCTION
This section should have nearly all the following components.
Bring here data in quantities (numbers & figures) regarding all your variables of interest as per your objectives. It may include prevalence and/or incidence of the disease of interest/ under investigation, its distribution by socio-demographic factors, its various determinants or its treatment. Instead of prevalence, distribution, determinant and treatment of a disease, the researcher may determine any health related event in a population, like level/ concentration/ score of some anthropometric measure/ biochemical parameter, like weight, height, blood pressure (BP), random blood sugar (RBS) etc. Here bring the level/ concentration/ score of your parameters of interest. The data is collected from global populations/ studies, then regional, then national and lastly local populations/ studies. The manuscript should clearly sate research problem, knowledge gap, research question, research objective, hypothesis and significance of the study.
MATERIALS AND METHODS
This section should have nearly all the following components.
Design, setting & duration
Please mention the study design (cross-sectional/case-control/cohort/ trial) with name of the academic/ professional department and name of the academic/ professional institution with city and country. It shows ownership. Add duration of the study with day, month and year.
Technical approval from the institutional research board and ethical approval from institutional ethical committee & patients' consent.
Population & sampling
Research is a problem solving activity for a specified population; never for a sample. Please specify/ define your population by count, geographic location, socio-demographic and disease factors. Then tell how you calculated the sample size as required by the design of your study with formula/calculation or online calculator/software with reference/link. Then give sampling technique. Then give inclusion and exclusion criteria for one group or separately for each group in case of two or more groups.
Equipment, procedure, intervention and follow up
Please narrate here all the steps which you took from enrolment of a subject to its discharge from the study, including history, general & systemic examination, investigations and any intervention (health education, food, exercise, vaccine, drug, device, laser or surgery). Please give details of different equipment, instruments, appliances and tools used, giving the name, model, version, company name and its manufacturing city name in parenthesis.
Data collection plan
1. Data collection methods (physical procedures to collect data)
a. Literature survey (secondary data; the data of other researchers collected, mostly qualitative)
b. Questionnaire
c. Interview
d. Observation: clinical examination, laboratory & imaging tests, pre, per and post drug-treatment/ device-procedure/ operation notes/ findings as morbidities, disabilities, mortalities. (b, c and d give us primary & first hand data, the data which we generate ourselves from the sample, mostly quantitative). Tell which one or more methods of data collection are used by you.
2. Questionnaire is framed from literature. The data on research variables is collected by questionnaire. Qualities are transformed into quantities (qualitative variable/data to quantitative variable/data) as in Knowledge, Attitude & Practice (KAP) Surveys. It gives us quantitative data. Its reliability is pretested by a pilot study by selecting sample from a sample and is shown as Cronbach's alpha. It should be based on a 5-point Likert scale, with a range of 1-5 scores (strongly disagree, disagree, neutral, agree & strongly agree, respectively) respectively for each response. It includes respondent demographic. The questionnaire must not be on nominal or ordinal scale.
3. Questionnaire; To-do list
a. Items (questions) are extracted from literature (existing knowledge)
b. Designed as per list of variables, their attributes & their relationship as per theoretical framework
c. Items should be short & to the point
4. Avoid in framing a questionnaire; Not-to-do list
a. Double-Barrel items/questions (Qs)
b. Putting words in mouth of respondent (leading Qs)
c. Memory dependent Qs; should base on cash memory
d. Emotional loaded Qs (positive emotion=happiness, negative are anger, fear, sadness & hatreness)
e. Personal Qs (private, vary from culture to culture)
f. Technical Jargons
g. Too many
h. Too long
i. Negative Qs. I do not like computer. If negative are used, then reverse the scoring at analysis.
Name the demographic variables: gender, age in years, age groups, education level, residence, experience, income etc.
Name the research variables: pain in flank, category of pain in throat, level of knowledge, level of attitude, level of practice, weight in Kg, height in cm, volume in ml, RBS in mg/dL, T3 level in pcg/ml
7. In case of categorical (nominal or ordinal) variable, tell the attributes (categories/ groups) of the variable
a. Age grouping was; group 1 up to 50 years, group 2 more than 50 years in a study "prevalence of HTN in employees of a bank"
b. Age in years was categorized as; group 1= 40-49, group 2 = 50-59, group 3 = 60-69, group 4 = 70 and above years for a study "prevalence of DM in adult age shopkeepers"
c. The two attributes of residence were urban and rural
d. The five attributes of education level were: matric = group 1, graduation = group 2, masters = group 3, MPhil = group 4 and PhD = group 5
e. Level of knowledge, level of attitude and level of practice (KAP) were determined by a questionnaire based on 5-point Likert Scale. There were so many questions for each of the three KAP variables with a range of 1-5 scores (strongly disagree, disagree, neutral, agree & strongly agree, respectively) for each question.
Identify independent, dependent, confounding and matching variables, where required
9. Tell the data types (nominal/ordinal/interval/ratio); gender, residence and pain in flank were nominal data. Age groups, education level, and category of pain in throat were ordinal data. Age in years, level of knowledge, level of attitude, level of practice (all three on Likert Scale), pain score (on visual analogue pain scale-VAPS), weight in Kg, height in cm, volume in ml, RBS in mg/dL, T3 level in pcg/ml were interval/ ratio/ numeric/ continuous data.
10. Attach Performa and questionnaire. if any.
11. Mention which calculator or software was used for data analysis
Data analysis plan
Research is for a specified population; never for a sample. It is ideal to observe the entire population, but it is not feasible. Statistics as a discipline helps us in collecting data for a sample, analyze it for the sample (descriptive statistics; describe the sample) and then infer it on to the population from which it was drawn (inferential statistics; describe the population based on the data collected from the sample). Inferential statistics includes estimation of parameter and hypothesis testing.
Global literature is full of research articles which are restricted to sample, with no mention of the population. For us, it may be anything, but not research.
Our authors have to give analysis plan for all the three components of the statistical analysis. It is widely stated and widely accepted narrative that the cross-sectional studies don't require hypothesis. It is a miss-understanding. Cross-sectional studies do require hypothesis. There may be some one dozen cross-sectional studies, each with many hypotheses published in this journal from 2018 to 2021, regarding burden/ magnitude (prevalence/ distribution) of malaria, leishmaniasis, DS-TB, DR-TB etc.
Data analysis is simply a process of converting data (un-organized facts & figures) into information (organized facts & figures). Both qualitative and quantitative data are organized as per requirements of the topic and end users of the findings. When analyzed (organized), qualitative and quantitative facts and figures are mixed together to form a single piece of information or knowledge.
There are two types of analysis.
Qualitative analysis
Qualitative data includes text, picture, audio and video. This analysis is based on qualitative argumentation (not included here).
Quantitative analysis
Quantitative data includes nominal, ordinal, interval and ratio data. This analysis is based on statistical computations (included here).
Descriptive analysis
It is the analysis of data collected from the sample. Here each variable is described separately without talking about its difference between the groups or within the groups or its relationships to any other variable in the same population.
Categorical (nominal and ordinal data) is analyzed by count and percentage. Numeric (interval and ratio) is subjected to tests of normality; Skewness, kurtosis, Kolmogoro-Smirnov test & histogram. If it is distributed normally; then it is analyzed by mean, minimum, maximum, range and SD. If it is distributed not normally (skewed); then it is analyzed by median (quartile 2), quartile 1 (Q1), quartile 3 (Q3) and Inter Quartile Range (IQR=Q3-Q1).
Inferential analysis: Here the data for the sample is inferred on to population. It includes estimation of parameters and testing of hypotheses.
Estimation of parameters
Here an interval in constructed around a sample statistics to estimate a parameter i.e. mean or proportion for a population at certain level of confidence, usually 95%. It is represented as confidence interval of mean or proportion, both with lower and upper bounds.
The mean RBS of the sample (n=350) was 110 (95% CL, 105.5-114.5) mg/dL. The frequency (%age) of diabetes mellitus in the sample (n=300) was 45 (15%, 95% CL, 12.5-17.5).
RESULTS
Preparing the sample for analysis; number of subjects
1. Total number of participants/ respondents/ subjects/ cases/ patients/ controls/ animals/ specimens/ plants/ microorganisms enrolled/ included at inception/ start of the survey/ study/ trail
2. Group wise number of participants/ subjects/ cases/ patients/ controls at inception
3. Frequency (count) & percentage of responses of the respondents in case of questionnaire based survey
4. Mention if any subject died?
5. How many were dropped out & why? Mention different causes with numbers of subject separately i.e. due to which complications of the drugs/ devices/ laser/ surgical procedure etc.
6. How many were lost to follow up?
7. Mention the missing data at follow ups
8. The rest of the subjects are the actual size of the sample/s to be analyzed
2. Descriptive analysis: Please analyze and write here your findings as explained in data analysis plan.
3. Estimation of parameters: Please analyze and write here your findings as explained in data analysis plan.
4. Testing of hypotheses: Please analyze and write here your findings as explained in data analysis plan.
DISCUSSION
Put your findings for your first objective/ variable. Then add studies with similar findings from local, then national, then regional and lastly global studies/ literature/ populations. Then add studies with higher findings (higher prevalence/proportion/mean) and lastly with lower findings. Likewise go for your next objectives/ variables one by one.
2. The comparison is to be based on estimation of parameters (indices of population) and not on sample statistics (sample indices). Further it should be based on hypotheses testing, but most studies lack both the estimation of parameters and hypotheses testing.
3. The comparisons must be based on numbers/ indices (counts, percentages and means) from populations, not merely on theoretical/logical/philosophical statements/argumentation.
4. Each study brought for comparison should have author name, city & country name, duration of study, sample size and relevant data for comparison.
5. Better to bring those studies which are already cited in introduction.
6. Other studies may have data for many more objectives/ variables. You have to bring only relevant data matching to your objective/ variables.
7. Conclusion is the last part of the discussion. It is actually summary of your results. What you observed and analyzed in your study, bring those facts here in non-statistical language as statement in simple English. Do not bring conclusions from work of other authors.
8. Recommendations may be added as separate heading or it may be the last paragraph of the conclusion. Here you may go beyond your own findings.
CONCLUSION
It should be based on the objective and principal findings. False ambiguous conclusion and speculations should be avoided.
COPYRIGHT NOTICE
This work is licensed under a Creative Commons Attribution License.
Readers may "Share-copy and redistribute the material in any medium or format" and "Adapt-remix, transform, and build upon the material". The readers must give appropriate credit to the source of the material and indicate if changes were made to the material. Readers may not use the material for commercial purpose. The readers may not apply legal terms or technological measures that legally restrict others from doing anything the license permits.
PRIVACY STATEMENT
The names and email addresses entered in this journal site will be used exclusively for the stated purposes of this journal and will not be made available for any other purpose or to any other party.
AUTHOR FEES
Article Processing Fee: NONE
Article Publication Fee (National) Rs 35000 / Article
Article Publication Fee (International ) 200 USD / Article
Waivers Policy:
If an author has no funds to pay such charges, he may request for full or partial waiver off of publication fees. We do not want charges to prevent the publication of worthy work.
Hard Copies:
Copies can be ordered on payment of PKR 2500 per copy.