Hypokalemia Among Children Having Acute Malnutrition with Diarrhea
Children Having Acute Malnutrition with Diarrhea
Keywords:
: Hypokalemia, Dehydration, Acute Diarrhea, Children
Abstract
Diarrhea is one the most common symptoms encountered in emergency department in children specially and needs prompt management. There are many disastrous complications and hypokalemia is one and most important of them. Hypokalemia warrants urgent diagnosis and expert management. Objective: To determine the frequency of hypokalemia among children having acute malnutrition with diarrhea. Methods: This cross-sectional study was done in Department of Pediatrics, Khairpur Medical College from 1st November 2021 to 30th April 2022. A total of 134 patients fulfilling the inclusion criteria were included. Informed consent was taken from attendants. The data were collected on prepared proforma. Results: There were 134 patients in this study with The mean age of the cases was 2.4 ± 3.13 years. Male children 84 (62.6%) and were in majority while females comprising of 50(37.3%). Frequency of hypokalemia was 57 (42.5%). Conclusions: Our results showed that children with acute diarrhea and dehydration have an increased risk of developing hypernatremia and hypokalemia. Significant correlations were found between electrolyte imbalance and mortality.
References
Okposio MM, Onyiriuka AN, Abhulimhen-Iyoha BI. Point-of-Admission Serum Electrolyte Profile of Children less than Five Years Old with Dehydration due to Acute Diarrhea. Tropical Medicine and Health. 2015 Dec; 43(4): 247-52. doi: 10.2149/tmh.2015-29
UNICEF. The state of the world's children 2012: Children in an urban world. 2012. [Last Cited: 2nd Sep 2020] Available at: https://www.unicef.org/media/89226/file/The%20State%20of%20the%20World's%20Children%202012.pdf
Parashar UD, Hummelman EG, Bresee JS, Miller MA, Glass RI. Global illness and deaths caused by rotavirus disease in children. Emerging infectious diseases. 2003 May; 9(5):565-572. doi: 10.3201/eid0905.020562
Tham EB, Nathan R, Davidson GP, Moore DJ. Bowel habits of healthy Australian children aged 0‐2 years. Journal of Paediatrics and Child Health. 1996 Dec; 32(6): 504-7. doi: 10.1111/j.1440-1754.1996.tb00963.x
World Gastroenterology Organization Global Guidelines. Acute Diarrhea in Adults and Children: A Global Perspective. 2012 Feb. [Last Cited: 21st Jan 2015]. Available at: www.worldgastroenterology.org/assests/export/ userfiles/acute%20di arrhea.
Zulqarnain A, Jaffar Z, Iqbal I. Malnourished Children with Diarrhea: To Assess the Frequency of Serum Electrolytes (NA+, K+ & CA+) Disturbances. The Professional Medical Journal. 2015 May; 22(05): 610-4. doi: 10.29309/TPMJ/2015.22.05.1275
Ashworth A, Ashworth A, Khanum S, Schofield C. Guidelines for the inpatient treatment of severely malnourished children. World Health Organization; 2003.
Chisti MJ, Salam MA, Ashraf H, Faruque AS, Bardhan PK, Shahid AS, Shahunja KM, Ahmed T. Prevalence, clinical predictors, and outcome of hypocalcaemia in severely-malnourished under-five children admitted to an urban hospital in Bangladesh: a case-control study. Journal of Health, Population, and Nutrition. 2014 Jun; 32(2): 270-257.
Javali NS, Shashikala P, Banu N, Ramya R. Hypomagnesaemia in protein energy malnutrition. Journal of Evidence Based Medicine and Healthcare. 2015; 2: 81-88. doi: 10.18410/jebmh/2015/14
Sameen IF and Moorani KN. Morbidity patterns of severely malnourished children at tertiary care hospital. Pakistan Paediatric Journal. 2014; 38(1): 3-8.11.
Gangaraj S, Das G, Madhulata S. Electrolytes and blood sugar changes in severely acute malnourished children and its association with diarrhoea and vomiting. International Journal of Pharmaceutical Science Invention. 2013; 2(5): 33-6.
World Health Organization (WHO) Child growth standards and the identification of severe acute malnutrition in infants and children: joint statement by the World Health Organization and the United Nations Children's Fund. 2009. Available at: https://apps.who.int/iris/bitstream/handle/10665/44129/9789?sequence=1
Fatima BI, Sheikh MA, Naeem MM. The serum sodium, potassium and calcium levels in children 6-59 months of age with severe acute malnutrition. Pakistan Journal of Medical and Health Sciences. 2017 Jan; 11: 292-4.
Boschi-Pinto C, Velebit L, Shibuya K. Estimating child mortality due to diarrhoea in developing countries. Bulletin of the World Health Organization. 2008 Sep; 86(9): 710-7. doi: 10.2471/BLT.07.050054
Memon Y, Majeed R, Ghani MH, Shaikh S. Serum electrolytes changes in malnourished children with diarrhoea. Pakistan Journal of Medical Sciences. 2007 Oct; 23(5): 760-764.
Ahmed T, Begum B, Ali M, Fuchs G. Management of severe malnutrition and diarrhea. The Indian Journal of Pediatrics. 2001 Jan; 68: 45-51. doi: 10.1007/BF02728857
Kinik ST, SeÇMeer G, Kanra G, Ceyhan M, Halit ZE, ÖKsÜZ N. Hypokalemic paralysis in association with acute gastroenteritis: a report of a sporadic case. Pediatrics International. 1998 Apr; 40(2): 143-5. doi: 10.1111/j.1442-200X.1998.tb01899.x
Andériz FO, Clotet NC, de Diego Gamarra R, Garzón IS, Rizaldos SV. Hypokalemia-induced paraplegia secondary to acute diarrhea. InAnales de medicina interna (Madrid, Spain: 1984) 2002 Feb; 19(2): 76-78.
Shaheen B, Ismail MH, Parveen D, Sarfaraj S. Serum electrolyte pattern in children with protein energy malnutrition. International Journal of Pharmaceutical Biological and Chemical Sciences. 2013, 2: 10-15.
Chisti MJ, Hossain MI, Malek MA, Faruque AS, Ahmed T, Salam MA. Characteristics of severely malnourished under‐five children hospitalized with diarrhoea, and their policy implications. Acta Paediatrica. 2007 May; 96(5): 693-6. doi: https://doi.org/10.1111/j.1651-2227.2007.00192.x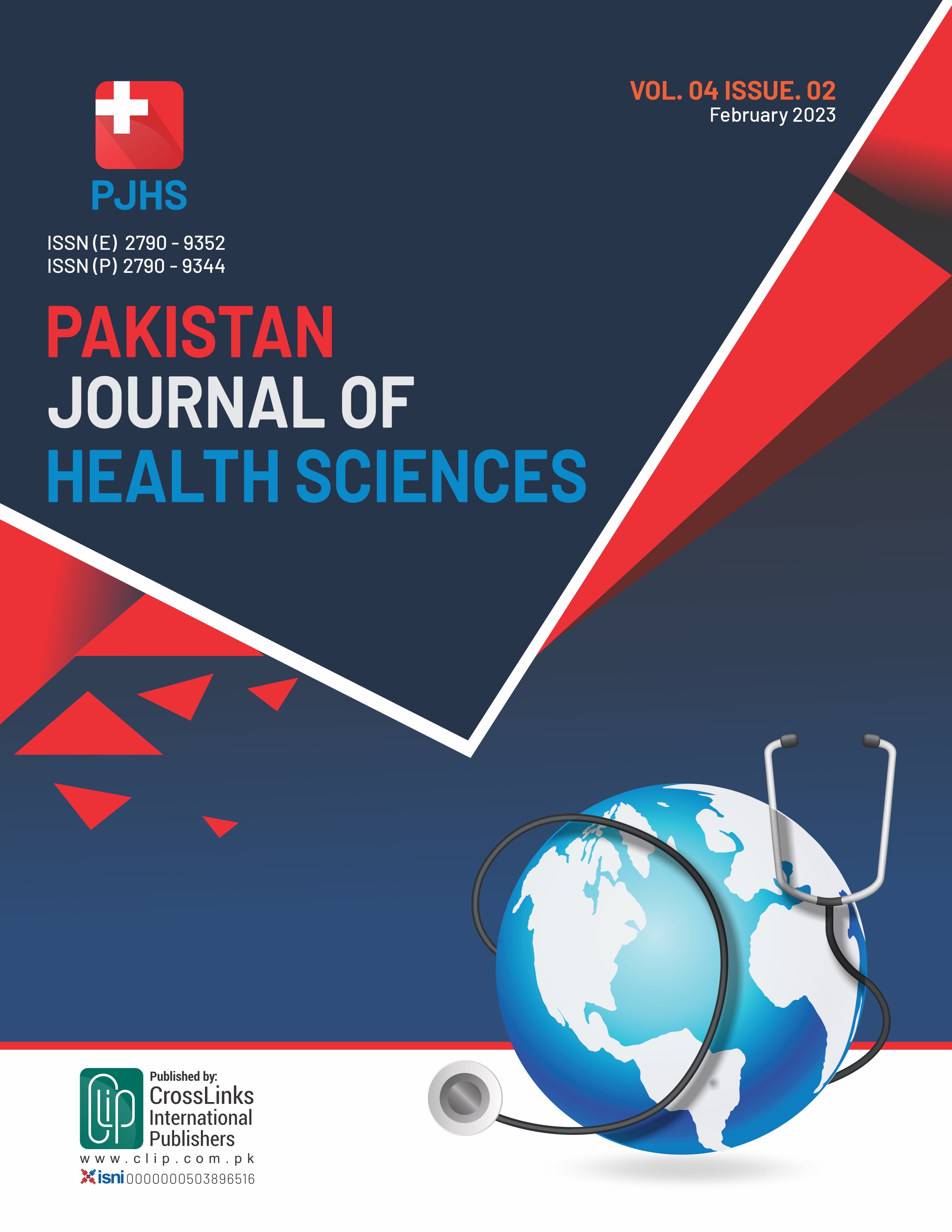 Downloads
How to Cite
Ali , S. ., Shahzado, A. ., Chandio, S. ., Chandio, S. ., Chandio, K. ., Pathan, S. ., & Fazal , K. . (2023). Hypokalemia Among Children Having Acute Malnutrition with Diarrhea: Children Having Acute Malnutrition with Diarrhea. Pakistan Journal of Health Sciences, 4(02), 125–128. https://doi.org/10.54393/pjhs.v4i02.575
License
Copyright (c) 2023 Pakistan Journal of Health Sciences
This work is licensed under a Creative Commons Attribution 4.0 International License.
This is an open-access journal and all the published articles / items are distributed under the terms of the Creative Commons Attribution License, which permits unrestricted use, distribution, and reproduction in any medium, provided the original author and source are credited. For comments