The Risk Factors of Intestinal Perforation Associated with Peritonitis
Risk Factors of Intestinal Perforation
Keywords:
Intestinal perforation, Appendicitis, Fever
Abstract
Perforation is known as an abnormal opening in an empty organ. It is copied from the Latin word perforatus, meaning "to bore through." In western world the estimated frequency of intestinal perforation ranges from 0.6% to 4.9%. Objective: To find out the risk factors of intestinal perforation associated with peritonitis. Methods: It was a cross-sectional study and data was collected from February 2022 to July 2022. Data was collected from, DHQ Teaching Hospital Gujranwala and Social Security Hospital Multan chungi Lahore. Calculated sample size was 50 based on prevalence (0.68%) of intestinal perforation through an online sample size calculator (CI 95% and margin of error=0.09%). Patients of both genders with age limit of 10-60 years and patients presenting with perforation peritonitis were included in this study. Patients with Post-operative peritonitis and Immuno-compromised patients were excluded from study. Patient demographic information was collected. For demographic variables and risk factors of intestinal perforation descriptive analysis was used. Ethical approval has been obtained from concerned department and statistical analysis was done using SPSS version 24. Results: Out of 50 patients 38% were female and 62% were male. Major risk factors for intestinal perforation were Appendicitis (32%), Trauma (26%), Abdominal distension (24%) and Intestinal obstruction (20%). Conclusion: This study concludes that intestinal perforation is commonly seen between the age group of 21-30 years. Common risk factors of intestinal perforation are fever, appendicitis, trauma, abdominal distension, followed by intestinal obstruction, ascites and infection. The most commonly found perforation is duodenal perforation.
References
Meena LN, Jain S, Bajiya P. Gastrointestinal perforation peritonitis in India: A study of 442 cases. Saudi Surgical Journal. 2017 Sep; 5(3): 116-121. doi: 10.4103/ssj.ssj_33_17
Nadkarni FM, Shetly SD, Kagzi RS. Small-bowel perforation. A study of 32 cases. Archives Surgery 1981; 116: 53-57. doi: 10.1001/archsurg.1981.01380130033008
Gedik E, Girgin S, Taçyıldız IH, Akgün Y. Risk factors affecting morbidity in typhoid enteric perforation. Langenbeck's archives of surgery. 2008 Nov; 393(6): 973-7. doi: 10.1007/s00423-007-0244-8
Jindal N, Arora S, Pathania S. Fungal culture positivity in patients with perforation peritonitis. Journal of Clinical and Diagnostic Research: JCDR. 2015 Jun; 9(6). doi: 10.7860/JCDR/2015/13189.6050
Shahid MH, Khan FI, Askri Z, Asad A, Alam MA, Ali D, et al. One Year of Experience Managing Peritonitis Secondary to Gastrointestinal Perforation at a Tertiary Care Hospital: A Retrospective Analysis. Cureus. 2022 Apr; 14(4). doi: 10.7759/cureus.23966
Jacobs B, Jawad A, Fattah Z. Pneumatosis intestinalis and intestinal perforation in a patient receiving tocilizumab. Archives of Rheumatology. 2018 Sep; 33(3): 372. doi: 10.5606/ArchRheumatol.2018.6668
Joshi P, Poudel R, Chandra K. Mannheim Peritonitis Index (MPI) score as a predictor of outcome in patients with secondary peritonitis. Journal of Universal College of Medical Sciences. 2016; 4(2): 6-9. doi: 10.3126/jucms.v4i2.19083
Afridi SP, Malik F, Ur-Rahman S, Shamim S, Samo KA. Spectrum of perforation peritonitis in Pakistan: 300 cases Eastern experience. World Journal of Emergency Surgery. 2008 Dec; 3(1): 1-5. doi: 10.1186/1749-7922-3-31
Chakma SM, Singh RL, Parmekar MV, Singh KG, Kapa B, Sharatchandra KH, et al. Spectrum of perforation peritonitis. Journal of clinical and diagnostic research. 2013 Nov; 7(11): 2518. doi: 10.7860/JCDR/2013/5768.3596
Jain U, Chauhan A, Gupta J, Gupta AK. Evaluation of Boey scoring in predicting morbidity and mortality in peptic ulcer perforation peritonitis. International Journal of Surgery Science. 2021; 5(3): 41-3. doi: 10.33545/surgery.2021.v5.i3a.735
Kallely M, Panchabhai S, Nichkaode P, Rayani H, Teja JR, Patil D. Perforation peritonitis: a clinical profile and management. Sri Lanka Journal of Surgery. 2020 Apr 30; 38(1). doi: 10.4038/sljs.v38i1.8649
Kabongo KM, Erzingatsian K. Early postoperative complications associated with perforation. 2021.
Hafner J, Tuma F, Hoilat GJ, Marar O. Intestinal perforation. InStatPearls. 2021 Nov.
Endo Y, Abe Y, Kawano S, Ando T, Sakamoto K, Tamura N. The association between absence of abdominal pain and mortality in lower intestinal perforation in patients with autoimmune rheumatic diseases. BioMed research international. 2019 Feb; 2019. doi: 10.1155/2019/5381453
Sakaguchi T, Tokuhara K, Nakatani K, Kon M. Laparoscopic management for spontaneous jejunal perforation caused by nonspecific ulcer: A case report. International journal of surgery case reports. 2017 Jan; 39: 309-12. doi: 10.1016/j.ijscr.2017.08.048
Bali RS, Verma S, Agarwal PN, Singh R, Talwar N. Perforation peritonitis and the developing world. International Scholarly Research Notices. 2014 Apr; 2014. doi: 10.1155/2014/105492
Gupta SK, Gupta R, Singh G, Gupta S. Perforation peritonitis: a two-year experience. Jk Science. 2010 Jul; 12(3): 141.
Jhobta RS, Attri AK, Kaushik R, Sharma R, Jhobta A. Spectrum of perforation peritonitis in India-review of 504 consecutive cases. World journal of Emergency surgery. 2006 Dec; 1(1): 1-4. doi: 10.1186/1749-7922-1-26
Gupta S and Kaushik R. Peritonitis-the Eastern experience. World journal of emergency surgery. 2006 Dec; 1(1): 1-6. doi: 10.1186/1749-7922-1-13
Bano F, Malik S, Soomro I. Secondary Bacterial Peritonitis. Journal of Surgery Pakistan. 2017 Oct; 22: 4. doi: 10.21699/jsp.22.4.6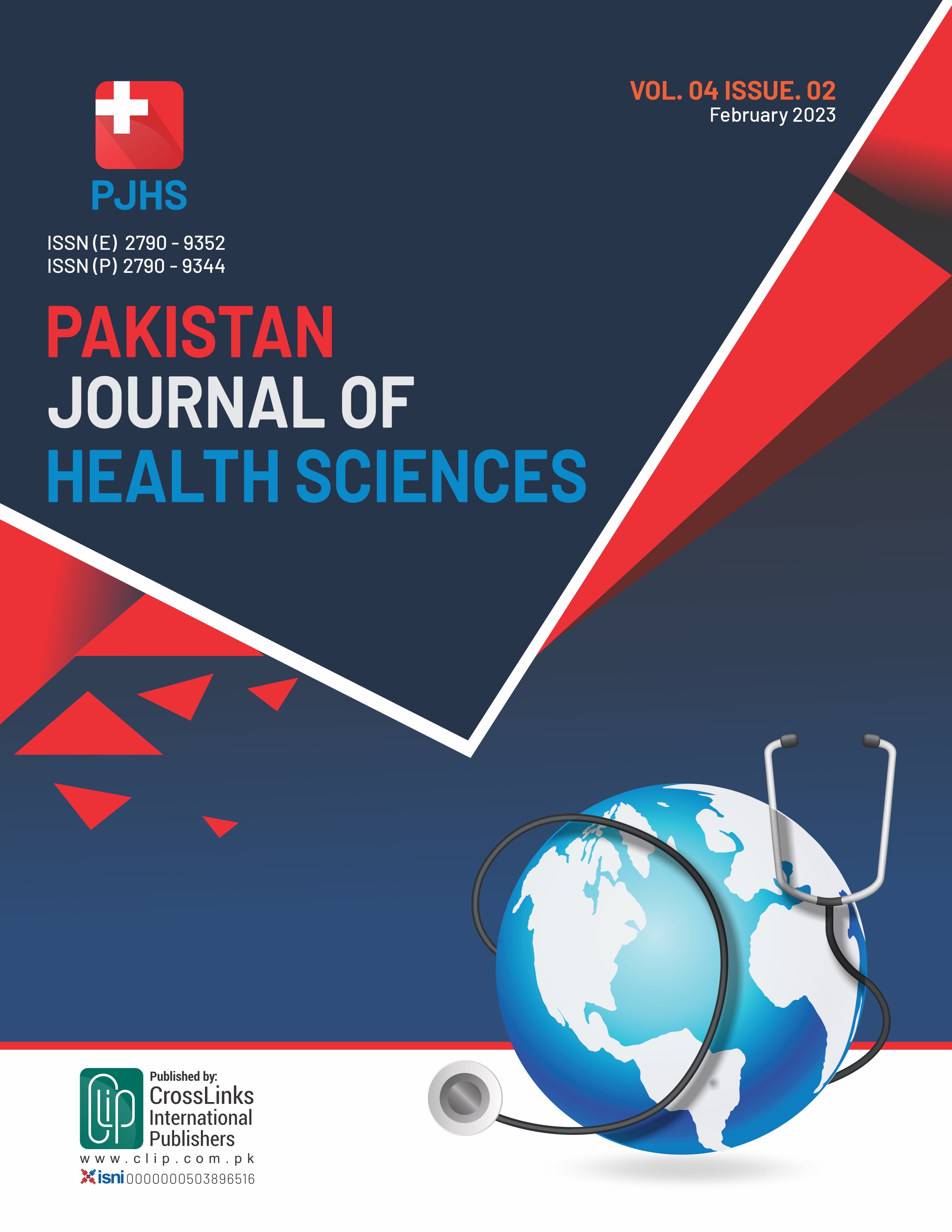 Downloads
How to Cite
Younas, I., Naseer, A., Naeem, U., Irshad, M., Umair, M., Akram, F., Fayyaz, M., & Naeem, M. A. (2023). The Risk Factors of Intestinal Perforation Associated with Peritonitis: Risk Factors of Intestinal Perforation. Pakistan Journal of Health Sciences, 4(02), 150–153. https://doi.org/10.54393/pjhs.v4i02.574
License
Copyright (c) 2023 Pakistan Journal of Health Sciences
This work is licensed under a Creative Commons Attribution 4.0 International License.
This is an open-access journal and all the published articles / items are distributed under the terms of the Creative Commons Attribution License, which permits unrestricted use, distribution, and reproduction in any medium, provided the original author and source are credited. For comments