Public Health Perspectives of Genetically Modified Food: A Comprehensive Review
Public Health Perspectives of Genetically Modified Food
Keywords:
Food production, Genetically Modified Foods, Microbial Proteins, Human Health
Abstract
Now a day food fortification using genetically modified organism was highly popular, secured and affordable for the current food demanded population.  Many commendable uses of microbes were found in genetically modified Food. This review paper attempted to address the impact of microorganisms employed in genetically modified food. PubMed, Science Direct, Google Scholar, and other search engines were used to collect papers. The impact of microorganisms in Food Productions was briefly explored and illustrated in the table and figures. Climate resilience, high yield, environmental adaptability, and high protein, 40–50% and 20–40% produced by bacteria and alga respectively, were only a few advantages of foods that have been genetically modified foods with microbes. Additionally, it improves human health by reducing poverty, ensuring food security, and preventing disease. Therefore, genetically modified foods brought a positive impact for human health.
References
Jin S, Li W, Dawson IG, Clark B, Chen S, Frewer LJ. Consumer responses to genetically modified food in China: The influence of existing general attitudes, affect and perceptions of risks and benefits. Food Quality and Preference. 2022 Jul; 99: 104543.
Fischer J. Manufacturing halal in Malaysia. Contemporary Islam. 2016 Jan; 10(1): 35-52.
Källberg H, Padyukov L, Plenge RM, Rönnelid J, Gregersen PK, van der Helm-van AH, et al. Gene-gene and gene-environment interactions involving HLA-DRB1, PTPN22, and smoking in two subsets of rheumatoid arthritis. The American Journal of Human Genetics. 2007 May; 80(5): 867-75.
Bello I, Simsek M, Olorunnisola S, Babiker F, Hammed AM. Proteomics for food authentication. InFood Authentication and Traceability 2021 Jan 1 (pp. 247-277). Academic Press.
Ng PC, Ahmad Ruslan NA, Chin LX, Ahmad M, Abu Hanifah S, Abdullah Z, et al. Recent advances in halal food authentication: Challenges and strategies. Journal of Food Science. 2022 Jan; 87(1): 8-35.
Ezemba CC, Osuala OJ, Anakwenze VN. Critical Reviews: Biotechnology and Sustainable Industrialisation for National Development. Critical Reviews: Biotechnology and Sustainable Industrialisation for National Development. 2021: 39-50.
Ijaz T and Yousaf M. Metaphorical Representation of Men in Pakistani Fiction: A Study of Hamid's Moth Smoke. University of Chitral Journal of Linguistics & Literature. 2022 Mar; 6(I): 103-20.
Oemar H, Prasetyaningsih E, Bakar SZ, Djamaludin D, Septiani A. Awareness and intention to register halal certification of micro and small-scale food enterprises. F1000Research. 2022 Feb; 11(170): 170.
Villén-Pérez S, Anaya-Valenzuela L, da Cruz DC, Fearnside PM. Mining threatens isolated indigenous peoples in the Brazilian Amazon. Global Environmental Change. 2022 Jan; 72: 102398.
Bux C, Varese E, Amicarelli V, Lombardi M. Halal Food Sustainability between Certification and Blockchain: A Review. Sustainability. 2022 Feb; 14(4): 2152.
Conficoni D, Zaghi M, Rossin T, Brscic M, Giaccone V. Meeting religious requirements and food safety during ritual slaughter: a case study on how Italian authorities handle the issue. Animal Frontiers. 2022 Feb; 12(1): 25-34.
Idris SH, Abdul Majeed AB, Chang LW. Beyond halal: Maqasid al-Shari'ah to assess bioethical issues arising from genetically modified crops. Science and Engineering Ethics. 2020 Jun; 26(3): 1463-76.
McCausland HC, Wetmore KM, Arkin AP, Komeili A. Global Analysis of Biomineralization Genes in Magnetospirillum magneticum AMB-1. Msystems. 2022 Jan; 7(1): e01037-21.
Lemke SL. Gene Editing in Plants: A Nutrition Professional's Guide to the Science, Regulatory, and Social Considerations. Nutrition Today. 2022 Mar; 57(2): 57-63.
Bonny S. Genetically modified herbicide-tolerant crops, weeds, and herbicides: overview and impact. Environmental management. 2016 Jan; 57(1): 31-48.
Chauhan H, Belski R, Bryant E, Cooke M. Dietary Assessment Tools and Metabolic Syndrome: Is It Time to Change the Focus?. Nutrients. 2022 Apr; 14(8): 1557.
Williams J, Lambert S, Kesavan S, Korn R, Fugiel P, Carreon ED, et al. Stable Scheduling Study: health outcomes report. 2022 Jan. doi.org/10.2139/ssrn.40196932022. Available at SSRN: https://ssrn.com/abstract=4019693
Feuerecker M, Strewe C, Aumayr M, Heitland T, Limper U, Crucian B, et al. One Year in the Extreme Isolation of Antarctica—Is This Enough to Modulate an "Allergic" Sensitization?. Biomedicines. 2022 Feb; 10(2): 448.
D'Aniello B, Mastellone V, Pinelli C, Scandurra A, Musco N, Tudisco R, et al. Serum Oxytocin in Cows Is Positively Correlated with Caregiver Interactions in the Impossible Task Paradigm. Animals. 2022 Jan; 12(3): 276.
Rinkevich B, Ballarin L, Martinez P, Somorjai I, Ben‐Hamo O, Borisenko I, et al. A pan‐metazoan concept for adult stem cells: the wobbling Penrose landscape. Biological Reviews. 2022 Feb; 97(1): 299-325.
Miflin B. Crop improvement in the 21st century. Journal of experimental botany. 2000 Jan; 51(342): 1-8.
Liu J, Zhou F, Guan Y, Meng F, Zhao Z, Su Q, et al. The Biogenesis of miRNAs and Their Role in the Development of Amyotrophic Lateral Sclerosis. Cells. 2022 Feb; 11(3): 572.
Nicosia FD, Puglisi I, Pino A, Caggia C, Randazzo CL. Plant Milk-Clotting Enzymes for Cheesemaking. Foods. 2022 Mar; 11(6): 871.
Bawa AS and Anilakumar KR. Genetically modified foods: safety, risks and public concerns—a review. Journal of food science and technology. 2013 Dec; 50(6): 1035-46.
Kedisso EG, Barro N, Chimphepo L, Elagib T, Gidado R, Mbabazi R, et al. Crop Biotechnology and Smallholder Farmers in Africa. Genetically Modified Plants and Beyond. 2022 Feb: 107-27.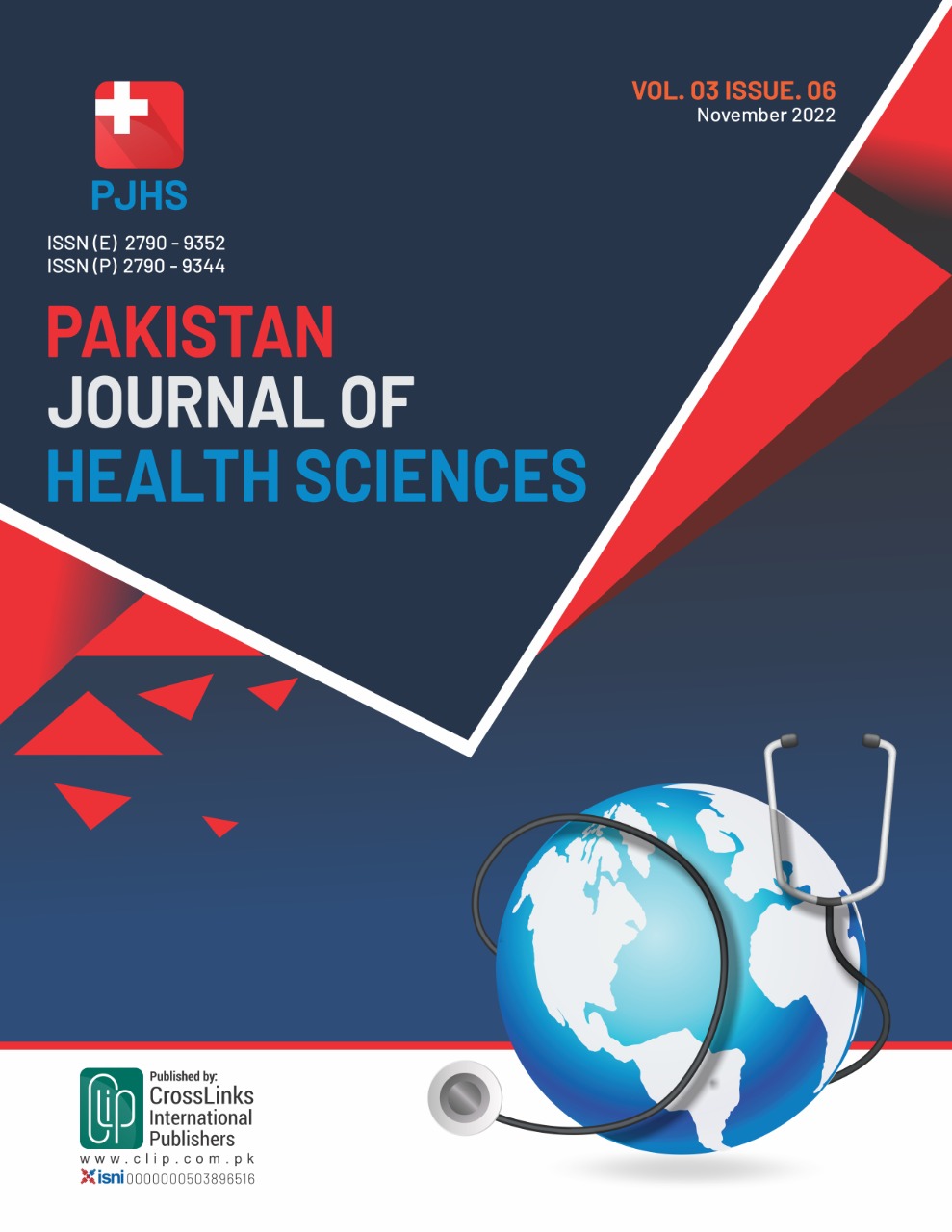 Downloads
CITATION
DOI: 10.54393/pjhs.v3i06.165
How to Cite
Asif Ilyas, M. ., Ali, M. ., Aslam, M. ., Hassan, A. ., Muqaddas, R., Akhtar, N. ., Zahid Aslam, M. ., Ketema, S. ., Fiza Nayab, S. ., Arshad Maan, N. ., Razaq, Z. ., & ullah, I. (2022). Public Health Perspectives of Genetically Modified Food: A Comprehensive Review: Public Health Perspectives of Genetically Modified Food. Pakistan Journal of Health Sciences, 3(06), 13–18. https://doi.org/10.54393/pjhs.v3i06.165
License
Copyright (c) 2022 Pakistan Journal of Health Sciences
This work is licensed under a Creative Commons Attribution 4.0 International License.
This is an open-access journal and all the published articles / items are distributed under the terms of the Creative Commons Attribution License, which permits unrestricted use, distribution, and reproduction in any medium, provided the original author and source are credited. For comments