Frequency of Thyroid Dysfunction in Diabetic Patients
Thyroid Dysfunction in Diabetic Patients
Keywords:
Thyroid Dysfunction, Diabetes Mellitus, Hyperthyroidism, Hypothyroidism
Abstract
Thyroid hormones are involved in the control of insulin secretion, beta-cell function/multiplication, liver glucose synthesis, output and peripheral utilization. Thyroid dysfunction identification and correction help in glycemic control. Objective: To know the frequency of thyroid dysfunction in diabetic patients. Methods: This descriptive cross-sectional study was done in the Medical-C Department, Ayub Teaching Hospital Abbottabad from July 2018 to August 2019. Total 150 diabetic patients were enrolled by using non-probability consective sampling. Patients were labelled as diabetics on the basis of diabetes history, anti-diabetic medications use, high blood glucose (>200mg/dl) on presentation or on previous high blood sugar reading or a high HbA1c value. Fresh venous blood sample was sent for thyroid function tests (T3, T4 and TSH). Thyroid dysfunction in our study was defined as patient having Thyroid Stimulating Hormone (TSH) value above or below the normal range.  Data of patients were collected on study pro forma and was analyzed using statistical program SPSS version-20.0 Results: There were 67 (44.66%) male and 83 (55.33%) female patients. The mean age was 51.83 ± 14.52 years. Thyroid dysfunction was detected in 37 (24.66%) study participants. Out of 67 male patients, 11 (16.41%) had thyroid dysfunction and out of 83 female patients, 26 (31.32%) had thyroid dysfunction. Subclinical hypothyroidism was present in 4 (2.7%), 5 (3.3%) had hypothyroidism, 20 (13.3%) had subclinical hyperthyroidism and 8 (5.3%) had hyperthyroidism. Conclusion: This study suggests that a significant portion of diabetic patients suffer from thyroid dysfunction.
References
Al-Sumry S, Al-Ghelani T, Al-Badi H, Al-Azri M, Elshafie K. Thyroid diseases in Omani type 2 diabetics: a retrospective cross-sectional study. Advances in Endocrinology. 2015 Dec; 2015: 23-39. doi: 10.1155/2015/353121.
Biondi B, Kahaly GJ, Robertson RP. Thyroid Dysfunction and Diabetes Mellitus: Two Closely Associated Disorders. Endocrine Reviews. 2019 Jun; 40(3): 789–824. doi: 10.1210/er.2018-00163.
Kasper D, Fauci A, Hauser S, Longo D, Jameson J, Loscalzo J. Harrison's principles of internal medicine, 19e. New York, NY, USA: Mcgraw-hill; 2015.
Saeedi P, Salpea P, Karuranga S, Petersohn I, Malanda B, Gregg EW, et al. Mortality attributable to diabetes in 20–79 years old adults, 2019 estimates: Results from the International Diabetes Federation Diabetes Atlas. Diabetes Research and Clinical Practice. 2020 Apr; 162: 108086. doi: 10.1016/j.diabres.2020.108086.
Khatiwada S, Kc R, Sah SK, Khan SA, Chaudhari RK, Baral N, et al. Thyroid dysfunction and associated risk factors among Nepalese diabetes mellitus patients. International Journal of Endocrinology. 2015 Sep; 2015: 570198. doi: 10.1155/2015/570198.
International Diabetes Federation. IDF Diabetes Atlas, 10th ed. 2021. [Last cited: 27th Mar 2023]. Available at: https://diabetesaltas.org.
Jameson JL, Mandel SJ, Weetman AP. Thyroid glands disorders. In: Kasper DL, Fauci AS, Hauser SL, Longo DL, Jameson JL, Loscalzo J, editors. Harrison's Principles of Internal Medicine. 19th edition. New York; Mc Graw Hill Education; 2015. 2283-308.
Mullur R., Liu Y, Brent GA. Thyroid hormone regulation of metabolism. Physiological Reviews. 2014 Apr; 94(2): 355-82. doi: 10.1152/physrev.00030.2013.
Witting V, Bergis D, Sadet D, Badenhoop K. Thyroid disease in insulin-treated patients with type 2 diabetes: a retrospective study. Thyroid Research. 2014 Dec; 7(1): 1-6. doi: 10.1186/1756-6614-7-2.
Khassawneh AH, Al-Mistarehi AH, Zein Alaabdin AM, Khasawneh L, AlQuran TM, Kheirallah KA, et al. Prevalence and predictors of thyroid dysfunction among type 2 diabetic patients: A case–control study. International Journal of General Medicine. 2022 Nov; 13: 803-16. doi: 10.2147/IJGM.S273900.
Chaker L, Ligthart S, Korevaar TI, Hofman A, Franco OH, Peeters RP, et al. Thyroid function and risk of type 2 diabetes: a population-based prospective cohort study. BMC Medicine. 2016 Dec; 14(1): 1-8. doi: 10.1186/s12916-016-0693-4.
Khan MU, Kumar D, Ahmed K. Frequency thyroid dysfunction in patients with type 2 diabetes seen at Dow University Hospital, Karachi, Pakistan. Rawal Medical Journal. 2017 Jan; 42(1): 52-5.
Palma CCSSV, Pavesi M, Nogueira VG, Clemente ELS, Vasconcellos M de FBMP, Pereira LC, et al. Prevalence of thyroid dysfunction in patients with diabetes mellitus. Diabetology and Metabolic Syndrome. 2013 Oct; 5(1): 58. doi: 10.1186/1758-5996-5-58. doi: 10.1186/1758-5996-5-58.
Singh G, Gupta V, Sharma AK, Gupta N. Evaluation of thyroid dysfunction among type 2 diabetic Punjabi population. Advances in Bioresearch. 2011 Dec; 2(2): 3-9.
Ghazali SM and Abbiyesuku FM. Thyroid dysfunction in type 2 diabetics seen at the University College Hospital, Ibadan, Nigeria. Nigerian Journal of Physiological Sciences. 2010 Dec; 25(2): 173-9.
Demitrost L and Ranabir S. Thyroid dysfunction in type 2 diabetes mellitus: A retrospective study. Indian Journal of Endocrinology and Metabolism. 2012 Dec; 16(Suppl 2): S334-5. doi: 10.4103/2230-8210.104080.
Diez JJ, Sánchez P, Iglesias P. Prevalence of thyroid dysfunction in patients with type 2 diabetes. Experimental and Clinical Endocrinology & Diabetes. 2011 Apr; 119(04): 201-7. doi: 10.1055/s-0031-1271691.
Papazafiropoulou A, Sotiropoulos A, Kokolaki A, Kardara M, Stamataki P, Pappas S. Prevalence of thyroid dysfunction among greek type 2 diabetic patients attending an outpatient clinic. Journal of Clinical Medicine Research. 2010 Apr; 2(2): 75. doi: 10.4021/jocmr2010.03.281w.
Bal BS, Kaur PP, Singh BM, Gurpal S, Singh SP. Prospective analysis of thyroid abnormalities in cases of type-II diabetes mellitus. Journal of Association Physicians of India. 2003 Dec; 51: 1165-6.
Pasupathi P, Bakthavathsalam G, Saravanan G, Sundaramoorthi R. Screening for thyroid dysfunction in the diabetic/non-diabetic population. Thyroid Science. 2008; 3(8): 1-6.
Biondi B, Palmieri EA, Klain M, Schlumberger M, Filetti S, Lombardi G. Subclinical hyperthyroidism: clinical features and treatment options. European Journal of Endocrinology. 2005 Jan; 152(1): 1-9. doi: 10.1530/eje.1.01809.
Wu P. Thyroid disease and diabetes. Clinical diabetes. 2000 Jan; 18 (1): 38.
Nayak D, Rao R, Shenoy RP, Kamath A, Nayak MG, Avinash A. A study of relation between thyroid dysfunction and diabetes mellitus among cases attending a tertiary care hospital of South Karnataka. International Journal of Contemporary Medical Research. 2016 Jan; 3(1):85–7.
Smithson MJ. Screening for thyroid dysfunction in a community population of diabetic patients. Diabetic Medicine. 1998 Feb; 15(2): 148-50. doi: 10.1002/(SICI)1096-9136(199802)15:2<148::AID-DIA540>3.0.CO;2-H.
Perros P, McCrimmon RJ, Shaw G, Frier BM. Frequency of thyroid dysfunction in diabetic patients: value of annual screening. Diabetic Medicine. 1995 Jul; 12(7): 622-7. doi: 10.1111/j.1464-5491.1995.tb00553.x.
Ogbonna SU and Ezeani IU. Risk Factors of Thyroid Dysfunction in Patients with Type 2 Diabetes Mellitus. Frontier of Endocrinology. 2019 Jul; 10: 440. doi: 10.3389/fendo.2019.00440
Shahbazian H, Behbahani AM, Mohtashami AZ. Prevalence of thyroid dysfunction and thyroid auto antibodies in type 2 diabetic patients. Pakistan Journal of Medical Sciences. 2011 Oct; 27 (5): 1169-72.
Khurana A, Dhoat P, Jain G. Prevalence of thyroid disorders in patients with type 2 diabetes mellitus. Journal, Indian Academy Clinical Medicine. 2016 Jan; 17(1): 12-5.
Saran M and Sharma JK. Prevalence of thyroid dysfunction among diabetic patients in north India region. Indian Journal of Applied Research 2019 Apr; 9 (3): 18-20.
Kaeley N, Bhatia R, Dhar M, Verma SK, Ahmed S. Association of thyroid disorders and Type 2 Diabetes mellitus–beyond coincidence-a hospital based study from Sub-Himalayan Region. National Journal of Medical and Allied Sciences. 2015; 4: 19-25.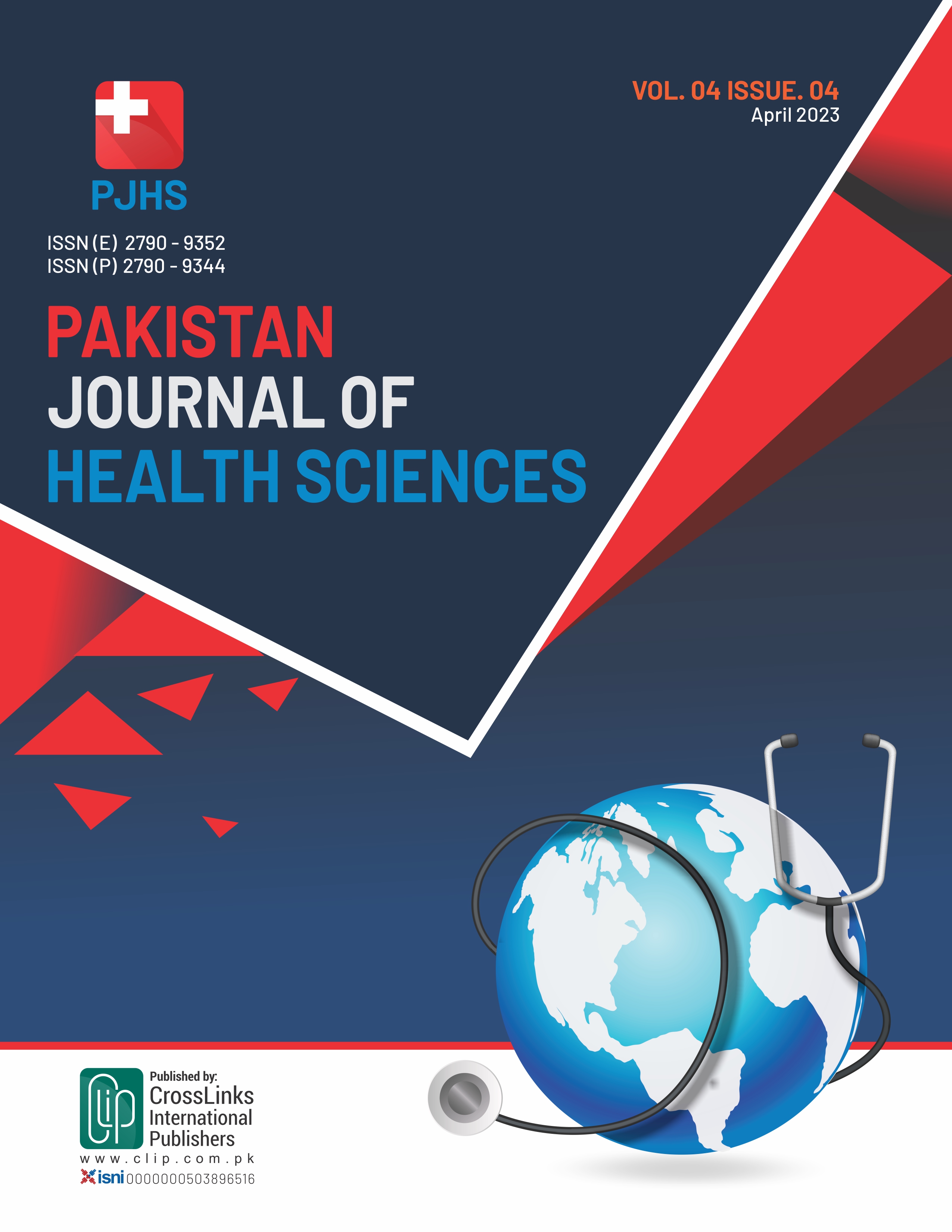 Downloads
How to Cite
Hussain Awan, M. F. ., Affan Ali, S. ., Nadeem Qureshi, M. ., Hussain Shah, M. ., Ali, R., Malik, S. ., & Ali, Q. . (2023). Frequency of Thyroid Dysfunction in Diabetic Patients: Thyroid Dysfunction in Diabetic Patients. Pakistan Journal of Health Sciences, 4(04), 110–114. https://doi.org/10.54393/pjhs.v4i04.642
License
Copyright (c) 2023 Pakistan Journal of Health Sciences
This work is licensed under a Creative Commons Attribution 4.0 International License.
This is an open-access journal and all the published articles / items are distributed under the terms of the Creative Commons Attribution License, which permits unrestricted use, distribution, and reproduction in any medium, provided the original author and source are credited. For comments