Psychological Effects of Covid-19 Care; A Qualitative Study of Health Care Workers in Punjab Pakistan
Psychological Effects of Covid-19 Care
Keywords:
Psychological Distress, Job Stress, Covid Centers, Covid-19, Healthcare Workers, Mental health
Abstract
The pandemic has caused severe psychological distress among Healthcare Workers. They were readily exposed to extreme workloads and physical and emotional turbulence throughout the pandemic which impacted them on both professional and personal fronts. Objectives: To explore the adverse impacts of Covid-19 on the mental health of the Healthcare Workers while delving into the relationship between occupational stress, communal norms, and mental health outcomes. Methods: It utilizes content gathered through observation and in-depth interviews of the frontline Healthcare Workers (n=32) that included doctors (n=14), nurses (n=12), and domestic staff (n=6) working in three COVID-19 treatment centers made in three major cities of Punjab, Pakistan, (Lahore, Faisalabad, and Sialkot) during Covid-19. Results: The results were divided into two themes followed by their sub-themes based on the results gathered through data collection tools. The themes were analyzed using the transactional model of stress and coping. The results reveal that the psychological distress faced by HCWs is directly related to occupational stress such as extreme workload/demand, while other challenges include fighting the community-imposed stigmas against the pandemic and social isolation. Conclusions: Psychological distress is a raising concern; current evidence reveals that low- and moderate-income communities, particularly in South Asian nations, have little or no understanding of workplace stress and its repercussions. Therefore, this study investigated Healthcare Workers' perspectives on mental health concerning the pandemic.
References
World Health Organization. Situation report - 51. 2020. [Last cited: 13th Feb 2023]. Available from: https://www.who.int/publications/m/item/situation-report---51.
Pedrosa AL, Bitencourt L, Fróes AC, Cazumbá ML, Campos RG, de Brito SB, et al. Emotional, behavioral, and psychological impact of the COVID-19 pandemic. Frontiers in Psychology. 2020 Oct; 11: 566212. doi: 10.3389/fpsyg.2020.566212.
Choi J and Taylor S. The psychology of pandemics: Preparing for the next global outbreak of infectious disease. Newcastle upon Tyne, UK: Cambridge Scholars Publishing. Asian Communication Research. 2020 Sep; 17(2): 98-103. doi: 10.20879/acr.2020.17.2.98.
Fink G. Stress: Definition and history. Stress Science: Neuroendocrinology. 2010 Apr; 3(9): 3-14.
Koinis A, Giannou V, Drantaki V, Angelaina S, Stratou E, Saridi M. The impact of healthcare workers job environment on their mental-emotional health. Coping strategies: the case of a local general hospital. Health Psychology Research. 2015 Apr; 3(1): 1984. doi: 10.4081/hpr.2015.1984.
Zare S, Esmaeili R, Kazemi R, Naseri S, Panahi D. Occupational stress assessment of health care workers (HCWs) facing COVID-19 patients in Kerman province hospitals in Iran. Heliyon. 2021 May; 7(5): e07035. doi: 10.1016/j.heliyon.2021.e07035.
Montemurro N. The emotional impact of COVID-19: From medical staff to common people. 2020 Jul; 87: 23-24. doi: 10.1016/j.bbi.2020.03.032.
Neelam K, Duddu V, Anyim N, Neelam J, Lewis S. Pandemics and pre-existing mental illness: A systematic review and meta-analysis. Brain, Behavior, & Immunity-Health. 2021 Jan; 10: 100177. doi: 10.1016/j.bbih.2020.100177.
Aly HM, Nemr NA, Kishk RM, bakr Elsaid NM. Stress, anxiety and depression among healthcare workers facing COVID-19 pandemic in Egypt: a cross-sectional online-based study. BMJ Open. 2021 Apr; 11(4): e045281. doi: 10.1136/bmjopen-2020-045281.
Malkani S. Lessons for Healthcare. 2020. [Last cited: 13t Feb 2023]. Available from: https://www.dawn.com/news/1544915.
De Kock JH, Latham HA, Leslie SJ, Grindle M, Munoz SA, Ellis L, et al. A rapid review of the impact of COVID-19 on the mental health of healthcare workers: implications for supporting psychological well-being. BMC Public Health. 2021 Dec; 21(1): 1-8. doi: 10.1186/s12889-020-10070-3.
Saleem Z, Majeed MM, Rafique S, Siqqiqui Z, Ghandhi D, Tariq H, et al. COVID-19 pandemic fear and anxiety among healthcare professionals in Pakistan. Research Square. 2020 Jul: 1-16. doi: 10.21203/rs.3.rs-37608/v2.
Lazarus RS and Folkman S. Stress, appraisal, and coping. Springer Publishing Company; 1984.
Akova İ, Kiliç E, Özdemir ME. Prevalence of burnout, depression, anxiety, stress, and hopelessness among healthcare workers in COVID-19 pandemic in Turkey. INQUIRY: The Journal of Health Care Organization, Provision, and Financing. 2022 Feb; 59: 00469580221079684. doi: 10.1177/00469580221079684.
Litwic-Kaminska K. Types of cognitive appraisal and undertaken coping strategies during sport competitions. International Journal of Environmental Research and Public Health. 2020 Sep; 17(18): 6522. doi: 10.3390/ijerph17186522.
Berjot S and Gillet N. Stress and coping with discrimination and stigmatization. Frontiers in Psychology. 2011 Mar; 2: 33. doi: 10.3389/fpsyg.2011.00033.
Koontalay A, Suksatan W, Prabsangob K, Sadang JM. Healthcare workers' burdens during the COVID-19 pandemic: A qualitative systematic review. Journal of Multidisciplinary Healthcare. 2021 Oct; 14: 3015-25. doi: 10.2147/JMDH.S330041.
Kumar D, Saghir T, Ali G, Yasin U, Furnaz S, Karim M, et al. Psychosocial impact of Covid-19 on healthcare workers at a tertiary care cardiac center of Karachi Pakistan. Journal of Occupational and Environmental Medicine. 2021 Feb; 63(2): 59-62. doi: 10.1097/JOM.0000000000002094.
Kowalczyk O, Roszkowski K, Montane X, Pawliszak W, Tylkowski B, Bajek A. Religion and faith perception in a pandemic of COVID-19. Journal of Religion and Health. 2020 Dec; 59: 2671-7. doi: 10.1007/s10943-020-01088-3.
Morse KF, Fine PA, Friedlander KJ. Creativity and leisure during COVID-19: Examining the relationship between leisure activities, motivations, and psychological well-being. Frontiers in Psychology. 2021 Jul; 12: 609967. doi: 10.3389/fpsyg.2021.609967.
Calton B, Abedini N, Fratkin M. Telemedicine in the time of coronavirus. Journal of Pain and Symptom Management. 2020 Jul; 60(1): e12-4. doi: 10.1016/j.jpainsymman.2020.03.019.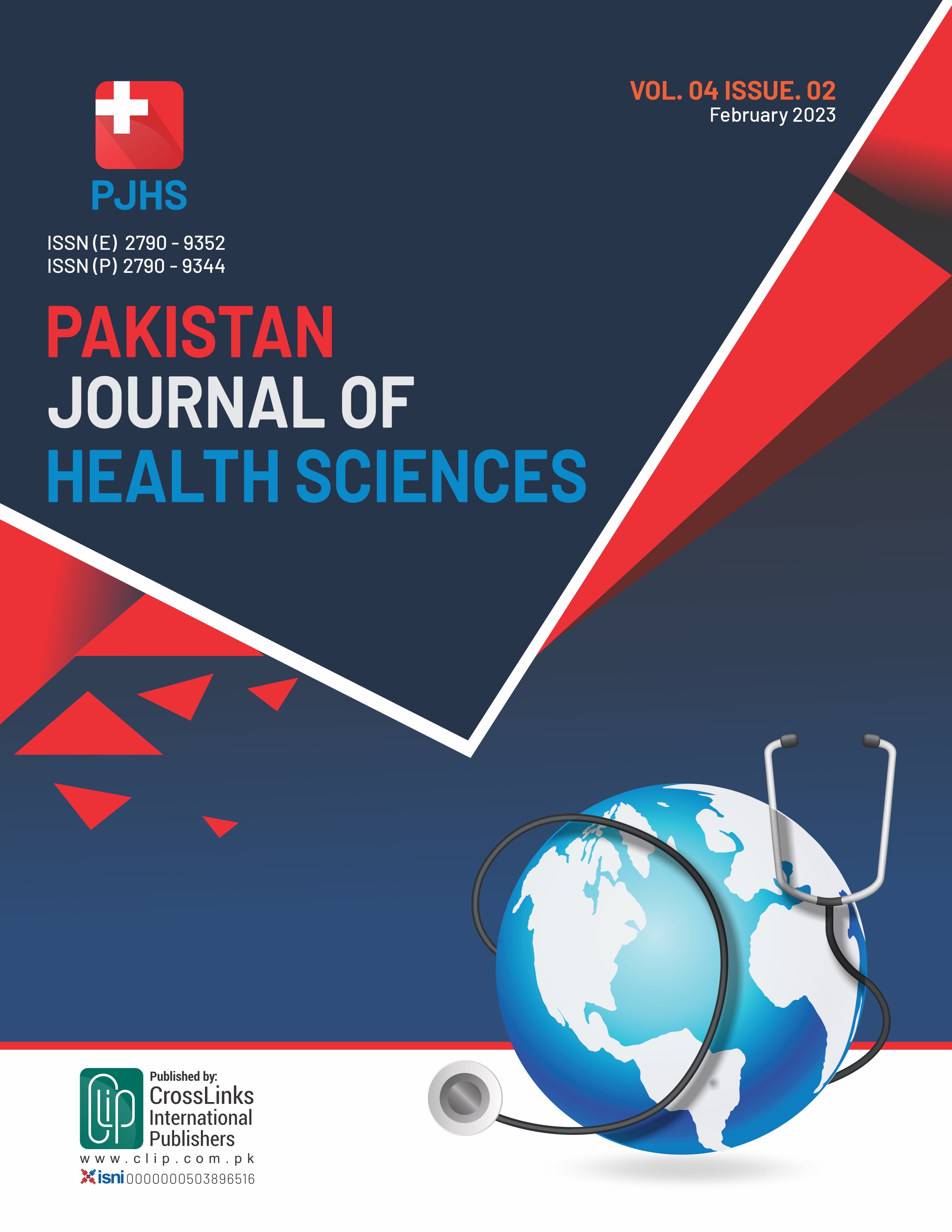 Downloads
How to Cite
Talat, A. ., Ellahi Khan, S. ., & Ellahi Khan, K. . (2023). Psychological Effects of Covid-19 Care; A Qualitative Study of Health Care Workers in Punjab Pakistan: Psychological Effects of Covid-19 Care. Pakistan Journal of Health Sciences, 4(02), 108–113. https://doi.org/10.54393/pjhs.v4i02.600
License
Copyright (c) 2023 Pakistan Journal of Health Sciences
This work is licensed under a Creative Commons Attribution 4.0 International License.
This is an open-access journal and all the published articles / items are distributed under the terms of the Creative Commons Attribution License, which permits unrestricted use, distribution, and reproduction in any medium, provided the original author and source are credited. For comments