Effects of Parental Oral Health knowledge on Early Childhood Caries and Oral Health Status of Children 3-5 Years of Age in Abbottabad
Parental Oral Health knowledge on Early Childhood Caries
Keywords:
Oral Health, Childhood Caries, Health Status
Abstract
Dental caries can spread rapidly in children and was given the term "Early Childhood Caries" (ECC) that was coined to describe "one or more carious, non-cavitated or cavitated tooth surfaces that are missing or filled due to caries on a deciduous tooth" in a child of 5 years and 9 months of age or younger. Early childhood caries (ECC) is a "complicated condition affecting the maxillary primary incisors which quickly propagate to other primary teeth about a month of eruption". It is a serious issue of socio-behavior or dental health which strikes pre-schoolers across the globe. Objective: To determine effects of parental knowledge on their children's oral health practices and status. Methods: A cross-sectional study was carried out, with a total of 384 kids from Government and Private Schools of Abbottabad City. Oral hygiene of the children was assessed through dmft scores upon the request of school administration and parents. Structured oral health questionnaires were distributed by the instructors among the parents during parent-teacher conferences/ meetings that were held after every three months in a fiscal year of the school. Results: A total of 372 of the youngsters in the study have all their primary teeth erupted (98.7%). Three-year-olds make up 35.7% of the overall sample, while four-year-olds make up 23%, and five-year-olds make up 0.5% of the sample. One or more of the sample's 245 decaying teeth affects 40.5% of the total. Conclusions: Parental knowledge and practise of oral hygiene were found to be linked to their children's oral health in this study.
References
Rebelo MA, Rebelo Vieira JM, Pereira JV, Quadros LN, Vettore MV. Does oral health influence school performance and school attendance? A systematic review and meta‐analysis. International Journal of Paediatric Dentistry. 2019 Mar; 29(2): 138-48. doi: 10.1111/ipd.12441
Ruff RR, Senthi S, Susser SR, Tsutsui A. Oral health, academic performance, and school absenteeism in children and adolescents: A systematic review and meta-analysis. The Journal of the American Dental Association. 2019 Feb; 150(2): 111-21. doi: 10.1016/j.adaj.2018.09.023
Elkerdany A, Gurenlian J, Freudenthal J. Measuring Oral Health Literacy of Refugees: Associations with Dental Care Utilization and Oral Health Self-Efficacy. Journal of Dental Hygiene. 2020 Apr; 94(2): 9-17.
Maharani DA, Adiatman M, Rahardjo A, Burnside G, Pine C. An assessment of the impacts of child oral health in Indonesia and associations with self-esteem, school performance and perceived employability. BMC Oral Health. 2017 Dec; 17(1): 1-0. doi: 10.1186/s12903-017-0358-5
Alanzi A, Muhammad S, Faridoun A, Alterkait A. Pediatricians' Knowledge of Children's Oral Health: A National Survey. International Dental Journal. 2022 Sep: 1-7. doi: 10.1155/2022/2339540
Mahmoud N, Kowash M, Hussein I, Hassan A, Al Halabi M. Oral health knowledge, attitude, and practices of Sharjah mothers of preschool children, United Arab Emirates. Journal of International Society of Preventive & Community Dentistry. 2017 Nov; 7(6): 308. doi: 10.4103/jispcd.JISPCD_310_17
Kumar G, Dhillon JK, Vignesh R, Garg A. Knowledge, attitude, and practical behavior of parents regarding their child's oral health in New Delhi. Journal of Indian Society of Pedodontics and Preventive Dentistry. 2019 Jan; 37(1): 3-7. doi: 10.4103/JISPPD.JISPPD_257_18
Hajiahmadi M, Nilchian F, Tabrizi A, Gosha HM, Ahmadi M. Oral health knowledge, attitude, and performance of the parents of 3–12-year-old autistic children. Dental Research Journal. 2022; 19: 24. doi: 10.4103/1735-3327.340109
Leghari MA. Association Of Dental Caries and Parents Knowledge of Oral Health, A Cross-Sectional Survey Of Schools Of Karachi, Pakistan. JPDA. 2014 Jan; 23(01): 19.
Martínez-Beneyto Y, Navarrete-García C, Serna-Muñoz C, Ausina-Márquez V, Poza-Pascual A, Expósito-Delgado AJ, et al. Spanish Paediatricians' Knowledge, Attitudes and Practices Regarding Oral Health of Children under 6 Years of Age: A Cross-Sectional Study. International Journal of Environmental Research and Public Health. 2022 Aug; 19(15): 9550. doi: 10.3390/ijerph19159550
Farid H, Khan FR, Aman N. Knowledge, attitude and practice of mothers regarding their own and children's dental health–a tertiary care hospital based study. Journal of Ayub Medical College Abbottabad. 2013 Jul; 25(3-4): 35-7.
Alkhtib AO and Mohamed HG. Current knowledge about early childhood caries in the gulf cooperation council with worldwide reflection: Scoping review of the scientific literature (2010–2021). PLOS Global Public Health. 2023 Jan; 3(1): e0001228. doi: 10.1371/journal.pgph.0001228
Garrocho-Rangel A, López-Torre ME, Santos-Díaz MÁ, Torre-Delgadillo G, Flores-Arriaga JC, Saadia M, et al. Assessment of Pediatricians' Knowledge, Practices, and Attitudes on Oral Health/Care in Children in the Last Decade: A Systematic Scoping Review and Critical Reflection. Journal of Clinical Pediatric Dentistry. 2022; 46(4): 262-72. doi: 10.22514/1053-4625-46.4.2
Kotha SB. Prevalence and risk factors of early childhood caries in the middle east region: A Systematic Review: Prevalence and risk factors of early childhood caries. Journal of Population Therapeutics and Clinical Pharmacology. 2022 Aug; 29(03): e43-57. doi: 10.47750/jptcp.2022.937
Savin C, Balcos C, Zetu I, Dragomir B, Gavrilă L, Mârțu I, et al. Mothers level of knowledge and attitudes towards their children oral health. Romanian Journal of Oral Rehabilitation. 2022 Apr; 14(2): 63-72.
Berzinski M, Morawska A, Mitchell AE, Baker S. Parenting and child behaviour as predictors of toothbrushing difficulties in young children. International Journal of Paediatric Dentistry. 2020 Jan; 30(1): 75-84. doi: 10.1111/ipd.12570
Fraihat N, Madae'en S, Bencze Z, Herczeg A, Varga O. Clinical effectiveness and cost-effectiveness of oral-health promotion in dental caries prevention among children: systematic review and meta-analysis. International Journal of Environmental Research and Public Health. 2019 Aug; 16(15): 2668. doi: 10.3390/ijerph16152668
Basir L, Khanehmasjedi M, Khanehmasjedi S. Knowledge, attitudes, and practices regarding the oral health of children: a cross-sectional study among iranian parents. Brazilian Journal of Oral Sciences. 2022 Aug; 21: e228274. doi: 10.20396/bjos.v21i00.8668274
Bağ İ. The attitudes of parents toward the oral health of children and their reflection on the non-cavitated caries lesions. Pediatric Dental Journal. 2022 Apr; 32(1): 26-33. doi: 10.1016/j.pdj.2021.12.004
Khan AJ, Sabri BA, Ahmad MS. Factors affecting provision of oral health care for people with special health care needs: A systematic review. The Saudi Dental Journal. 2022 Aug; 34(7): 527-37. doi: 10.1016/j.sdentj.2022.08.008
Tabakcilar D, Peker K, Yilmaz DO, Kasimoglu Y, Tuna-Ince EB, Gencay K, et al. Evaluation of the predictors of oral health-related quality of life among 3–5-year-old children with dental trauma. Brazilian Oral Research. 2023 Jan; 36: e140. doi: 10.1590/1807-3107bor-2022.vol36.0140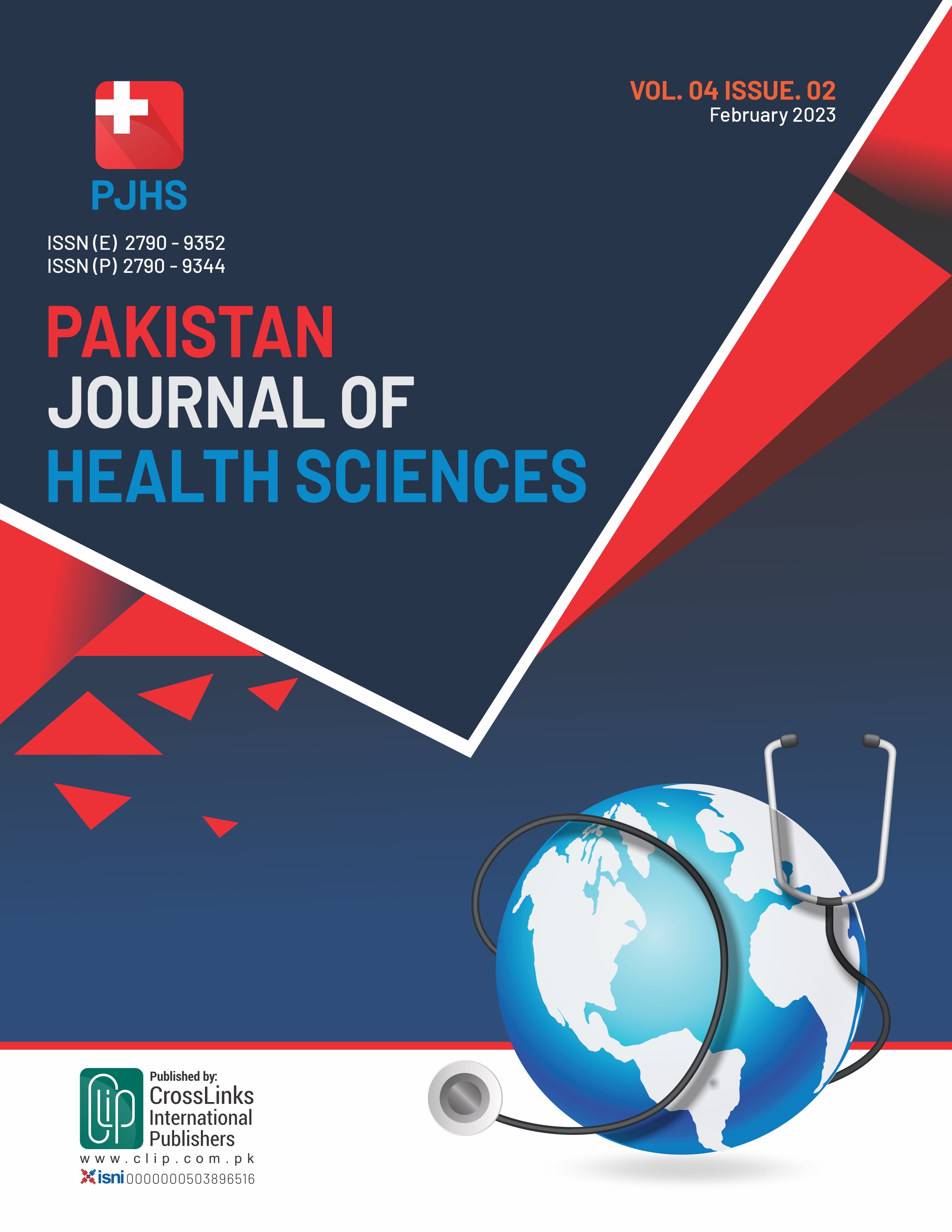 Downloads
How to Cite
Irfan, A. ., Khan, A. ., Irfan, A. ., Mehmood, Z. ., & Tahir, R. . (2023). Effects of Parental Oral Health knowledge on Early Childhood Caries and Oral Health Status of Children 3-5 Years of Age in Abbottabad: Parental Oral Health knowledge on Early Childhood Caries . Pakistan Journal of Health Sciences, 4(02), 76–80. https://doi.org/10.54393/pjhs.v4i02.554
License
Copyright (c) 2023 Pakistan Journal of Health Sciences
This work is licensed under a Creative Commons Attribution 4.0 International License.
This is an open-access journal and all the published articles / items are distributed under the terms of the Creative Commons Attribution License, which permits unrestricted use, distribution, and reproduction in any medium, provided the original author and source are credited. For comments