Effectiveness of Intravenous Magnesium Sulfate in Children Presenting to the Emergency Department with Acute Exacerbation of Asthma
Effectiveness of Intravenous Magnesium Sulfate in Asthma
Keywords:
Asthma, Exacerbation, Pediatric, Emergency Department, Intravenous Magnesium Sulfate
Abstract
Asthma is a serious medical condition in the pediatric age group and can have a high mortality, therefore it should be managed effectively. Patients not responding adequately to first line therapy need additional treatment. A few research studies have evaluated the use of intravenous magnesium sulfate in improving respiratory scores in severe acute pediatric asthma but the results have been conflicting. Objectives: To determine the benefit of intravenous magnesium sulfate in treating children presenting with worsening of asthma symptoms. Methods: A cross-sectional prospective study carried out at the Pediatrics Unit of Zia Uddin University Hospital, Karachi from 1st March 2021 to 1st March 2022. On the whole, 280 children in the age group 2-12 years with acute worsening of asthma of were selected by non-probability purposive sampling technique, however, children in need of invasive ventilation and those having asthma related complications on radiological investigations were omitted. Chi-square was applied for categorical variables and a p-value <0.05 was considered statistically significant. Results: Out of 280 patients who came to the Pediatric Emergency Department with acute severe asthma, 236 (84.3%) patients responded to a single dose of intravenous magnesium sulfate manifested by an improvement in clinical asthma score, while 44 patients (15.7%) did not show improvement. The admission rate to the pediatric intensive care unit was only 12.8%. Conclusion: Magnesium sulfate infusion helps improve respiratory symptoms in acute worsening of pediatric asthma.
References
Saeed MS, Shahid A, Jawed S, Akram M, Qureshi IH. Intravenous magnesium sulphate: An effective therapy for acute severe attack of bronchial asthma. Annals of King Edward Medical University. 2018 Apr; 24(1): 598-604. doi: 10.21649/akemu.v24i1.2364
Tesse R, Borrelli G, Mongelli G, Mastrorilli V, Cardinale F. Treating pediatric asthma according guidelines. Frontiers in pediatrics. 2018 Aug; 6. doi: 10.3389/fped.2018.00234
Song WJ and Chang YS. Magnesium sulfate for acute asthma in adults: a systematic literature review. Asia Pacific Allergy. 2012 Jan; 2(1): 76-85. doi: 10.5415/apallergy.2012.2.1.76
Griffiths B and Kew KM. Intravenous magnesium sulfate for treating children with acute asthma in the emergency department. Cochrane Database of Systematic Reviews. 2016(4). doi: 10.1002/14651858.CD011050.pub2
British Thoracic Society Scottish Intercollegiate Guidelines Network. British guideline on the management of asthma. Thorax. 2014 Nov; 69(1): 1-92.
Zaheer A, Hayat H, Hussain F, Gohar R, Ali AS. Comparison of the effects of intravenous magnesium sulphate versus intravenous aminophylline in acute attack of asthma in Pediatric Emergency Department, Lahore General Hospital, Lahore. Pakistan Postgraduate Medical Journal. 2019; 30(03): 120-4. doi: 10.51642/ppmj.v30i03.318
Davies SJ, Grundmeier RW, Campos DA, Hayes KL, Bell J, Alessandrini EA, et al. The pediatric emergency care applied research network registry: a multicenter electronic health record registry of pediatric emergency care. Applied clinical informatics. 2018 Apr; 9(02): 366-76. doi: 10.1055/s-0038-1651496
Johnson MD, Zorc JJ, Nelson DS, Casper TC, Cook LJ, Finkelstein Y, et al. Intravenous magnesium in asthma pharmacotherapy: variability in use in the PECARN registry. The Journal of Pediatrics. 2020 May; 220: 165-74. doi: 10.1016/j.jpeds.2020.01.062
Kelly HW. Magnesium sulfate for severe acute asthma in children. The Journal of Pediatric Pharmacology and Therapeutics. 2003 Jan; 8(1): 40-5. doi: 10.5863/1551-6776-8.1.40
Daengsuwan T and Watanatham S. A comparative pilot study of the efficacy and safety of nebulized magnesium sulfate and intravenous magnesium sulfate in children with severe acute asthma. Asian Pacific Journal of Allergy and Immunology. 2017 Jun; 35(2): 108-12.
Irazuzta JE and Chiriboga N. Magnesium sulfate infusion for acute asthma in the emergency department☆. Jornal de pediatria. 2017; 93: 19-25. doi: 10.1016/j.jped.2017.06.002
Liu LL, Gallaher MM, Davis RL, Rutter CM, Lewis TC, Marcuse EK. Use of a respiratory clinical score among different providers. Pediatric pulmonology. 2004 Mar; 37(3): 243-8. doi: 10.1002/ppul.10425
Rower JE, Liu X, Yu T, Mundorff M, Sherwin CM, Johnson MD. Clinical pharmacokinetics of magnesium sulfate in the treatment of children with severe acute asthma. European journal of clinical pharmacology. 2017 Mar; 73: 325-31. doi: 10.1007/s00228-016-2165-3
Serebrisky D, Wiznia A. Pediatric asthma: a global epidemic. Annals of global Health. 2019; 85(1): 1-6. doi: 10.5334/aogh.2416
Kanchongkittiphon W, Gaffin JM, Kopel L, Petty CR, Bollinger ME, Miller RL, et al. Association of FEF25%-75% and bronchodilator reversibility with asthma control and asthma morbidity in inner-city children with asthma. Annals of Allergy, Asthma & Immunology. 2016 Jul 1; 117(1): 97-9. doi: 10.1016/j.anai.2016.04.029
Hirashima J, Yamana H, Matsui H, Fushimi K, Yasunaga H. Effect of intravenous magnesium sulfate on mortality in patients with severe acute asthma. Respirology. 2016 May; 21(4): 668-73. doi: 10.1111/resp.12733
Shan Z, Rong Y, Yang W, Wang D, Yao P, Xie J, et al. Intravenous and nebulized magnesium sulfate for treating acute asthma in adults and children: a systematic review and meta-analysis. Respiratory medicine. 2013 Mar; 107(3): 321-30. doi: 10.1016/j.rmed.2012.12.001
Mathew JL and Walia M. Systematic review on efficacy of magnesium (intravenous or nebulized) for acute asthma episodes in children. Indian pediatrics. 2017 Feb; 54: 133-7. doi: 10.1007/s13312-017-1016-3
Özdemir A and Doğruel D. Efficacy of magnesium sulfate treatment in children with acute asthma. Medical Principles and Practice. 2020; 29(3): 292-8. doi: 10.1159/000506595
Ciarallo L, Brousseau D, Reinert S. Higher-dose intravenous magnesium therapy for children with moderate to severe acute asthma. Archives of pediatrics & adolescent medicine. 2000 Oct; 154(10): 979-83. doi: 10.1001/archpedi.154.10.979
Singhi S, Grover S, Bansal A, Chopra K. Randomised comparison of intravenous magnesium sulphate, terbutaline and aminophylline for children with acute severe asthma. Acta Paediatrica. 2014 Dec; 103(12): 1301-6. doi: 10.1111/apa.12780
Alansari K, Ahmed W, Davidson BL, Alamri M, Zakaria I, Alrifaai M. Nebulized magnesium for moderate and severe pediatric asthma: a randomized trial. Pediatric Pulmonology. 2015 Dec; 50(12): 1191-9. doi: 10.1002/ppul.23158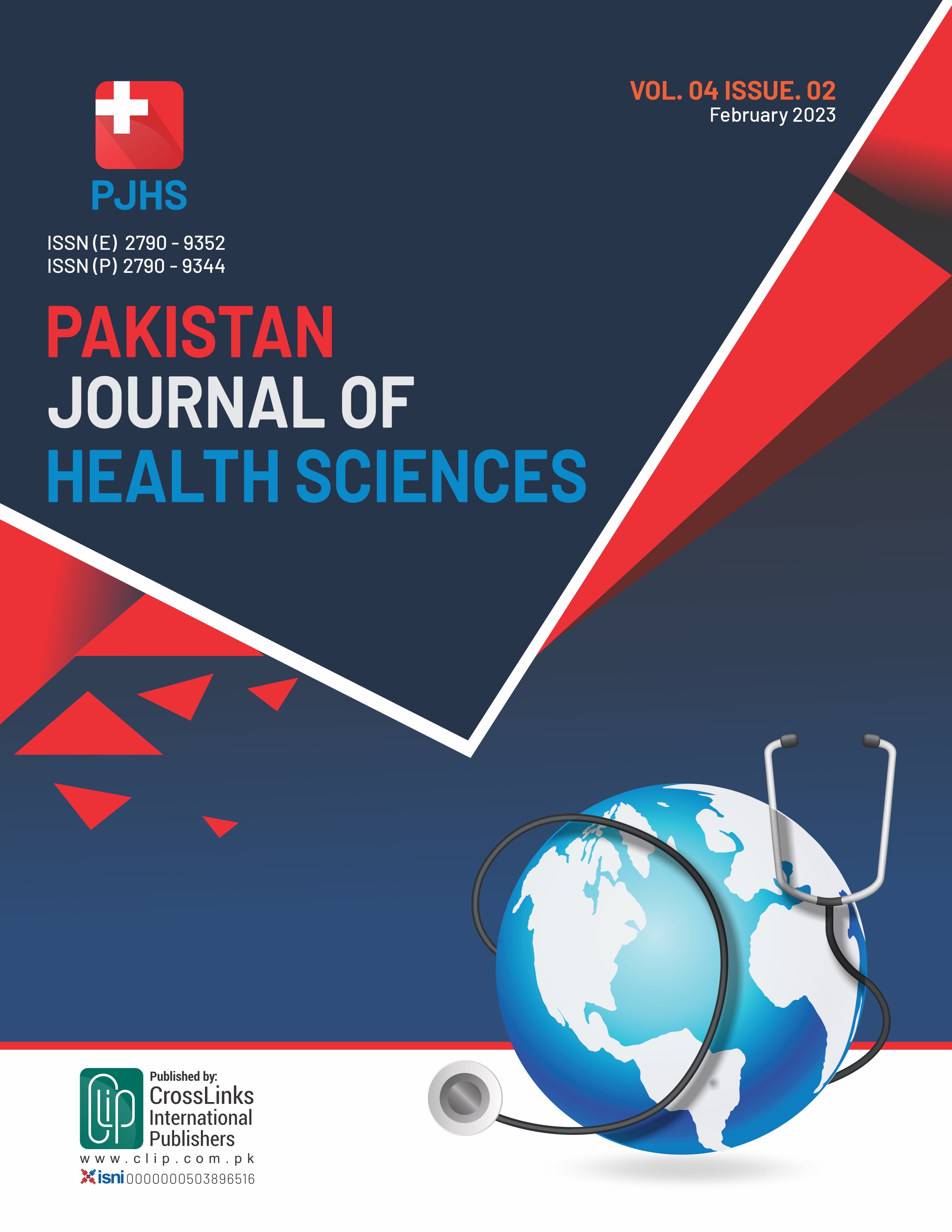 Downloads
How to Cite
Ehsan, S. ., Haresh, S. ., & Haider Tarar, S. . (2023). Effectiveness of Intravenous Magnesium Sulfate in Children Presenting to the Emergency Department with Acute Exacerbation of Asthma : Effectiveness of Intravenous Magnesium Sulfate in Asthma. Pakistan Journal of Health Sciences, 4(02), 61–65. https://doi.org/10.54393/pjhs.v4i02.552
License
Copyright (c) 2023 Pakistan Journal of Health Sciences
This work is licensed under a Creative Commons Attribution 4.0 International License.
This is an open-access journal and all the published articles / items are distributed under the terms of the Creative Commons Attribution License, which permits unrestricted use, distribution, and reproduction in any medium, provided the original author and source are credited. For comments