Causes of Mortality in Hospitalized, PCR Positive Patients of Covid-19 At Tertiary Care Hospital of Sindh Pakistan
Causes of Mortality in Hospitalized, PCR Positive Patients of Covid-19
Keywords:
COVID-19, Respiratory Failure, Mortality, Sepsis
Abstract
In Pakistan, over 10,000 deaths have been reported due to COVID-19 while the exact course of illness and significant causes of mortality has not been found out. Objective: To enumerate the causes of death in hospitalized SARS CoV2 PCR positive patients and also to assess the relationship between COVID mortality and   comorbidities. Methods: The cross-sectional study was conducted at Liaquat University Hospital after taken permission from the ethical review committee. Study included SARS CoV2 PCR positive patients, admitted at Liaquat university hospital and expired during hospitalization, aged greater than 15 year and belonged from either gender. Operated and RTA patients were excluded from study. Results: Patient's age ranged from 18 to 90 year. Mean age was 59.6-year, Male were 79% and female were 21%. Triad of fever, cough and SOB present in 48% of patients. Respiratory failure (54%) and respiratory failure with sepsis (38%) were the leading cause of fatality. Anova Test showed statistically significant correlation between causes of death and comorbidities with p-value 0.015. Both Diabetes and Hypertension were present in 25% of patients. Conclusions: The study concluded that male gender was the dominant sufferer of COVID-19 and in contrast to normal perception, younger age is not an exception for mortality due to COVID-19. Fever, cough and SOB were the most frequent complain. Respiratory failure alone and with sepsis, was found to be the leading reason for mortality. Causes of death were strongly linked with presence of comorbidities in covid 19 patients.
References
Atif M and Malik I. Why is Pakistan vulnerable to COVID‐19 associated morbidity and mortality? A scoping review. The International Journal of Health Planning and Management. 2020 Sep; 35(5): 1041-54. doi: 10.1002/hpm.3016.
Abid K, Bari YA, Younas M, Tahir Javaid S, Imran A. Progress of COVID-19 Epidemic in Pakistan. Asia Pacific Journal of Public Health. 2020 May; 32(4): 154-6. doi: 10.1177/1010539520927259.
Noreen N, Dil S, Niazi S, Naveed I, Khan N, Khan F, et al. COVID 19 pandemic & Pakistan; limitations and gaps. Global Biosecurity. 2020 May; 2(1): 1-11. doi: 10.31646/gbio.63.
Kung S, Doppen M, Black M, Braithwaite I, Kearns C, Weatherall M, et al. Underestimation of COVID-19 mortality during the pandemic. ERJ Open Research. 2021 Jan; 7(1): 1-7. doi: 10.1183/23120541.00766-2020.
Ali I, Sadique S, Ali S. Doctors dealing with COVID-19 in Pakistan: Experiences, perceptions, fear, and responsibility. Frontiers in Public Health. 2021 Dec; 9: 647543. doi: 10.3389/fpubh.2021.647543.
Mulchandani R, Babub GR, Kaur A, Singha R, Lyngdoha T. Factors associated with differential COVID-19 mortality rates in the SEAR nations: a narrative review. IJID Regions. 2022 Feb; 3: 54–67. doi: 10.1016/j.ijregi.2022.02.010.
Chakrawarty A, Ranjan P, Thrinath A, Aggarwal E, Isaac JA, Berry P, et al. Assessment of preventive practices followed by general public during COVID-19 pandemic-a cross-sectional survey from India. Cureus. 2020 Oct; 12(10): e11274. doi: 10.7759/cureus.11274.
Goodman KE, Magder LS, Baghdadi JD, Pineles L, Levine AR, Perencevich EN, et al. Impact of sex and metabolic comorbidities on coronavirus disease 2019 (COVID-19) mortality risk across age groups: 66 646 inpatients across 613 US hospitals. Clinical Infectious Diseases. 2021 Dec; 73(11): e4113-23. doi: 10.1093/cid/ciaa1787.
Bryan MS, Sun J, Jagai J, Horton DE, Montgomery A, Sargis R, et al. Coronavirus disease 2019 (COVID-19) mortality and neighborhood characteristics in Chicago. Annals of Epidemiology. 2021 Apr; 56: 47-54. doi: 10.1016/j.annepidem.2020.10.011.
Akhtar H, Khalid S, Rahman FU, Umar M, Ali S, Afridi M, et al. Presenting Characteristics, Comorbidities, and Outcomes Among Patients With COVID-19 Hospitalized in Pakistan: Retrospective Observational Study. JMIR Public Health and Surveillance. 2021 Dec; 7(12): e32203. doi: 10.2196/32203.
Baqi S, Naz A, Sayeed MA, Khan S, Ismail H, Kumar V, et al. Clinical characteristics and outcome of patients with severe COVID-19 pneumonia at a public sector hospital in Karachi, Pakistan. Cureus. 2021 Feb; 13(2): e13107. doi: 10.7759/cureus.13107.
Sarfaraz S, Shaikh Q, Saleem SG, Rahim A, Herekar FF, Junejo S, et al. Determinants of in-hospital mortality in COVID-19; a prospective cohort study from Pakistan. PLoS One. 2021 May; 16(5): e0251754. doi: 10.1371/journal.pone.0251754.
Chaudhry A, Ikram A, Baig MA, Salman M, Ghafoor T, Zakir H, et al. Mortality analysis of COVID-19 confirmed cases in Pakistan. medRxiv. 2020 Jun: 2020-06. doi: 10.1101/2020.06.07.20121939.
Olivas-Martínez A, Cárdenas-Fragoso JL, Jiménez JV, Lozano-Cruz OA, Ortiz-Brizuela E, Tovar-Méndez VH, et al. In-hospital mortality from severe COVID-19 in a tertiary care center in Mexico City; causes of death, risk factors and the impact of hospital saturation. PLoS One. 2021 Feb; 16(2): e0245772. doi: 10.1371/journal.pone.0245772.
Tazerji SS, Shahabinejad F, Tokasi M, Rad MA, Khan MS, Safdar M, et al. Global data analysis and risk factors associated with morbidity and mortality of COVID-19. Gene Reports. 2022 Mar; 26: 101505. doi: 10.1016/j.genrep.2022.101505.
Elezkurtaj S, Greuel S, Ihlow J, Michaelis EG, Bischoff P, Kunze CA, et al. Causes of death and comorbidities in hospitalized patients with COVID-19. Scientific Reports. 2021 Feb; 11(1): 1-9. doi: 10.1038/s41598-021-82862-5.
Wu C, Chen X, Cai Y, Zhou X, Xu S, Huang H, et al. Risk factors associated with acute respiratory distress syndrome and death in patients with coronavirus disease 2019 pneumonia in Wuhan, China. JAMA Internal Medicine. 2020 Jul; 180(7): 934-43. doi: 10.1001/jamainternmed.2020.0994.
Chen W and Pan JY. Anatomical and pathological observation and analysis of SARS and COVID-19: microthrombosis is the main cause of death. Biological Procedures Online. 2021 Dec; 23(1): 1-2. doi: 10.1186/s12575-021-00142-y.
Beigee FS, Toutkaboni MP, Khalili N, Nadji SA, Dorudinia A, Rezaei M, et al. Diffuse alveolar damage and thrombotic microangiopathy are the main histopathological findings in lung tissue biopsy samples of COVID-19 patients. Pathology-Research and Practice. 2020 Oct; 216(10): 153228. doi: 10.1016/j.prp.2020.153228.
Tian W, Jiang W, Yao J, Nicholson CJ, Li RH, Sigurslid HH, et al. Predictors of mortality in hospitalized COVID‐19 patients: a systematic review and meta‐analysis. Journal of Medical Virology. 2020 Oct; 92(10): 1875-83. doi: 10.1002/jmv.26050.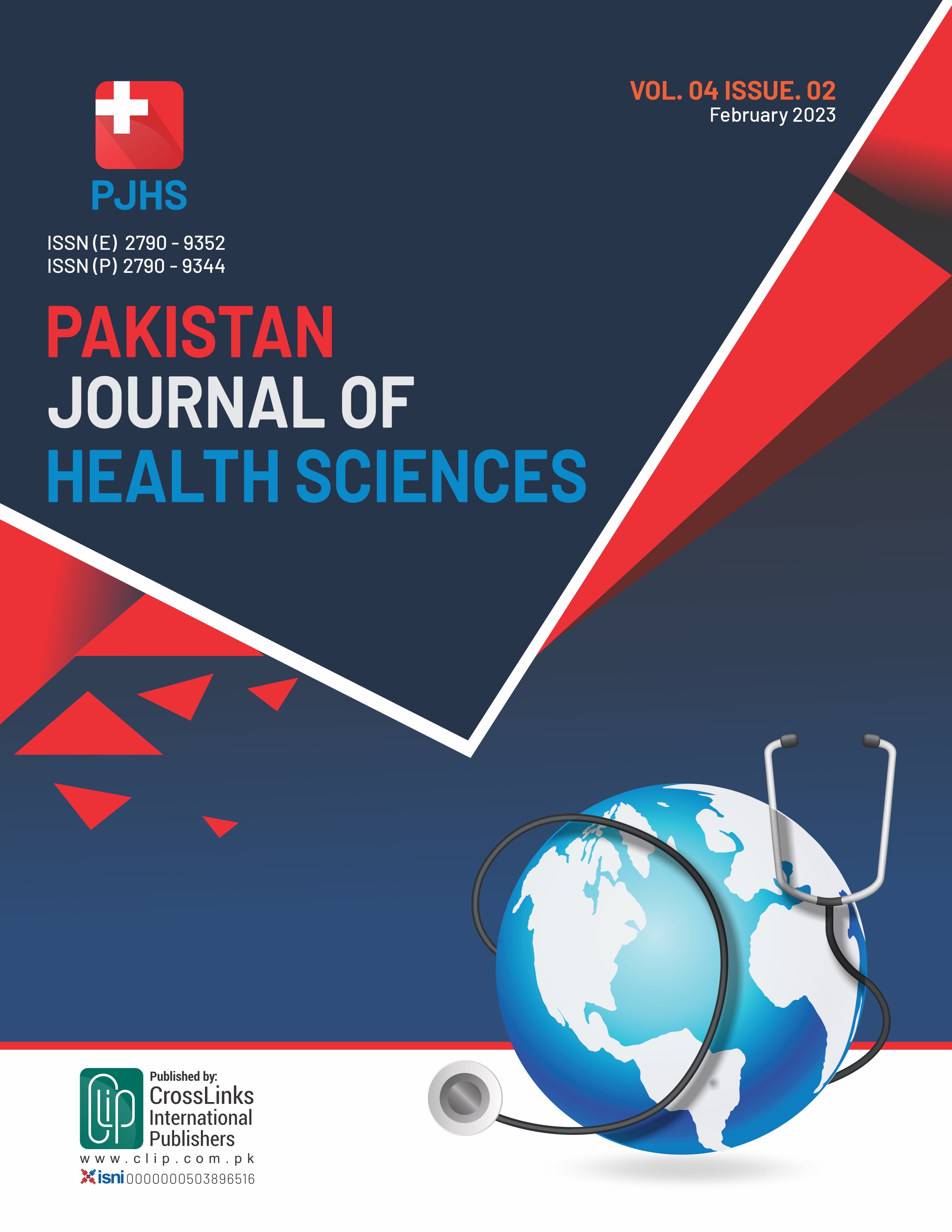 Downloads
How to Cite
Humaira, M. ., Hafez Thebo, A. ., Ul Hadi, J., Durrani, R. ., Zakaria, K. ., Ali Shaikh, M., & Hussain Phul, A. . (2023). Causes of Mortality in Hospitalized, PCR Positive Patients of Covid-19 At Tertiary Care Hospital of Sindh Pakistan: Causes of Mortality in Hospitalized, PCR Positive Patients of Covid-19. Pakistan Journal of Health Sciences, 4(02), 91–94. https://doi.org/10.54393/pjhs.v4i02.536
License
Copyright (c) 2023 Pakistan Journal of Health Sciences
This work is licensed under a Creative Commons Attribution 4.0 International License.
This is an open-access journal and all the published articles / items are distributed under the terms of the Creative Commons Attribution License, which permits unrestricted use, distribution, and reproduction in any medium, provided the original author and source are credited. For comments