Exploring The Experience of Mothers of Premature Babies: A Phenomenological Study
Experience of Mothers of Premature Babi
Keywords:
Lived experience, Prematurity, Mothering, Neonates and NICU
Abstract
Premature birth of babies is a one of the major public health problems all around the world. Objective: To explore the experience of mothers of preterm babies when their baby is admitted in a tertiary care hospital of Lahore. Methods: This study was conducted in the Neonatology department of Children's Hospital, Lahore, Tertiary Care Hospital, Pakistan from June 2022 to December 2022. Semi structured face-to-face individual interview was used to obtain data from the 12 participants who were purposively selected for the study. The audio recorded data collected was translated into English and transcribed verbatim. Analysis was done with the help of computer assisted software called NVIVO-12. By using the Coliazzi's method of phenomenological analysis the codes generated from NVIVO-12 were organized into sub-categories, categories, sub-themes and themes.  Results: Three themes emerged with sixteen subthemes. The themes are: Mixed emotional feelings of the mothers; Mother's satisfaction about care and support from Health Care Professionals; Mother-baby interaction in NICU. Mothers were worried due to unexpected emergency premature delivery and baby's status and had uncertainty related to delivery outcome and the baby's life. Participants have good interaction babies while the Kangaroo Mother Care and Breast Feeding and they applaud HCPs. Conclusions: Mothers were concerned about the survival of premature babies admitted to the NICU. They showed different emotions like fear, anger, sadness, worry, tension, lack of confidence, hope, gratefulness, courage and spiritual faith in Allah. They expressed the feelings of satisfaction about care, treatment counseling and teaching by HCPs.
References
Pusdekar YV, Patel AB, Kurhe KG, Bhargav SR, Thorsten V, Garces A, et al. Rates and risk factors for preterm birth and low birthweight in the global network sites in six low-and low middle-income countries. Reproductive Health. 2020 Dec; 17(3): 1-16. doi: 10.1186/s12978-020-01029-z
Mousavi SS, Keramat A, Chaman R, Mohagheghi P, Mousavi SA, Khosravi A. Impact of maternity support program on the stress of mothers in the first encounter with the preterm infants. International Journal of Preventive Medicine. 2021; 12. 12(68), 314-322. doi: 10.4103/ijpvm.IJPVM_314_19.
McCall EM, Alderdice F, Halliday HL, Vohra S, Johnston L. Interventions to prevent hypothermia at birth in preterm and/or low birth weight infants. Cochrane Database of Systematic Reviews. 2018 Feb; (2). doi: 10.1002/14651858.CD004210.pub5.
Requia WJ, Papatheodorou S, Koutrakis P, Mukherjee R, Roig HL. Increased preterm birth following maternal wildfire smoke exposure in Brazil. International Journal of Hygiene and Environmental Health. 2022 Mar; 240. doi: 10.1016/j.ijheh.2021.113901.
Lalani S, Dosani A, Forcheh N, Premji SS, Siddiqui S, Shaikh K, et al. Perceived stress may mediate the relationship between antenatal depressive symptoms and preterm birth: A pilot observational cohort study. PloS one. 2021 May; 16(5): e0250982. doi: 10.1371/journal.pone.0250982.
Sabnis A, Fojo S, Nayak SS, Lopez E, Tarn DM, Zeltzer L. Reducing parental trauma and stress in neonatal intensive care: systematic review and meta-analysis of hospital interventions. Journal of Perinatology. 2019 Mar; 39(3): 375-86. doi: 10.1038/s41372-018-0310-9
Geller PA, Bonacquisti A, Patterson CA. Maternal experience of neonatal intensive care unit hospitalization: Trauma exposure and psychosocial responses. Motherhood in the Face of Trauma: Springer. 2018: 227-47. doi: 10.1007/978-3-319-65724-0_15.
Yu X, Zhang J, Yuan L. Chinese parents' lived experiences of having preterm infants in NICU: A qualitative study. Journal of pediatric nursing. 2020 Jan; 50: e48-e54. doi: 10.1016/j.pedn.2019.11.002.
Nazari R, Moradi KF, Rezaie S, Akbari N, Qolizadeh A, Sabzi Z. Experiences of the mothers of infants hospitalized in the neonatal intensive care unit (NICU). Journal of neonatal-perinatal medicine. 2020 Jan; 13(4): 571-9. doi: 10.3233/NPM-190205
Ued FdV, Silva MPC, da Cunha ILR, Ruiz MT, Amaral JBd, Contim D. Perception of mothers when visiting their child in the neonatal unit for the first time. Escola Anna Nery. 2019 Jan; 23. doi: 10.1590/2177-9465-EAN-2018-0249
Hanson VF and Abuijlan MIA. Lived experiences of mothers of with premature babies in a neonatal intensive care unit of a selected hospital, in United Arab Emirates: A qualitative content analysis. Victoria. 2022. 6(1), 47-59.
Amorim M, Alves E, Kelly-Irving M, Silva S. Needs of parents of very preterm infants in Neonatal Intensive Care Units: A mixed methods study. Intensive and Critical Care Nursing. 2019 Oct; 54: 88-95. doi: 10.1016/j.iccn.2019.05.003
Rihan SH, Mohamadeen LM, Zayadneh SA, Hilal FM, Rashid HA, Azzam NM, et al. Parents' Experience of Having an Infant in the Neonatal Intensive Care Unit: A Qualitative Study. Cureus. 2021 July; 13(7). doi: 10.7759/cureus.16747
Abuidhail J, Al-Motlaq M, Mrayan L, Salameh T. The lived experience of Jordanian parents in a neonatal intensive care unit: A phenomenological study. Journal of Nursing Research. 2017 Apr; 25(2): 156-62. doi: 10.1097/JNR.0000000000000134.
Jayasinghe C and Abeysena C. Maternal satisfaction on postnatal and neonatal care of babies treated for neonatal sepsis in secondary and tertiary care hospitals of a district in Sri Lanka. 2020.
Shrestha T, Singh A, Bhattarai SKG, Raut KS. Experience of Mothers Having Preterm Newborns in Neonatal Care Units. Journal of Karnali Academy of Health Sciences. 2020 Aug; 3(2): 47-56. doi: 10.3126/jkahs.v3i2.30782
Amadu L, Twumasiwaa BKH, Fuseini A. Experiences of Mothers with hospitalized Preterm Babies in Tamale Central Hospital, Ghana. 2021.
Meyer KE. Parental Experience of Neonatal Intensive Care Unit Support and the Experience of Interventions on Emotional Distress and Infant-Parent Relationships. Alliant International University. 2021
Alinejad-Naeini M, Peyrovi H, Shoghi M. Emotional disorganization: The prominent experience of Iranian mothers with preterm neonate: A qualitative study. Health Care for Women International. 2021 Jul; 42(4-6): 815-35. doi: 10.1080/07399332.2020.1797040
Gallagher K, Shaw C, Aladangady N, Marlow N. Parental experience of interaction with healthcare professionals during their infant's stay in the neonatal intensive care unit. Archives of Disease in Childhood-Fetal and Neonatal Edition. 2018 July; 103(4): F343-F8. doi: 10.1136/archdischild-2016-312278
Lomotey AY, Bam V, Diji AKA, Asante E, Asante HB, Osei J. Experiences of mothers with preterm babies at a Mother and Baby Unit of a tertiary hospital: A descriptive phenomenological study. Nursing Open. 2020 Jan; 7(1): 150-9. doi: 10.1002/nop2.373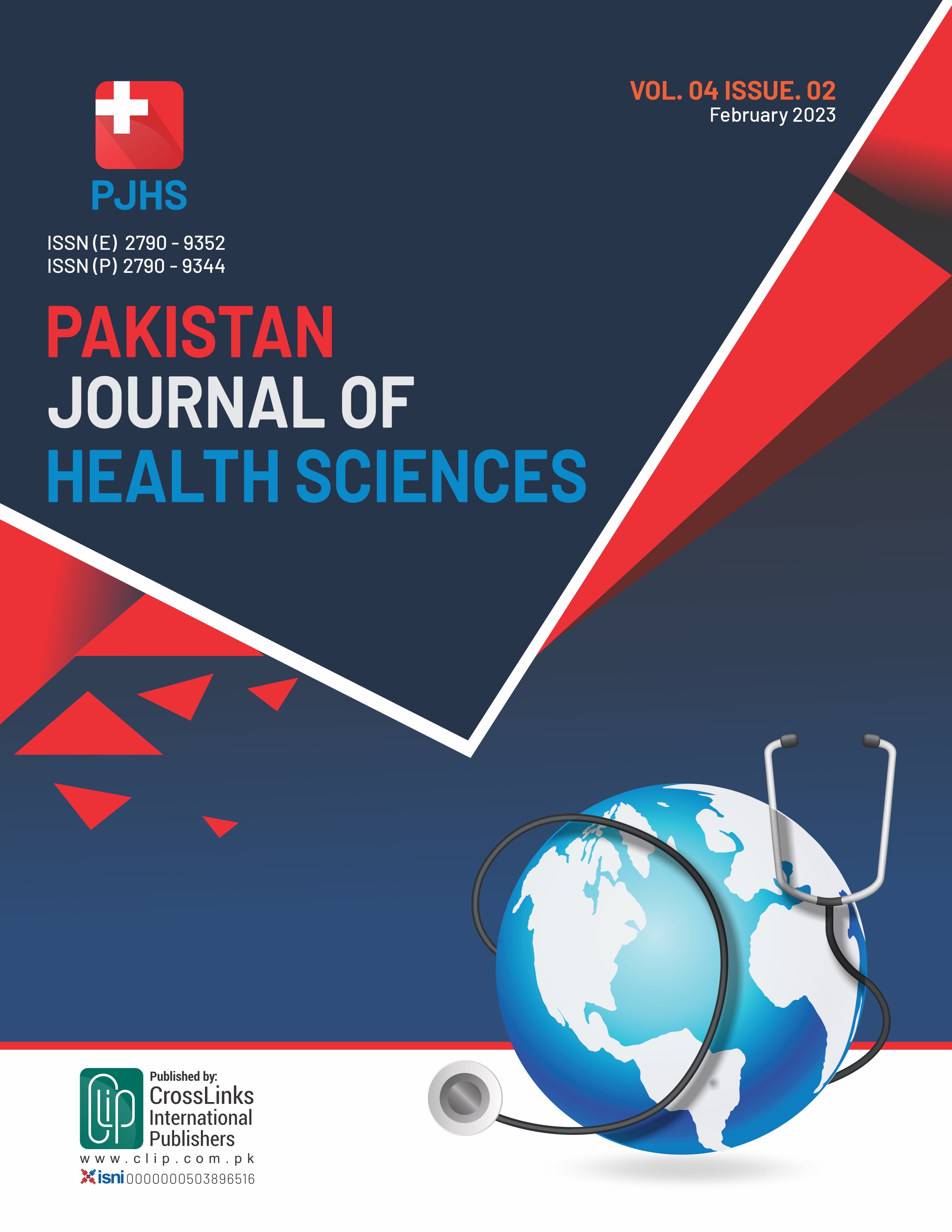 Downloads
CITATION
DOI: 10.54393/pjhs.v4i02.518
How to Cite
Gulshan, S. ., Ozigi Abdullahi, K. ., Yaqoob, A. ., & Ali, A. . (2023). Exploring The Experience of Mothers of Premature Babies: A Phenomenological Study: Experience of Mothers of Premature Babi. Pakistan Journal of Health Sciences, 4(02), 114–119. https://doi.org/10.54393/pjhs.v4i02.518
License
Copyright (c) 2023 Pakistan Journal of Health Sciences
This work is licensed under a Creative Commons Attribution 4.0 International License.
This is an open-access journal and all the published articles / items are distributed under the terms of the Creative Commons Attribution License, which permits unrestricted use, distribution, and reproduction in any medium, provided the original author and source are credited. For comments