Buster Effect of Apricot Kernel Oil On Hypocholesteremia
Effect of Apricot Kernel Oil on Hypocholesteremia
Keywords:
Hypercholesterolemia, Cholesterol, Apricot (Prunus armeniaca), Kubani, Kernels
Abstract
Cholesterol is a natural substance produced by liver in human body According to research based on Framingham Heart Study, ideal cholesterol level is below than 150 mg/dL. Apricot (Prunus armeniaca) is an important medicinal plant belongs to family Rosaceae which is also grown in Pakistan. In local language it is called "Kubani" having nutritious flesh, pits containing kernels. Objective: To explore therapeutic potential of apricot kernel oil on hypercholesterolemic rabbits.  Method: Apricot kernel oil was extracted by cold extraction method. Rabbits were adapted for two weeks before starting treatments. Total feed doses i.e. 250 g was divided in two portions and were given to rabbits in early morning and early evening. Food consumption for every rabbit was consistent to 250 g/day for four week's experimentation. Results: After usage of 1 % apricot Kernel oil (supplemented) the maximum blood cholesterol level decreased from 159.38 mg/dL to 122.8 mg/dL and also decreased in blood triglyceride level was from 237.82 mg/ dL to 192.20 mg/ dL. The HDL contents of rabbits were increased from 26.750 mg/ dL to 33.450 mg/ dL. LDL contents of rabbits were decreases from 46.90 mg/ dL to 36.05 mg/ dL. VLDL contents of rabbits were decreases from 23.7 mg/ dL to 18.3 mg/ dL detected after Six weeks. Conclusion: Current study was carried out. Apricot kernel oil has ability to remove the lipid profile especially cholesterol 
References
Rerkasem K, Gallagher PJ, Grimble RF, Calder PC, Shearman CP. Managing hypercholesterolemia and its correlation with carotid plaque morphology in patients undergoing carotid endarterectomy. Vascular health and risk management. 2008 Dec; 4(6): 1259-64. doi: 10.2147/vhrm.s3729
Rifai N, Bachorik PS, Albers JJ. Tietz textbook of clinical chemistry. Lipids, lipoproteins and apolipoproteins. 3rd ed. Philadelphia: WB Saunders Company. 1999 June: 809-861.
Chen ZY, Jiao R, Ma KY. Cholesterol-lowering nutraceuticals and functional foods. Journal of Agricultural and Food Chemistry. 2008 Oct; 56(19): 8761-73. doi: 10.1021/jf801566r.
Chen ZY, Ma KY, Liang Y, Peng C, Zuo Y. Role and classification of cholesterol-lowering functional foods. Journal of Functional foods. 2011 Apr; 3(2): 61-9. doi: 10.1016/j.jff.2011.02.003.
Kumar PV, Sivaraj A, Elumalai EK, Kumar BS. Carbon tetrachloride-induced hepatotoxicity in rats-protective role of aqueous leaf extracts of Coccinia grandis. International Journal of PharmTech Research. 2009; 1(4): 1612-1615.
Rao AV and Rao LG. Carotenoids and human health. Pharmacological research. 2007 Mar; 55(3): 207-16. doi: 10.1016/j.phrs.2007.01.012
Simopoulos AP. The importance of the ratio of omega-6/omega-3 essential fatty acids. Biomedicine & pharmacotherapy. 2002 Oct; 56(8): 365-79. doi: 10.1016/S0753-3322(02)00253-6
Arvindakshan M, Ghate M, Ranjekar PK, Evans DR, Mahadik SP. Supplementation with a combination of ω-3 fatty acids and antioxidants (vitamins E and C) improves the outcome of schizophrenia. Schizophrenia research. 2003 Aug; 62(3): 195-204. doi: 10.1016/S0920-9964(02)00284-0
Schieber A, Stintzing FC, Carle R. By-products of plant food processing as a source of functional compounds—recent developments. Trends in Food Science & Technology. 2001 Nov; 12(11): 401-13. doi: 10.1016/S0924-2244(02)00012-2.
Parlakpinar H, Olmez E, Acet A, Ozturk F, Tasdemir S, Ates B, et al. Beneficial effects of apricot-feeding on myocardial ischemia-reperfusion injury in rats. Food and chemical toxicology. 2009 Apr; 47(4): 802-8. doi: 10.1016/j.fct.2009.01.014
Boyer J and Liu RH. Apple phytochemicals and their health benefits. Nutrition journal. 2004 Dec; 3(1): 1-5. doi: 10.1186/1475-2891-3-5
Kim DO, Jeong SW, Lee CY. Antioxidant capacity of phenolic phytochemicals from various cultivars of plums. Food chemistry. 2003 Jun; 81(3): 321-6. doi: 10.1016/S0308-8146(02)00423-5
Ishaq S, Rathore HA, Majeed S, Awan S, Zulfiqar-Ali-Shah S. The studies on the physico-chemical and organoleptic characteristics of apricot (Prunus armeniaca L.) produced in Rawalakot, Azad Jammu and Kashmir during storage. Pakistan journal of Nutrition. 2009; 8(6): 856-60.
Aller R, de Luis DA, Izaola O, La Calle F, del Olmo L, Fernandez L, et al. Effect of soluble fiber intake in lipid and glucose leves in healthy subjects: a randomized clinical trial. Diabetes Research and Clinical Practice. 2004 Jul; 65(1): 7-11. doi: 10.1016/j.diabres.2003.11.005
Al Kurki J, Hill NC, Ruffin L, Lyons B, Interns NC, Rudolf M, et al. Oilseed processing for small-scale producers. ATTRA–National Sustainable Agriculture Information Service: A division of National Centre for Appropriate Technology (NCAT) United States Department of Agriculture's Rural Business–Cooperative Service. 2008; 16.
Shakirin FH, Prasad KN, Ismail A, Yuon LC, Azlan A. Antioxidant capacity of underutilized Malaysian Canarium odontophyllum (dabai) Miq. fruit. Journal of Food Composition and Analysis. 2010 Dec; 23(8): 777-81. doi: 10.1016/j.jfca.2010.04.008.
Choi YK, Cho GS, Hwang S, Kim BW, Lim JH, Lee JC, et al. Methyleugenol reduces cerebral ischemic injury by suppression of oxidative injury and inflammation. Free Radical Research. 2010 Aug; 44(8): 925-35. doi: 10.3109/10715762.2010.490837.
Steel RG, Torrie JH, Dicky DA. Principles and procedures of statistics a biometrical approach. McGraw Hill Book International Co. 1997.
Ramadan MF, Zayed R, Abozid M, Asker MM. Apricot and pumpkin oils reduce plasma cholesterol and triacylglycerol concentrations in rats fed a high-fat diet. Grasas y aceites. 2011 Dec; 62(4): 443-52. doi: 10.3989/gya.032911.
Plat J and Mensink RP. Plant stanol and sterol esters in the control of blood cholesterol levels: mechanism and safety aspects. The American journal of cardiology. 2005 Jul; 96(1): 15-22. doi: 10.1016/j.amjcard.2005.03.015
Kurushima H, Hayashi K, Toyota Y, Kambe M, Kajiyama G. Comparison of hypocholesterolemic effects induced by dietary linoleic acid and oleic acid in hamsters. Atherosclerosis. 1995 Apr; 114(2): 213-21.doi: 10.1016/0021-9150(94)05486-3.
Quddoos MY, Farooq U, Hussain S, Mahmood S, Zahra SM, Nadeem M, et al. Optimizing the in vitro Synbotic relationship of Probiotic (Acid resistant strain of Lactobacillus Acidophilus) and prebiotics (Galacto-Oligosaccharide and Malt-odextrin). International Journal of Scientific Innovations. 2018 May; 4(2): 69-76. doi: 10.32594/IJSI_20180402
Mensink RP, Zock PL, Kester AD, Katan MB. Effects of dietary fatty acids and carbohydrates on the ratio of serum total to HDL cholesterol and on serum lipids and apolipoproteins: a meta-analysis of 60 controlled trials. The American journal of clinical nutrition. 2003 May; 77(5): 1146-55. doi: 10.1093/ajcn/77.5.1146
Ergun S, Yontem M, Yerlikaya A, Ozata A, Uysal K, Kurt H. Influence of dietary oils on liver and blood lipid peroxidation. Saudi medical journal. 2005 Mar; 26(3): 442-6.
Katan MB, Grundy SM, Jones P, Law M, Miettinen T, Paoletti R, et al. Efficacy and safety of plant stanols and sterols in the management of blood cholesterol levels. InMayo Clinic Proceedings 2003 Aug; (78(8): 965-78. doi: 10.4065/78.8.965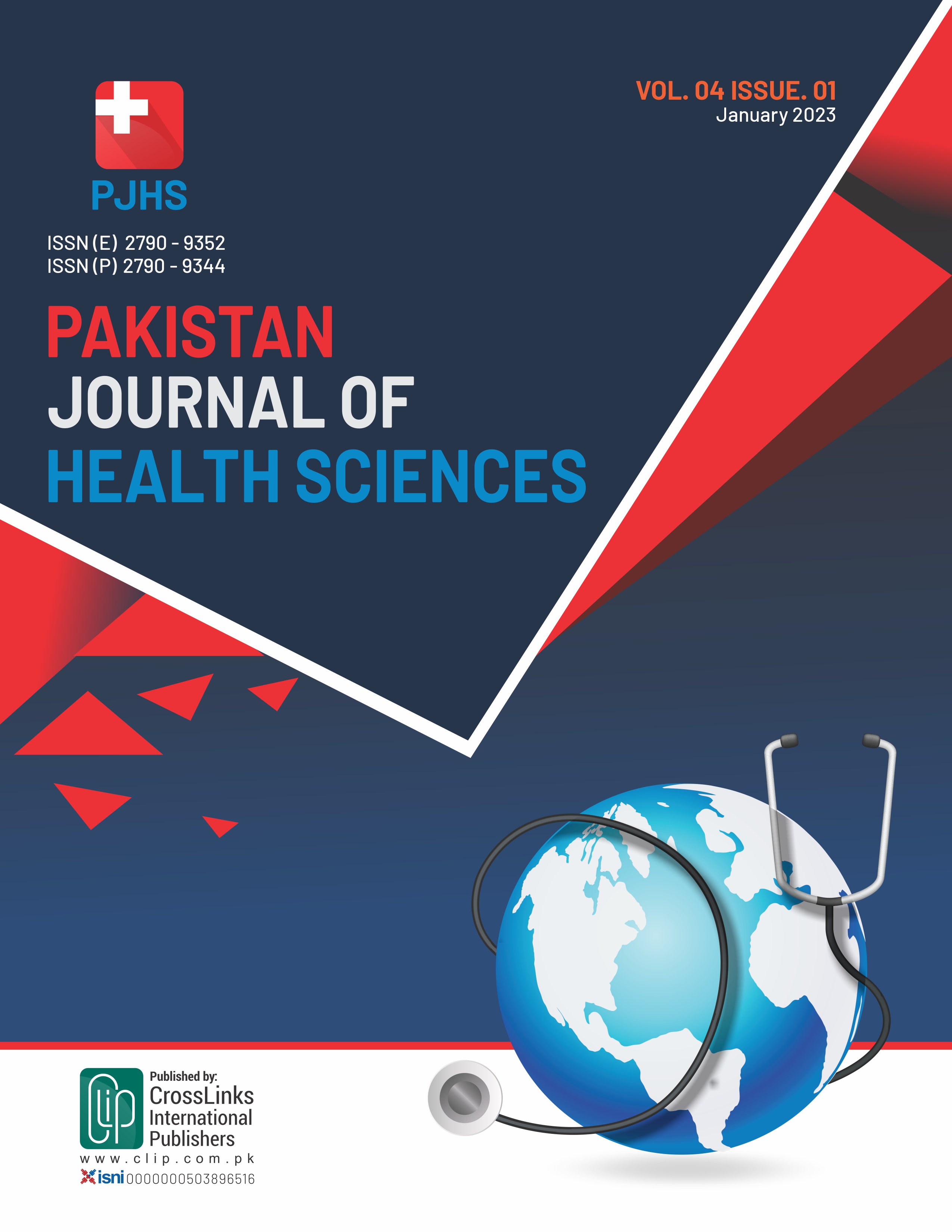 Downloads
CITATION
DOI: 10.54393/pjhs.v4i01.448
How to Cite
Tabassum, R. ., Farooq, U. ., Yousaf Quddoos, M. ., Anjum Murtaza, M. ., Sami Ullah, T. ., Fatima, I. ., Fatima, A. ., Rehman, M. A. U. ., Chaudhry, F. ., Kauser, S. ., Noreen, S. ., Qadeer, Z. ., Ayesha Batool, S. ., Yaqub, S. ., & Hussain, A. . (2023). Buster Effect of Apricot Kernel Oil On Hypocholesteremia: Effect of Apricot Kernel Oil on Hypocholesteremia. Pakistan Journal of Health Sciences, 4(01), 135–140. https://doi.org/10.54393/pjhs.v4i01.448
License
Copyright (c) 2023 Pakistan Journal of Health Sciences
This work is licensed under a Creative Commons Attribution 4.0 International License.
This is an open-access journal and all the published articles / items are distributed under the terms of the Creative Commons Attribution License, which permits unrestricted use, distribution, and reproduction in any medium, provided the original author and source are credited. For comments