Costochondritis After Coronary Artery Bypass Grafting
Costochondritis after Coronary Artery Bypass Grafting
Keywords:
Costochondritis, Coronary Artery Bypass Grafting (CABG), Median Sternotomy
Abstract
Costochondritis is painful inflammatory condition of costochondral junctions, which can be reproduced by palpating the affected joints. After CABG, musculoskeletal problems are major cause of chest pain due to median sternotomy. Prevalence of costochondritis in emergency department is 14% but its frequency in patients after coronary artery bypass grafting is not well established. Objective: To identify costochondritis as complication of sternotomy in post-operative CABG patients. Methods: This was a descriptive case series study in which 43 patients were included in study according to inclusion and exclusion criteria. 28 males and 15 females were included in the study with same baseline characteristics. Each patient was assessed using diagnostic criteria based on clinical history and physical examination, after 3 weeks of coronary artery bypass grafting, under supervision of cardiologist. Results: Mean age of patients was 51.14, with range minimum 30 years to maximum 70 years. 15 patients (34.9%) had costochondritis after CABG and 28 patients (65.1%) had other musculoskeletal causes of chest pain. Conclusions: Costochondritis after CABG is one major complication of sternotomy which causes severe chest pain, affecting 34.9% patients. It affects females twice as compare to males
References
Diodato M, Chedrawy EG. Coronary artery bypass graft surgery: the past, present, and future of myocardial revascularisation. Surgery Research and Practice. 2014; 2014:726158. doi: 10.1155/2014/726158
Disla E, Rhim HR, Reddy A, Karten I, Taranta A. Costochondritis. A prospective analysis in an emergency department setting. Archives of Internal Medicine. 1994 Nov; 154(21):2466-9. doi: 10.1001/archinte.154.21.2466
Pantell RH and Goodman BW Jr. Adolescent chest pain: a prospective study. Pediatrics. 1983 Jun; 71(6):881-7
Proulx AM and Zryd TW. Costochondritis: diagnosis and treatment. American Family Physician. 2009 Sep; 80(6):617-20
Crawford SJ, Swan CD, Boutlis CS, Reid AB. Candida costochondritis associated with recent intravenous drug use. IDCases. 2016 Apr; 4:59-61. doi: 10.1016/j.idcr.2016.04.002
Kulik A, Ruel M, Jneid H, Ferguson TB, Hiratzka LF, Ikonomidis JS, et al. Secondary prevention after coronary artery bypass graft surgery: a scientific statement from the American Heart Association. Circulation. 2015 Mar; 131(10):927-64. doi: 10.1161/CIR.0000000000000182
Wayne S and Wayne V. Atypical chest pain after coronary artery bypass graft surgery. Australian Family Physician. 2014 Sep; 43(9):627-8
Anjum I, Mansur I, Amjed Y. Current concepts in costochondritis. Isra Medical Journal. 2011:71.
Modi P, Rodriguez E, Hargrove WC, Hassan A, Szeto WY, Chitwood WR Jr. Minimally invasive video-assisted mitral valve surgery: a 12-year, 2-center experience in 1178 patients. The Journal of Thoracic and Cardiovascular Surgery. 2009 Jun; 137(6):1481-7. doi: 10.1016/j.jtcvs.2008.11.041
Ian Rabey M. Costochondritis: Are the symptoms and signs due to neurogenic inflammation. Two cases that responded to manual therapy directed towards posterior spinal structures. Manual Therapy. 2008 Feb; 13(1):82-6. doi: 10.1016/j.math.2006.12.007
Scarci M, Solli P, Bedetti B. Enhanced recovery pathway for thoracic surgery in the UK. Journal of Thoracic Disease. 2016 Feb; 8(Suppl 1):S78-83. doi: 10.3978/j.issn.2072-1439.2015.11.07
Mirhosseini SJ, Salehi M, Ali-Hassan-Sayegh S, Forouzannia K, Karimi-Bondarabadi AA. Costochondritis caused by Aspergillus flavus following cardiac surgery. Acta Medica Iranica. 2013; 51(10):733-5
Boran M and Boran E. Idiopathic Costochondritis and Tietze Syndrome: Atypical Chest Pain Syndromes–Recurrence Rates, Treatment Modalities, Seasonality. American Journal of Cardiology. 2018 Apr; 121(8):e40. doi: 10.1016/j.amjcard.2018.03.115
Oh RC and Johnson JD. Chest pain and costochondritis associated with vitamin d deficiency: a report of two cases. Case Reports in Medicine. 2012; 2012:375730. doi: 10.1155/2012/375730.
Hawkes AL, Nowak M, Bidstrup B, Speare R. Outcomes of coronary artery bypass graft surgery. Vascular Health and Risk Management. 2006; 2(4):477-84. doi: 10.2147/vhrm.2006.2.4.477
Narciso P and Havard K. What is the value of a clinical impression of costochondritis in the evaluation of chest pain?. 2011
Geyser M and Smith S. Chest pain prevalence, causes, and disposition in the emergency department of a regional hospital in Pretoria. African Journal of Primary Health Care and Family Medicine. 2016 Jun; 8(1):e1-5. doi: 10.4102/phcfm.v8i1.1048
Wray TM, Bryant RE, Killen DA. Sternal osteomyelitis and costochondritis after median sternotomy. The Journal of Thoracic and Cardiovascular Surgery. 1973 Feb; 65(2):227-33
Oliván-Sasot P, Martínez-Sanchis B, Sánchez-Vañó R, Yepes-Agudelo AM, Bello-Arques P. Pan-Costochondritis Caused by Aspergillus Diagnosed by 18F-FDG PET/CT. Clinical Nuclear Medicine. 2018 Oct; 43(10):e381-e382. doi: 10.1097/RLU.0000000000002237
Nowicki JL, Dean NR, Watson DI. A Case Report of Candida albicans Costochondritis after a Complicated Esophagectomy. Plastic and Reconstructive Surgery and Global Open. 2016 Feb; 4(1):e608. doi: 10.1097/GOX.0000000000000599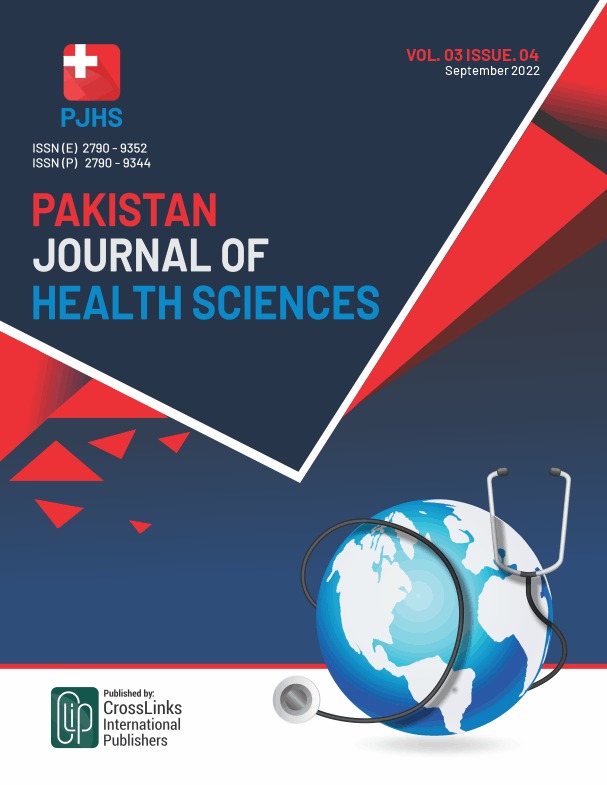 Downloads
CITATION
DOI: 10.54393/pjhs.v3i04.116
How to Cite
Nauman Jamal , M. ., Anees Sarwar, M. ., Fatima, I. ., Shabbir , S. ., & Hayat , R. . (2022). Costochondritis After Coronary Artery Bypass Grafting: Costochondritis after Coronary Artery Bypass Grafting . Pakistan Journal of Health Sciences, 3(04), 121–125. https://doi.org/10.54393/pjhs.v3i04.116
License
Copyright (c) 2022 Pakistan Journal of Health Sciences
This work is licensed under a Creative Commons Attribution 4.0 International License.
This is an open-access journal and all the published articles / items are distributed under the terms of the Creative Commons Attribution License, which permits unrestricted use, distribution, and reproduction in any medium, provided the original author and source are credited. For comments