Frequency of Bleeding Duodenal Ulcer in Patients Presenting with Upper Gastrointestinal Bleeding
Frequency of Duodenal Ulcer in patients with Gastrointestinal Bleeding
Keywords:
Gastrointestinal surgery, Peptic ulcer bleeding, Endoscopy and Mortality
Abstract
Acute upper gastrointestinal bleeding is a well-known complication of peptic ulcers and erosions. The prevalence of Upper Gastrointestinal bleeding ranges from 48-160 patients per 100,000 people, with consistent reports of higher incidence among elderly and men. Objective: To determine the incidence of duodenal ulcer bleeding in patients admitted to the tertiary care hospital with bleeding from the upper gastrointestinal tract. Methods: The study included 270 patients, 20 to 70 years of age, of both sexes with upper gastrointestinal bleeding within 24 hours of symptom onset. A detailed interview and complete physical examination were performed. Endoscopic examination protocols were followed and accomplished within 48-hrs of the start of symptoms as bleeding. All of the above information, including age, sex and duodenal ulcer, was documented in a formerly designed proforma. The data were analyzed and entered in SPSS 22.0.  Results: The mean age and SD were 54.5 + 10.54. 110 (40.74%) patients were 20-45 years old and 160 (59.25%) subjects were 46-70 years old. 190 (70.37%) patients were male and 80 (29.62%) females. While in this study duodenal ulcer was seen in 64 (23.70%) patients, 206 (76.29%) patients did not have duodenal ulcer. Conclusions: Upper Gastrointestinal bleeding is secondary to duodenal ulcers due to an increase in early readmissions over time, as observed in this local population, resulting in a higher incidence of duodenal ulcers in our local population.
References
Farrukh S, Raja S, Junaid K, Sahibzada NM, Naseer A. Frequency of different causes of upper gastrointestinal bleeding using endoscopic procedure at a tertiary care hospital. Causes of Upper Gastrointestinal Bleeding. Pakistan Armed Forces Medical Journal. 2014 Sep; 64(3):410-413.
Marcel JM, Ernst JK, Bettina EH, Rob JT. Incidence of duodenal ulcers and gastric ulcers in a Western population: Back to where it started. Canadian Journal of Gastroenterology. 2009 Sep; 23(9):604–08. doi: 10.1155/2009/181059.
Farah S, Rizwan A, Muhammad A. Frequency of duodenal ulcer in cirrhosis of liver. Pakistan Journal of Medical Health Sciences. 2010 Jan; 4(1):56-60.
Budimir I, Stojsavljevic S, Nikolic M, Kralj D, Biscanin A, Kirigin LS, et al. Bleeding peptic ulcer: epidemiology, treatment and prognosis. Acta Clinica Croatica. 2017 Dec; 3(1):1007. doi: 10.20471/acc.2017.56.04.18.
Chey WD and Wong BC. American college of gastroenterology guideline on the management of helicobacter pylori infection. The American Journal of Gastroenterology. 2014 Aug; 102(8):1808-25. doi: 10.1111/j.1572-0241.2007.01393.x.
Sung JJ, Tsoi KK, Ma TK, Yung MY, Lau JY, Chiu PW. Causes of mortality in patients with peptic ulcer bleeding: a prospective cohort study of 10,428 cases. The American Journal of Gastroenterology. 2010 Jan; 105(1):84-9. doi: 10.1038/ajg.2009.507.
Quan S, Frolkis A, Milne K, Molodecky N, Yang H, Dixon E, et al. Upper-gastrointestinal bleeding secondary to peptic ulcer disease: Incidence and outcomes. World Journal of Gastroenterology. 2014 Dec; 20(46):17568–577. doi: 10.3748/wjg.v20.i46.17568.
Gralnek IM, Dumonceau JM, Kuipers EJ. Diagnosis and management of nonvariceal upper gastrointestinal hemorrhage: European Society of Gastrointestinal Endoscopy (ESGE) Guideline. Endoscopy. 2015 Oct; 47(10):a1-a46. doi: 10.1055/s-0034-1393172.
al-Assi MT, Genta RM, Karttunen TJ, Graham DY. Ulcer site and complications: relation to Helicobacter pylori infection and NSAID use. Endoscopy. 1996 Feb; 28(2):229-33. doi: 10.1055/s-2007-1005433.
Frattaroli FM, Casciani E, Spoletini D, Polettini A, Nunziale A, Bertini L, et al. Prospective study comparing multi-detector row CT and endoscopy in acute gastrointestinal bleeding. World Journal of Surgery. 2009 Oct; 33(10):2209-17. doi: 10.1007/s00268-009-0156-6.
Lam KL, Wong JC, Lau JY. Pharmacological treatment in upper gastrointestinal bleeding. Current Treatment Options in Gastroenterology. 2015 Dec; 13(4):369-76. doi: 10.1007/s11938-015-0063-x.
Curdia-Goncalves T, Rosa B, Cotter J. New insights on an old medical emergency: non-portal hypertension related upper gastrointestinal bleeding. Revista espanola de enfermedades digestivas. 2016 Oct; 108(10):648-56. doi: 10.17235/reed.2016.4240/2016.
Lirio RA. Management of upper gastrointestinal bleeding in children: variceal and nonvariceal. Gastrointestinal Endoscopy Clinics of North America. 2016 Jan; 26(1):63-73. doi: 10.1016/j.giec.2015.09.003.
Fallah MA, Prakash C, Edmundowicz S. Acute gastrointestinal bleeding. Medical Clinics of North America. 2000 Sep; 84(5):1183-208. doi: 10.1016/s0025-7125(05)70282-0.
Pongprasobchai S, Nimitvilai S, Chasawat J, Manatsathit S. Upper gastrointestinal bleeding etiology score for predicting variceal and non-variceal bleeding. World Journal of Gastroenterology. 2009 Mar; 15(9):1099-104. doi: 10.3748/wjg.15.1099.
Straube S, Tramer MR, Moore RA, Derry S, McQuay HJ. Mortality with upper gastrointestinal bleeding and perforation: effects of time and NSAID use. BMC Gastroenterology. 2009 Jun; 9:41. doi: 10.1186/1471-230X-9-41.
Yavorski RT, Wong RK, Maydonovitch C, Battin LS, Furnia A, Amundson DE. Analysis of 3,294 cases of upper gastrointestinal bleeding in military medical facilities. The American Journal of Gastroenterology. 1995 Apr; 90(4):568-73.
Stabile BE and Stamos MJ. Surgical management of gastrointestinal bleeding. Gastroenterology Clinics of North America. 2000 Mar; 29(1):189-222. doi: 10.1016/s0889-8553(05)70112-6.
Cheung FK and Lau JY. Management of massive peptic ulcer bleeding. Gastroenterology Clinics of North America. 2009 Jun; 38(2):231-43. doi: 10.1016/j.gtc.2009.03.003.
Tiriveedhi K, Simon J, Cerulli MA. Does gastric lavage reduce the detection of Helicobacter pylori in the biopsy specimens? Gastrointestinal Endoscopy. 2007 Apr; 65(5):AB312. doi: 10.1016/j.gie.2007.03.756.
Boonpongmanee S, Fleischer DE, Pezzullo JC, Collier K, Mayoral W, Al-Kawas F, et al. The frequency of peptic ulcer as a cause of upper-GI bleeding is exaggerated. Gastrointestinal Endoscopy. 2004 Jun; 59(7):788-94. doi: 10.1016/S0016-5107(04)00181-6.
Elmunzer BJ, Young SD, Inadomi JM, Schoenfeld P, Laine L. Systematic review of the predictors of recurrent hemorrhage after endoscopic hemostatic therapy for bleeding peptic ulcers. The American Journal of Gastroenterology. 2008 Oct; 103(10):2625-32. doi: 10.1111/j.1572-0241.2008.02070.x.
Leaper DJ. Surgery JD Corson RCN Williamson (eds) 297 × 254 mm Pp 1660 Illustrated 2001 London: Mosby. British Journal of Surgery. 2002 Nov; 88(9):1269. doi: 10.1046/j.0007-1323.2001.01887.x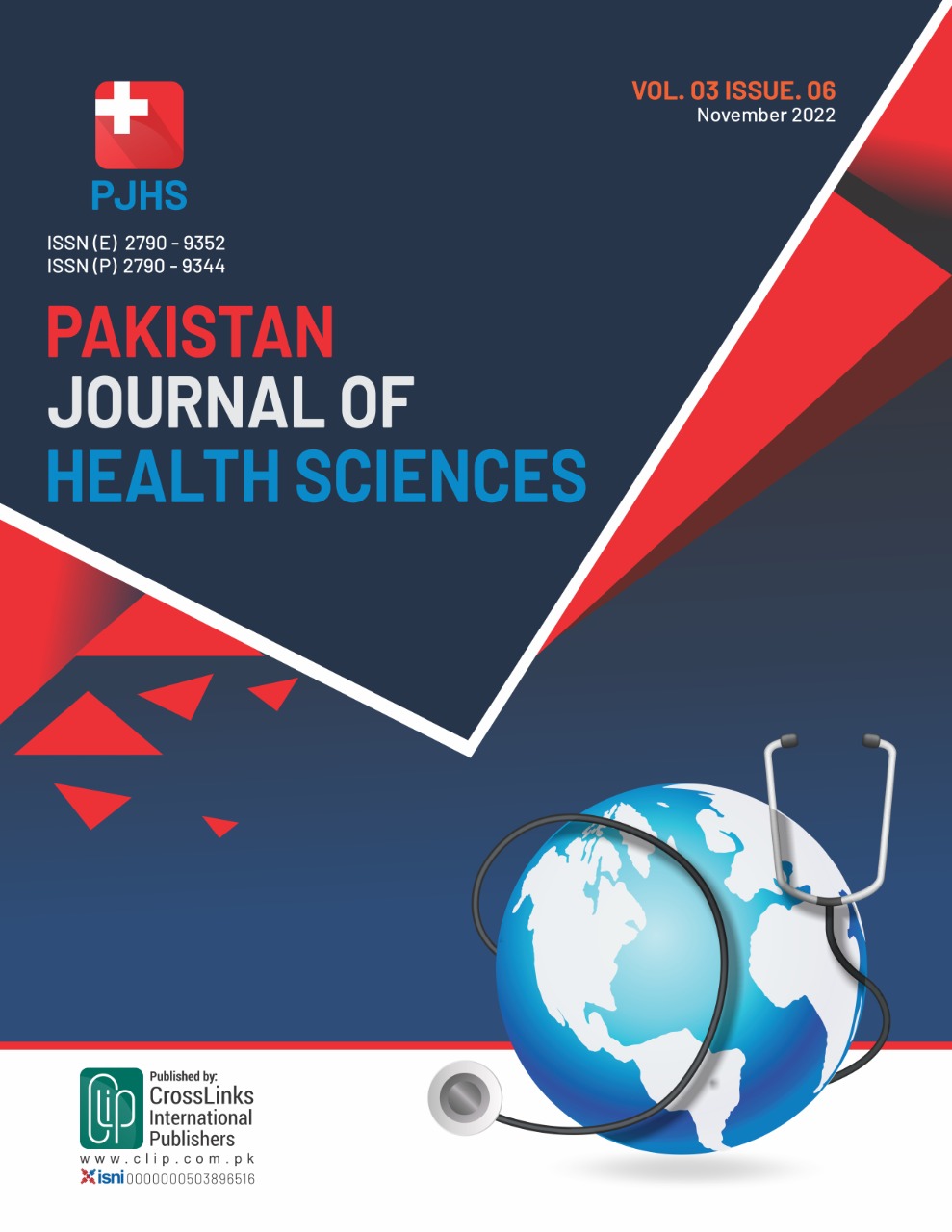 Downloads
CITATION
DOI: 10.54393/pjhs.v3i06.308
How to Cite
Fahim, M. ., Sohail, M. ., Sajjad Khan, M., Khan, F. U. ., Ur Rashid, S. ., & Akhter, S. . (2022). Frequency of Bleeding Duodenal Ulcer in Patients Presenting with Upper Gastrointestinal Bleeding: Frequency of Duodenal Ulcer in patients with Gastrointestinal Bleeding. Pakistan Journal of Health Sciences, 3(06), 88–92. https://doi.org/10.54393/pjhs.v3i06.308
License
Copyright (c) 2022 Pakistan Journal of Health Sciences
This work is licensed under a Creative Commons Attribution 4.0 International License.
This is an open-access journal and all the published articles / items are distributed under the terms of the Creative Commons Attribution License, which permits unrestricted use, distribution, and reproduction in any medium, provided the original author and source are credited. For comments