A Cross sectional Study on Nurses Knowledge and Practice of Essential Newborn Care at Tertiary Care Hospitals of Bahawalpur
Nurses Knowledge and Practice of Essential Newborn Care at Hospitals
Keywords:
Nurses, Knowledge, Practice, Essential Newborn Care
Abstract
The newborn survival, growth, and development depend on the knowledge of essential infant care and correct application. The World Health Organization's guideline is crucial, yet the majority of healthcare professionals are unaware of it and do not adhere to it. Four million infants die every year, primarily in developing countries. For every 1,000 live births in Pakistan, there are 40.4 neonatal fatalities. Objectives: To examine nurses understanding and their application of newborn care at Bahawalpur tertiary care hospitals. Methods: At Bahawalpur's tertiary care hospitals, a cross-sectional study was done. Using a random sampling procedure, 280 registered nurses who provide labor and delivery and neonatal care were chosen. Participants were given self-administered questionnaires in order to gather data. Input and analysis of the data were done with SPSS Version 21.0. Frequency and percentages were used to present qualitative characteristics. A P value of 0.05 was employed to evaluate statistical significance. Results: Study participants averaged a 24.28 on a knowledge scale. 53.2 % of respondents had strong knowledge, while 47.8 % had low knowledge, according to the research. 52.1 % of respondents had an excellent level of practice, while 48.9 % had a low level, according to the mean practice score of 33.83. Conclusions: On some crucial aspects of neonatal care, the research population had inadequate knowledge and experience. Therefore, while assigning employees to the delivery room, preference should be given to participants with higher knowledge. Those who perform well should also be commended
References
Negussie BB, Hailu FB, Megenta AD. Knowledge and practice of essential newborn care and associated factors among nurses and midwives working at health centers in Jimma Zone, Ethiopia, 2016. Journal of Nursing and Care. 2018 Jan; 7(446):2167-8. doi: 10.4172/2167-1168.1000446
Victora JD, Silveira MF, Tonial CT, Victora CG, Barros FC, Horta BL, et al., Prevalence, mortality and risk factors associated with very low birth weight preterm infants: an analysis of 33 years. Jornal de Pediatria. 2020 Jun; 96:327-32. doi: 10.1016/j.jped.2018.10.011
Tasew H, Teshale T, Bahrey D, Mariye T, Teklay G. Immediate newborn care of knowledge, practice and associated factors among health care providers in Northwestern Zonal health facilities Tigray, Ethiopia, 2018. BMC research notes. 2019 Dec; 12(1):1-8. doi: 10.1186/s13104-019-4465-z
Leta M. Level of knowledge toward essential newborn care practices among postnatal mothers in governmental hospitals of Harar Town, Eastern Ethiopia. SAGE Open Medicine. 2022; 10:20503121221076364. doi: 10.1177/20503121221076364
Asmare G, Madalicho M, Sorsa A. Disparities in full immunization coverage among urban and rural children aged 12-23 months in southwest Ethiopia: A comparative cross-sectional study. Human Vaccines & Immunotherapeutics. 2022 Aug 7:2101316. doi: 10.1080/21645515.2022.2101316
Kruk ME, Gage AD, Arsenault C, Jordan K, Leslie HH, Roder-DeWan S, et al., High-quality health systems in the Sustainable Development Goals era: time for a revolution. The Lancet global health. 2018 Nov; 6(11):e1196-252. doi: 10.1016/S2214-109X(18)30386-3
Ayele AD, Tenaw LA, Kassa BG, Mihretie GN, Belay HG, Teffera AG, et al., Knowledge and practice of essential newborn care and associated factors among women in Ethiopia: systematic review and meta-analysis. Reproductive health. 2022 Dec; 19(1):1-9. doi: 10.1186/s12978-022-01480-0
Msemo G, Massawe A, Mmbando D, Rusibamayila N, Manji K, Kidanto HL, et al., Newborn mortality and fresh stillbirth rates in Tanzania after helping babies breathe training. Pediatrics. 2013 Feb; 131(2):e353-60. doi: 10.1542/peds.2012-1795
Organization WH, UNICEF. Accountability for maternal, newborn, and child survival: the 2013 update. Countdown to 2015. WHO Press; 2013.
Stensgaard CN, Bech CM, Holm-Hansen C, Skytte TB, Ali SM, Mohd UA, et al., Essential newborn care practices for healthy newborns at a district hospital in Pemba, Tanzania: a cross-sectional observational study utilizing video recordings. Global Health Action. 2022 Dec; 15(1):2067398. doi: 10.1080/16549716.2022.2067398
Arba A and Zana Z. Knowledge of essential newborn care and associated factors among nurses and midwives: a cross-sectional study at public health facilities in Wolaita zone, southern Ethiopia, 2019. International journal of pediatrics. 2020 Oct; 2020. doi: 10.1155/2020/3647309
Berhea TA, Belachew AB, Abreha GF. Knowledge and practice of Essential Newborn Care among postnatal mothers in Mekelle City, North Ethiopia: A population-based survey. PloS one. 2018 Aug; 13(8):e0202542. doi: 10.1371/journal.pone.0202542
Amolo L, Irimu G, Njai D. Knowledge of postnatal mothers on essential newborn care practices at the Kenyatta National Hospital: a cross sectional study. Pan African Medical Journal. 2017; 28(1):159-. doi: 10.11604/pamj.2017.28.97.13785
Berhan D and Gulema H. Level of knowledge and associated factors of postnatal mothers' towards essential newborn care practices at governmental health centers in Addis Ababa, Ethiopia. Advances in Public Health. 2018 Oct; 2018. doi: 10.1155/2018/8921818
Mersha A, Assefa N, Teji K, Shibiru S, Darghawth R, Bante A. Essential newborn care practice and its predictors among mother who delivered within the past six months in Chencha District, Southern Ethiopia, 2017. PloS one. 2018 Dec; 13(12):e0208984. doi: 10.1371/journal.pone.0208984
De Graft-Johnson J, Vesel L, Rosen HE, Rawlins B, Abwao S, Mazia G, et al., Cross-sectional observational assessment of quality of newborn care immediately after birth in health facilities across six sub-Saharan African countries. BMJ open. 2017 Mar; 7(3):e014680. doi: 10.1136/bmjopen-2016-014680
Tran HT, Mannava P, Murray JC, Nguyen PT, Anh TH, Pham TQ, et al., Early essential newborn care is associated with reduced adverse neonatal outcomes in a tertiary hospital in Da Nang, Viet Nam: a pre-post-intervention study. EClinical Medicine. 2018 Dec; 6:51-8. doi: 10.1016/j.eclinm.2018.12.002
Costa T, Rossato LM, Bueno M, Secco IL, Sposito NP, Harrison D, et al., Nurses' knowledge and practices regarding pain management in newborns. Revista da Escola de Enfermagem da USP. 2017 Apr; 51. doi: 10.1590/S1980-220X2016034403210
Gavine A, MacGillivray S, McConville F, Gandhi M, Renfrew MJ. Pre-service and in-service education and training for maternal and newborn care providers in low-and middle-income countries: an evidence review and gap analysis. Midwifery. 2019 Nov; 78:104-13. doi: 10.1016/j.midw.2019.08.007
Sharma G, Molla YB, Budhathoki SS, Shibeshi M, Tariku A, Dhungana A, et al., Analysis of maternal and newborn training curricula and approaches to inform future trainings for routine care, basic and comprehensive emergency obstetric and newborn care in the low-and middle-income countries: Lessons from Ethiopia and Nepal. PloS one. 2021 Oct; 16(10):e0258624. doi: 10.1371/journal.pone.0258624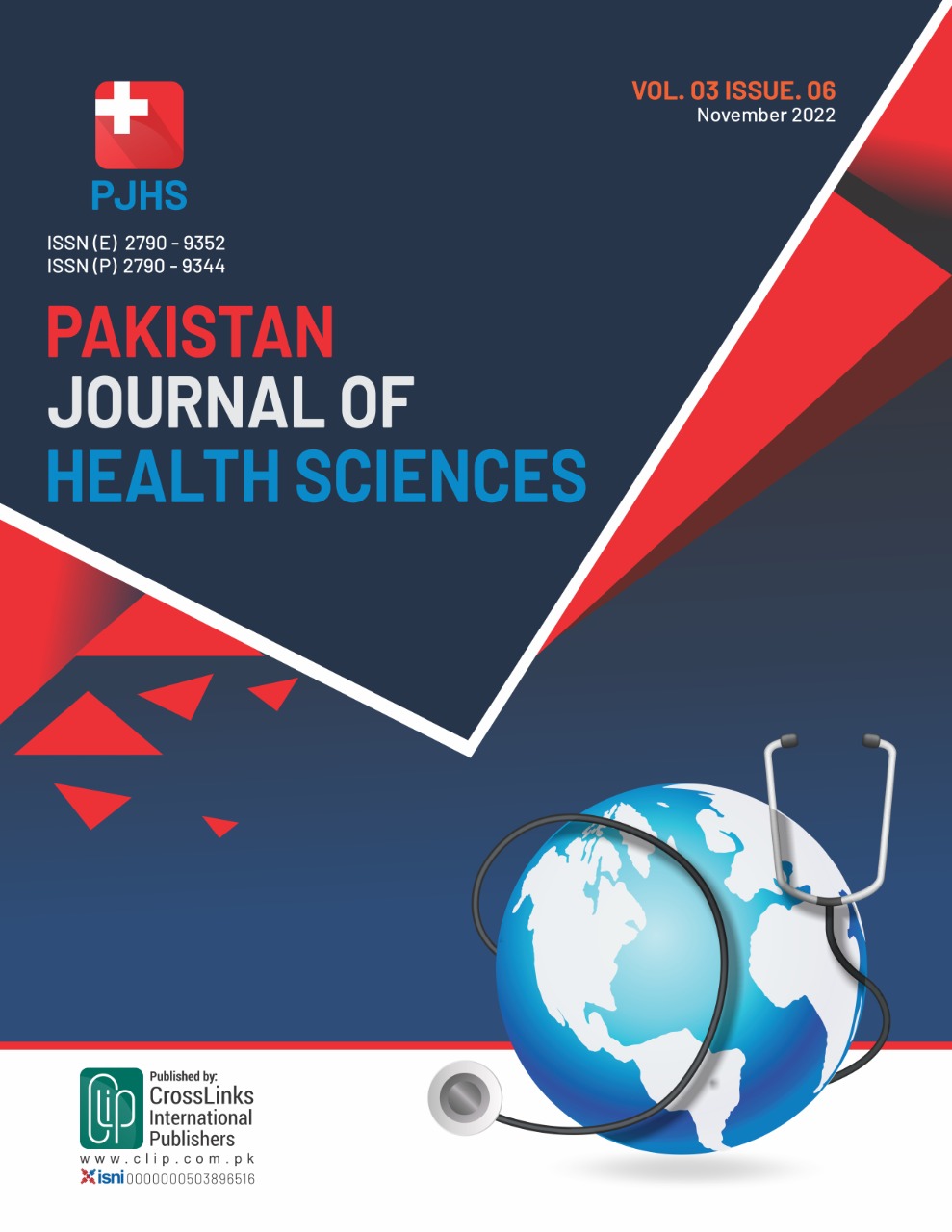 Downloads
CITATION
DOI: 10.54393/pjhs.v3i06.305
How to Cite
Kousar , R. ., Afzal, M. ., Qadir , A. ., Sakina , R. ., & Asim Amin , M. . (2022). A Cross sectional Study on Nurses Knowledge and Practice of Essential Newborn Care at Tertiary Care Hospitals of Bahawalpur : Nurses Knowledge and Practice of Essential Newborn Care at Hospitals. Pakistan Journal of Health Sciences, 3(06), 19–25. https://doi.org/10.54393/pjhs.v3i06.305
License
Copyright (c) 2022 Pakistan Journal of Health Sciences
This work is licensed under a Creative Commons Attribution 4.0 International License.
This is an open-access journal and all the published articles / items are distributed under the terms of the Creative Commons Attribution License, which permits unrestricted use, distribution, and reproduction in any medium, provided the original author and source are credited. For comments