Effect of Educational Intervention On Nursing Care in Patients Diagnosed with Thalassemia Major
Educational Intervention on Nursing Care in Thalassemia Patients
Keywords:
Thalassemia major, Nursing Knowledge, Nursing practices
Abstract
Pakistan have highest burden of thalassemia major patients. These patients have life expectancy of ten years in Pakistan which is very low as compare to other countries. High-quality nursing care and management of thalassemia major Patients is essential. Objectives: To evaluates the understanding of nursing care quality among patients of thalassemia major which frequently have an effect on the patient's mental and physical health harmfully. Methods: Quasi experimental study was conducted in Mayo Hospital Lahore. The study population was those nurses who were working in thalassemia care units. 30 nurses have been taken by using purposive sampling technique. Data was collected by using an adopted tool to assess the nurse's knowledge and their practices about care of thalassemia major patients. Results: Most of the nurses included in the study had a general nursing diploma 29(76.67%).  The average experience of nurses was 6.04±3.57 years, and 97.7% of nurses did not receive any training on thalassemia care. Total post knowledge was 49.37±7.686 and total practices score was 61.13±11.672. These findings revealed that continue educational program for nurses improve these variables. Conclusions: The present study depicted that majority of nurses have not received any training about nursing care of thalassemia major patients. So, teaching program had a good impact on nurse's understanding of thalassemia, as well as their practice.
References
Bongay L and Kynoch K. Improving care for thalassemia patients in line with best practice standards at a tertiary referral cancer care center. JBI Evidence Implementation. 2021 Apr; 20(2): 128-133. doi: 10.1097/xeb.0000000000000283
Origa R. β-Thalassemia. Genetics in Medicine. 2017 Jun; 19(6): 609-19. doi: 10.1038/gim.2016.173
Adekile A, Sukumaran J, Thomas D, D'Souza T, Haider M. Alpha thalassemia genotypes in Kuwait. BMC Medical Genetics. 2020 Dec; 21(1): 1-5. doi: 10.1186/s12881-020-01105-y
Viprakasit V, Ekwattanakit S. Clinical classification, screening and diagnosis for thalassemia. Hematology/Oncology Clinics. 2018 Apr; 32(2): 193-211. doi: 10.1016/j.hoc.2017.11.006
Franchini M, Forni GL, Liumbruno GM. Is there a standard-of-care for transfusion therapy in thalassemia?. Current Opinion in Hematology. 2017 Nov; 24(6): 558-64. doi: 10.1097/MOH.0000000000000373
Ghafoor M, Sabar MF, Sabir F. Prevention programs and prenatal diagnosis for beta Thalassemia in Pakistan: a narrative review. Journal of the Pakistan Medical Association. 2021 Jan; 71(1): 326-31. doi: 10.47391/jpma.665
Khaliq S. Thalassemia in Pakistan. Hemoglobin. 2022 Jan; 46(1): 12-4. doi: 10.1080/03630269.2022.2059670
Lozano R, Fullman N, Abate D, Abay SM, Abbafati C, Abbasi N, et al. Measuring progress from 1990 to 2017 and projecting attainment to 2030 of the health-related Sustainable Development Goals for 195 countries and territories: a systematic analysis for the Global Burden of Disease Study 2017. The lancet. 2018 Nov; 392(10159): 2091-138. doi: 10.1016/S0140-6736(18)32281-5
Motta I, Bou-Fakhredin R, Taher AT, Cappellini MD. Beta thalassemia: new therapeutic options beyond transfusion and iron chelation. Drugs. 2020 Jul; 80(11): 1053-63. doi: 10.1007/s40265-020-01341-9
Yaghobi M, Miri-Moghaddam E, Majid N, Bazi A, Navidian A, Kalkali A. Complications of transfusion-dependent β-thalassemia patients in Sistan and Baluchistan, south-east of Iran. International journal of hematology-oncology and stem cell research. 2017 Oct; 11(4): 268-272.
Patterson S, Singleton A, Branscomb J, Nsonwu V, Spratling R. Transfusion Complications in Thalassemia: Patient Knowledge and Perspectives. Frontiers in medicine. 2022 Mar; 9: 772886. doi: 10.3389/fmed.2022.772886
Darvishi-Khezri H, Naderisorki M, Zahedi M, Mortazavi P, Tajik F, Nasirzadeh A, et al. Coadministration of silymarin with iron chelators in transfusion-dependent β-thalassemia patients: a systematic review and meta-analysis for effect on iron overload. Expert Review of Clinical Pharmacology. 2021 Nov; 14(11): 1445-53. doi: 10.1080/17512433.2021.1964953
Abolwafa NF, Mohamed AH, Mohamed AA. Quality of Nursing Care among School Age Children with Thalassemia as Regards Blood Transfusion and Self Concept. American Journal of Nursing. 2019 Jul 1; 7(5): 670-6. doi: 10.12691/ajnr-7-5-1
Hassan SM and El SE. Study of the health instructions effect on quality of life and psychological problems among children with thalassemia. International Journal of Studies in Nursing. 2016 Oct; 1(1): 16-28. doi: 10.20849/ijsn.v1i1.92
Jaing TH, Chang TY, Chen SH, Lin CW, Wen YC, Chiu CC. Molecular genetics of β-thalassemia: A narrative review. Medicine. 2021 Nov; 100(45). doi: 10.1097/MD.0000000000027522
Madmoli M, Madmoli Y, Rahmati P, Adavi A, Yousefi N, Gheisari Z, et al. Quality of life and some related factors in patients with beta thalassemia major in Southwest Iran. Journal of Client-Centered Nursing Care. 2017 May; 3(2): 139-46. doi: 10.32598/jccnc.3.2.139
Al-Awamreh K and Suliman M. Patients' satisfaction with the quality of nursing care in thalassemia units. Applied Nursing Research. 2019 Jun; 47: 46-51. doi: 10.1016/j.apnr.2019.05.007
Elewa A and Elkattan BA. Effect of an educational program on improving quality of nursing care of patients with thalassemia major as regards blood transfusion. American Journal of Nursing Research. 2017 Mar; 5(1): 13-21. doi: 10.12691/ajnr-5-1-2
Tanveer T, Masud H, Butt ZA. Are people getting quality thalassemia care in twin cities of Pakistan? A comparison with international standards. International Journal for Quality in Health Care. 2018 Apr; 30(3): 200-7. doi: 10.1093/intqhc/mzx198
Cappellini MD, Viprakasit V, Taher AT, Georgiev P, Kuo KH, Coates T, et al. A phase 3 trial of luspatercept in patients with transfusion-dependent β-thalassemia. New England Journal of Medicine. 2020 Mar; 382: 1219-31. doi: 10.1056/NEJMoa1910182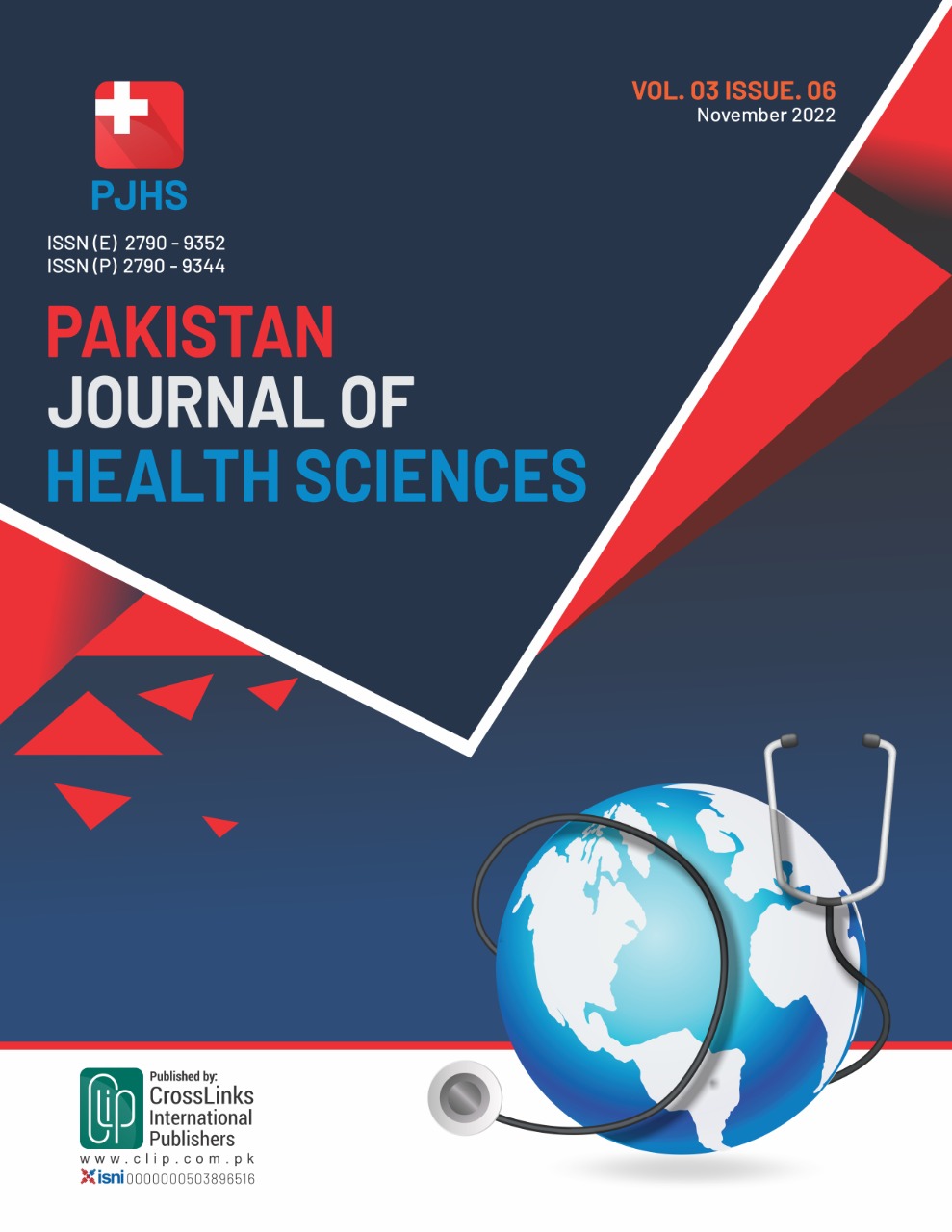 Downloads
CITATION
DOI: 10.54393/pjhs.v3i06.357
How to Cite
Tabussam, S. ., Afzal, M. ., Sarwar, H. ., & Khan, S. . (2022). Effect of Educational Intervention On Nursing Care in Patients Diagnosed with Thalassemia Major: Educational Intervention on Nursing Care in Thalassemia Patients. Pakistan Journal of Health Sciences, 3(06), 150–154. https://doi.org/10.54393/pjhs.v3i06.357
License
Copyright (c) 2022 Pakistan Journal of Health Sciences
This work is licensed under a Creative Commons Attribution 4.0 International License.
This is an open-access journal and all the published articles / items are distributed under the terms of the Creative Commons Attribution License, which permits unrestricted use, distribution, and reproduction in any medium, provided the original author and source are credited. For comments