Radiofrequency Catheter Ablation of Mahaim Tachycardia in Adult Patients
Radiofrequency Catheter Ablation of Mahaim Tachycardia
Keywords:
Radiofrequency ablation, Tachycardia, Mahaim pathways
Abstract
Mahaim pathways causing reentrant tachycardia are rare but potentially dangerous arrhythmia. Catheter ablation is the definitive treatment option for individuals with this kind of tachycardia. Objective: To evaluate the efficacy and safety of radiofrequency catheter ablation of mahaim tachycardia in adult patients. Methods: A retrospective study investigated total of 40 adult patients referred to the Cardiac Electrophysiology Department of Hayatabad medical Complex Peshawar from 4th January 2017 to 21st September 2022 were enrolled. Patient's age (20-68 years) of both male and female genders referred for radiofrequency ablation of mahaim tachycardia were studied. The tachycardia was invariably antidromic, resulting from anterograde conduction via the Mahaim pathway. All the cases were followed for complications. Results: The overall mean age was 43.60 ± 12.4 years. The mean ablation and flouro time was 9.44± 6.93 minutes and 20.64 ± 9.77 minutes respectively. Hypertension and diabetes were found in 11 (27.5%) and 6 (15%) patients respectively. The successful ablation was achieved in 31 (77.5%) patients whereas 1 case was abandoned. During follow-up, one patient developed femoral hematoma as a complication. Typical Atrioventricular nodal reentry tachycardia (AVNRT) and atrial fibrillation were other tachycardia found in 3 (7.5%) and 4 (10%) respectively. The incidence of congenital anomalies such as ASD Secundum, HOCM, DCM, and Ebstein Anomaly was 2 (5%), 1 (2.5%), 1 (2.5%), and 1 (2.5%) respectively. Conclusion: The present study found that Radiofrequency ablation is effective and safe for treating Mahaim tachycardia. The success rate of RFA was 77.5%.
References
Vali Z, Ng GA, Aboulmaaty M, Ibrahim M. Mahaim-mediated tachycardia using at times the atrioventricular node and other times a left lateral accessory pathway. HeartRhythm Case Reports. 2021 Oct; 7(10): 641-9. doi: 10.1016/j.hrcr.2021.07.012
Hoffmayer KS, Han FT, Singh D, Scheinman MM. Variants of accessory pathways. Pacing and Clinical Electrophysiology. 2020 Jan; 43(1): 21-9. doi: 10.1111/pace.13830
Katritsis DG, Wellens HJ, Josephson ME. Mahaim accessory pathways. Arrhythmia & electrophysiology review. 2017 Apr; 6(1): 29. doi: 10.15420/aer.2016:35:1
McClelland JH, Wang X, Beckman KJ, Hazlitt HA, Prior MI, Nakagawa H, et al. Radiofrequency catheter ablation of right atriofascicular (Mahaim) accessory pathways guided by accessory pathway activation potentials. Circulation. 1994 Jun; 89(6): 2655-66. doi: 10.1161/01.CIR.89.6.2655
Ozcan EE, Turan OE, Akdemir B, Inevi UD, Yilancioglu RY, Baskurt AA, et al. Comparison of electrophysiological characteristics of right‐and left‐sided Mahaim‐type accessory pathways. Journal of Cardiovascular Electrophysiology. 2021 Feb; 32(2): 360-9. doi: 10.1111/jce.14852
Chen M, Li X, Wu Z, Liu Z, Hu L, Liu Q, et al. Right‐sided Mahaim‐mediated tachycardia combined with atypical atrioventricular nodal reentrant tachycardia and left free wall accessory pathway: A case report. Annals of Noninvasive Electrocardiology. 2022 Nov; 27(6): e12964. doi: 10.1111/anec.12964
Stoyanov M and Shalganov T. Left free wall‐sided Mahaim type fiber and A‐V nodal reentry tachycardia: Unusual but not impossible combination. Clinical Case Reports. 2022 Apr; 10(4): e05753. doi: 10.1002/ccr3.5753
Hiippala A and Happonen JM. Population‐based single‐center outcome for pediatric catheter ablation of common supraventricular tachycardias. Pacing and Clinical Electrophysiology. 2015 Jan; 38(1): 115-9. doi: 10.1111/pace.12511
Cosío FG, Anderson RH, Kuck KH, Becker A, Borggrefe M, Campbell RW, et al. Living anatomy of the atrioventricular junctions. A guide to electrophysiologic mapping: a consensus statement from the Cardiac Nomenclature Study Group, Working Group of Arrhythmias, European Society of Cardiology, and the Task Force on Cardiac Nomenclature from NASPE. Circulation. 1999 Aug; 100(5): e31-7. doi: 10.1161/01.CIR.100.5.e31
Kubuš P, Vít P, Gebauer RA, Zaoral L, P, Fiala M, et al. Long-term results of paediatric radiofrequency catheter ablation: a population-based study. Europace. 2014 Dec; 16(12): 1808-13. doi: 10.1093/europace /euu087
Lee PC, Hwang B, Chen SA, Tai CG, Chen YJ, Chiang CE, et al. The results of radiofrequency catheter ablation of supraventricular tachycardia in children. Pacing and clinical electrophysiology. 2007 May; 30(5): 655-61. doi: 10.1111/j.1540-8159.2007.00727.x
Swissa M, Birk E, Dagan T, Fogelman M, Einbinder T, Bruckheimer E, et al. Cryotherapy ablation of parahisian accessory pathways in children. Heart Rhythm. 2015 May; 12(5): 917-25. doi: 10.1016/j.hrthm.2015.01.042
de Alencar Neto JN, Ramalho de Moraes SR, Back Sternick E, Wellens HJ. Atypical bypass tracts: can they be recognized during sinus rhythm?. Europace. 2019 Feb; 21(2): 208-18. doi: 10.1093/europace/euy079
Lee KN and Kim YH. Preexcitation syndrome with a Mahaim-type accessory pathway. International Journal of Arrhythmia. 2017 Sep; 18(3): 151-4. doi: 10.18501/arrhythmia.2017.025
Deaconu A, Gondos V, Vatasescu R. Not Just a One-Way: Mahaim Accessory Pathway Concomitantly Supporting Orthodromic Atrioventricular Re-Entrant Tachycardia. Journal of Clinical Medicine. 2023 Jan; 12(1): 159. doi: 10.3390/jcm12010159
Callans DJ, Schwartzman D, Gottlieb CD, Marchlinski FE. Insights into the Electrophysiology of Accessory Path way‐Mediated Arrhythmias Provided by the Catheter Ablation Experience: "Learning While Burning, Part III". Journal of cardiovascular electrophysiology. 1996 Sep; 7(9): 877-904. doi: 10.1111/j.1540-8167.1996.tb00600.x
Silva JN, Erickson CC, Carter CD, Greene EA, Kantoch M, Collins KK, Miyake CY, Carboni MP, Rhee EK, Papez A, Anand V. Management of pediatric tachyarrhythmias on mechanical support. Circulation: Arrhythmia and Electrophysiology. 2014 Aug;7(4):658-63. doi: 10.1161/CIRCEP.113.000973
Soares Correa F, Lokhandwala Y, Cruz Filho F, Sánchez‐Quintana D, Mori S, Anderson RH, et al. Part II—Clinical presentation, electrophysiologic characteristics, and when and how to ablate atriofascicular pathways and long and short decrementally conducting accessory pathways. Journal of Cardiovascular Electrophysiology. 2019 Dec; 30(12): 3079-96. doi: 10.1111/jce.14203
Osman F, Stafford PJ, Ng GA. Looks like VT But Isn't-successful ablation of a left free wall accessory pathway with Mahaim-like properties. Indian Pacing and Electrophysiology Journal. 2009 Mar; 9(2): 112.
Hluchý J. Electrophysiologic Study, Mapping and Ablation of Mahaim Fibres. Wolff-Parkinson-White and Other Preexcitation Syndromes: Simple to Complex Electrophysiology and Ablation of Accessory Pathways. 2022 Nov: 379-435. doi: 10.1007/978-3-030-98749-7_9
Viray MC, Wiener PC, Batnyam U, Rasquin L, Pressman GS, Mainigi S. A young woman with recurrent palpitations: a case of Ebstein anomaly with Mahaim fiber tachycardia. CASE: Cardiovascular Imaging Case Reports. 2019 Aug; 3(4): 145. doi: 10.1016/j.case.2019.03.006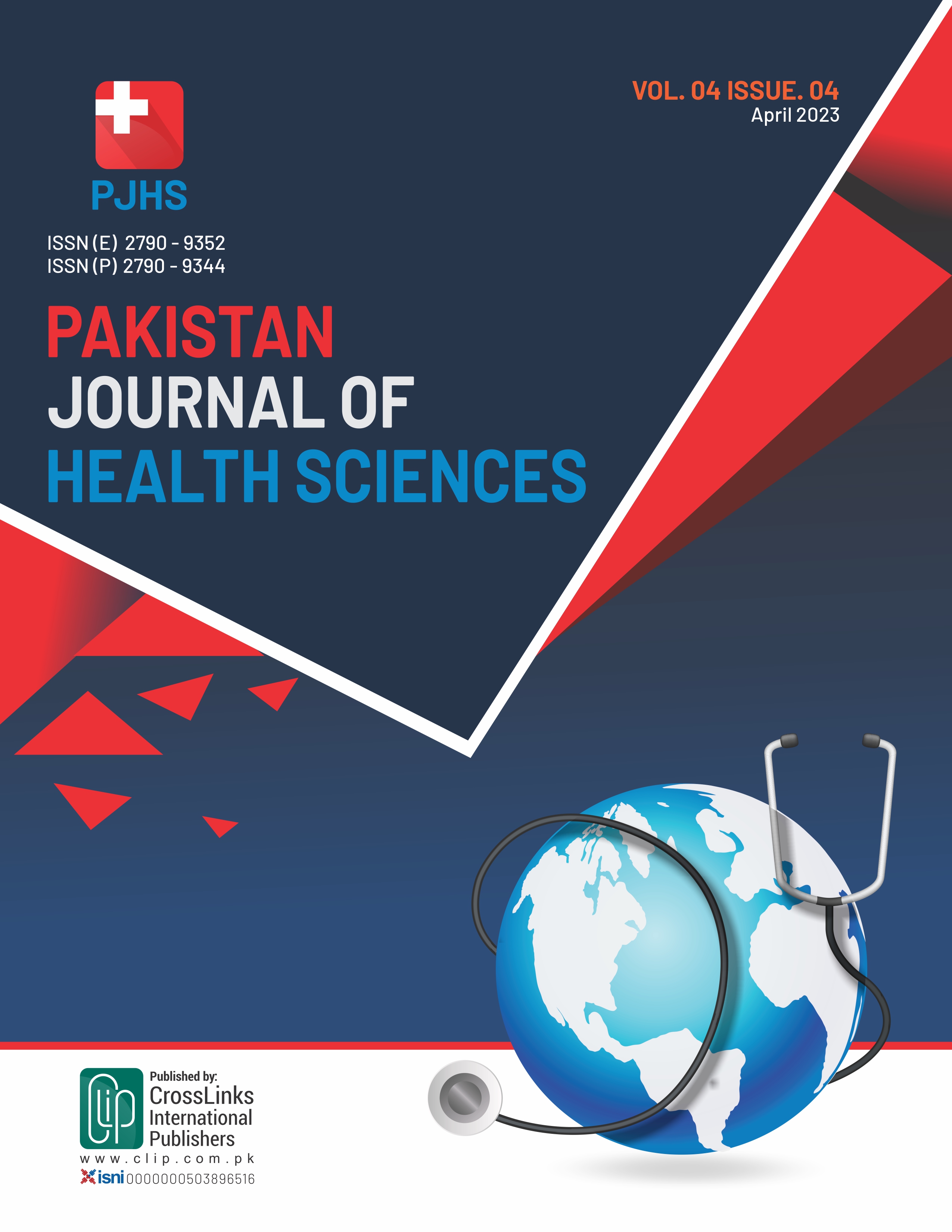 Downloads
How to Cite
Ahmad Khan, Z. ., Zahid, A. ., Ikram, J. ., Hameedullah, ., & Aslam Awan, Z. . (2023). Radiofrequency Catheter Ablation of Mahaim Tachycardia in Adult Patients: Radiofrequency Catheter Ablation of Mahaim Tachycardia. Pakistan Journal of Health Sciences, 4(04), 49–52. https://doi.org/10.54393/pjhs.v4i04.690
License
Copyright (c) 2023 Pakistan Journal of Health Sciences
This work is licensed under a Creative Commons Attribution 4.0 International License.
This is an open-access journal and all the published articles / items are distributed under the terms of the Creative Commons Attribution License, which permits unrestricted use, distribution, and reproduction in any medium, provided the original author and source are credited. For comments