Narcissism and Selfitis Disorder Features among Young Adults: Body Dysmorphic Disorder as Mediator
Narcissism and Selfitis Disorder Features among Young Adults
Keywords:
Body Dysmorphic Disorder, Selfitis Disorder, Narcissism, Young Adults
Abstract
Nowadays young generations are involved in such activities which abolish their life seriously. In today's world everyone wants to look flawless and wants to be praised. Objective: To investigate the mediating effect of body dysmorphic disorder on narcissism and selfitis disorder among young adults. Methods: The sample size for the present study was 400 young adults. Convenient sampling technique was used for screening of young adults on Body Image Concern Inventory and further data were collected on Selfitis Behavior Scale and Narcissistic Personality Inventory from screened sample. Inclusion criteria included all the young adults aged between 20 to 35 and have body dysmorphic disorder. Results: Narcissism had significant positive correlation with features of both selfitis disorder and body dysmorphic disorder. Age of persons had significant negative correlation with narcissism, selfitis disorder and features of body dysmorphic disorder. Outcomes revealed that both selfitis disorder and narcissism are greater in males, while features of body dysmorphic disorder are greater in females as compared to males. Conclusions: This study will be beneficial for professionals (sociologists and social workers) for creating awareness in young generation about flaws or defects in the physical appearance should not be considered as life frightening conditions and they should appreciate themselves as they are.
References
Khanna A and Sharma MK. Selfie use: The implications for psychopathology expression of body dysmorphic disorder. Industrial Psychiatry Journal. 2017 Jan; 26(1): 106. doi: 10.4103/ipj.ipj_58_17.
American Psychiatric Association D, American Psychiatric Association. Diagnostic and statistical manual of mental disorders: DSM-5. Washington, DC: American psychiatric association; 2013. doi: 10.1176/appi.books.9780890425596.
Reiff MI and Feldman HM. Diagnostic and Statistical Manual of Mental Disorders: the solution or the problem? Journal of Developmental & Behavioral Pediatrics. 2014 Jan; 35(1): 68-70. doi: 10.1097/DBP.0000000000000017.
Meier EP and Gray J. Facebook photo activity associated with body image disturbance in adolescent girls. Cyberpsychology, Behavior, and Social Networking. 2014 Apr; 17(4): 199-206. doi: org/10.1089/cyber.2013.0305.
Raskin R and Terry H. A principal-components analysis of the Narcissistic Personality Inventory and further evidence of its construct validity. Journal of Personality and Social Psychology. 1988 May; 54(5): 890. doi: 10.1037/0022-3514.54.5.890.
Phillips KA and McElroy SL. Personality disorders and traits in patients with body dysmorphic disorder. Comprehensive Psychiatry. 2000 Jul; 41(4): 229-36. doi: 10.1053/comp.2000.7429.
Wickel TM. Narcissism and social networking sites: the act of taking selfies. Elon Journal of Undergraduate Research in Communications. 2015; 6(1): 1-2.
DeWall CN, Buffardi LE, Bonser I, Campbell WK. Narcissism and implicit attention seeking: Evidence from linguistic analyses of social networking and online presentation. Personality and Individual Differences. 2011 Jul; 51(1): 57-62. doi: 10.1016/j.paid.2011.03.011.
Rajanala S, Maymone MB, Vashi NA. Selfies—living in the era of filtered photographs. JAMA Facial Plastic Surgery. 2018 Nov; 20(6): 443-4. doi: 10.1001/jamafacial.2018.0486.
Sansone RA, Sansone LA. Cosmetic surgery and psychological issues. Psychiatry (Edgmont). 2007 Dec; 4(12): 65-8.
Grijalva E, Newman DA, Tay L, Donnellan MB, Harms PD, Robins RW, et al. Gender differences in narcissism: a meta-analytic review. Psychological Bulletin. 2015 Mar; 141(2): 261. doi: 10.1037/a0038231.
Kaur S and Vig D. Selfie and mental health issues: An overview. Indian Journal of Health & Wellbeing. 2016 Dec; 7(12): 1149-1152.
Sung Y, Lee JA, Kim E, Choi SM. Why we post selfies: Understanding motivations for posting pictures of oneself. Personality and Individual Differences. 2016 Jul; 97: 260-5. doi: 10.1016/j.paid.2016.03.032.
Schieber K, Kollei I, de Zwaan M, Müller A, Martin A. Personality traits as vulnerability factors in body dysmorphic disorder. Psychiatry Research. 2013 Nov; 210(1): 242-6. doi: 10.1016/j.psychres.2013.06.009.
McLean SA, Paxton SJ, Wertheim EH, Masters J. Photoshopping the selfie: Self photo editing and photo investment are associated with body dissatisfaction in adolescent girls. International Journal of Eating Disorders. 2015 Dec; 48(8): 1132-40. doi: 10.1002/eat.22449.
Malik A, Dhir A, Nieminen M. Uses and gratifications of digital photo sharing on Facebook. Telematics and Informatics. 2016 Feb; 33(1): 129-38. doi: 10.1016/j.tele.2015.06.009.
Carter Gl and Douglass MD. The aging narcissus: just a myth? Narcissism moderates the age-loneliness relationship in older age. Frontiers in Psychology. 2018 Jul; 9: 1254. doi: 10.3389/fpsyg.2018.01254.
Wetzel E, Grijalva E, Robins RW, Roberts BW. You're still so vain: Changes in narcissism from young adulthood to middle age. Journal of Personality and Social Psychology. 2020 Aug; 119(2): 479. doi: 10.1037/pspp0000266.
Boursier V and Manna V. Selfie expectancies among adolescents: Construction and validation of an instrument to assess expectancies toward selfies among boys and girls. Frontiers in Psychology. 2018 May; 9: 839. doi: 10.3389/fpsyg.2018.00839.
Tatiana Soler P, Novaes J, Miguel Fernandes H. Influencing factors of social anxiety disorder and body dysmorphic disorder in a nonclinical Brazilian population. Psychological Reports. 2019 Dec; 122(6): 2155-77. doi: 10.1177/0033294118805003.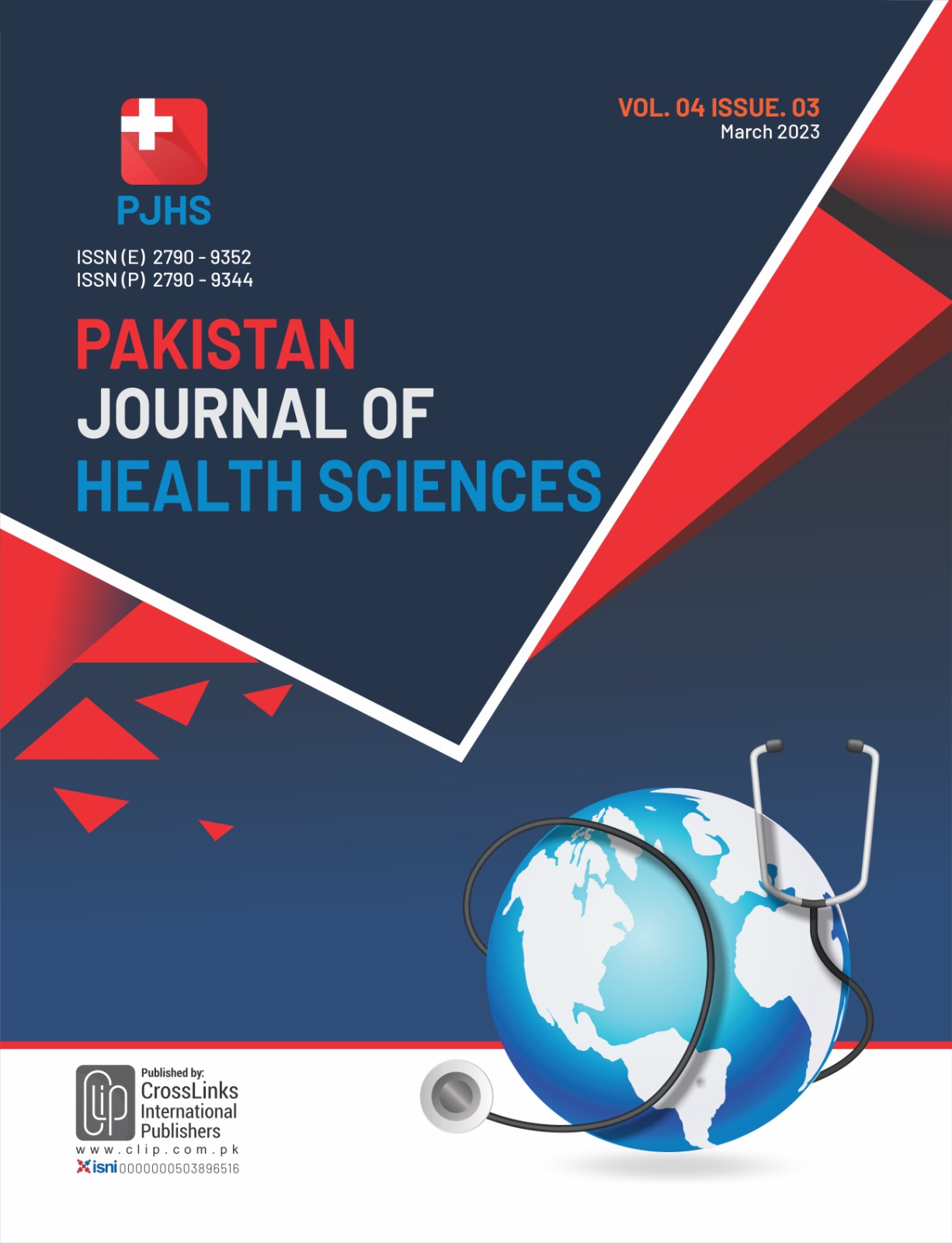 Downloads
CITATION
DOI: 10.54393/pjhs.v4i03.602
How to Cite
Aroosa, ., Bibi, H., Naz, S., & Afsar, F. K. (2023). Narcissism and Selfitis Disorder Features among Young Adults: Body Dysmorphic Disorder as Mediator: Narcissism and Selfitis Disorder Features among Young Adults. Pakistan Journal of Health Sciences, 4(03), 185–189. https://doi.org/10.54393/pjhs.v4i03.602
License
Copyright (c) 2023 Pakistan Journal of Health Sciences
This work is licensed under a Creative Commons Attribution 4.0 International License.
This is an open-access journal and all the published articles / items are distributed under the terms of the Creative Commons Attribution License, which permits unrestricted use, distribution, and reproduction in any medium, provided the original author and source are credited. For comments