Incidence of Hepatitis B Due to Multiple Transfusions in Patients of β-Thalassemia Major
Incidence of Hepatitis B in Patients of β-Thalassemia Major
Keywords:
Chronic illness, Hepatitis B, Immunization, Thalassemia
Abstract
β-Thalassemia is one of the most prevalent childhood hemolytic disorders. Multiple blood transfusions of unscreened blood can result in infection transmission. After many transfusions, Hepatitis B infection in thalassemia patients was reported. Objective: To determine the incidence of Hepatitis B in β-thalassemia major patients, associated with multiple blood transfusion strategies. Methods: This cross-sectional study was executed in Pediatric department of DHQ teaching hospital Dera Ismail khan with the collaboration of the Regional Blood center, and comprised 360 patients, diagnosed with β-Thalassemia Major and maintained on multiple transfusions. Results: The average weight of the subjects was 43.50+18.76 Kg and their mean age was 13.10+2.1 years. The significantly high population of the patients (p<0.05) was not immunized against Hepatitis B (73.88%), while only 26.66% (94/360) were immunized. The patients having less than 10, 11-20 and more than 20 transfusions per annum comprised 72 (20%), 157 (43.61%) and 131 (36.38%) patients, respectively. The affected patients had significantly altered hematological parameters (p<0.05). The highest number of β-Thalassemia Major patients affected with Hepatitis B belonged to the Group having more than 25 transfusions of blood annually, with an incidence rate of 11.53. Conclusions: The greatest risk factor for Hepatitis B infection in β-thalassemia major patients is concluded to be multiple blood transfusions. It was also found that a huge population of Thalassemia patients was not immunized against HBV despite the severe risk. Therefore, health education and awareness campaigns are needed for the significance of Hepatitis B immunization and transfusion of screened blood.
References
Ghafoor M, Sabar MF, Sabir F. Prevention programmes and prenatal diagnosis for beta thalassemia in Pakistan: A narrative review. The Journal of the Pakistan Medical Association. 2021 Jan; 71(1(B)): 326-31. doi: 10.47391/JPMA.665.
Khalil S, Khan HS, Akhtar P. Status of hepatitis B and C in beta thalassemia major patients. Journal of Islamabad Medical & Dental College. 2016 Jun; 5(2): 71-3.
Nadir R, Anjum A, Ijaz SF. Frequency of Hepatitis B and C in Beta Thalassemia Major with Multiple Blood Transfusions. Pakistan Journal of Medical Health Sciences. 2020 Dec; 14(4): 764-5.
Kaushansky K. Williams hematology. McGraw-Hill Education; 2016.
Khattak ID, Shah M, Ahmed I, Rehman A, Sajid M. Frequency of hepatitis B and hepatitis C in multitransfused beta thalassaemia major patients in district Swat. Journal of Saidu Medical College, Swat. 2013 Dec; 3(2): 299-302. doi: 10.52206/jsmc.2013.3.2.299-302.
Mukhtar AS, Muhammad TK, Zahoor U, Yasmeen A. Prevalence of hepatitis B and hepatitis C virus infection in multi-transfused Thalassaemia major patients in North West Frontier Province. Pakistan Journal of Medical Sciences. 2006; 21: 282-3.
Mirzaei G, Shamsasenjan K, Jafari B, Bagherizadeh Y, Sadafzadeh A, Bannazadeh-Baghi H, et al. Prevalence of HBV and HCV infection in beta-thalassemia major patients of Tabriz city, Iran. New Microbes and New Infections. 2021 Sep; 43: 100912. doi: 10.1016/j.nmni.2021.100912.
Farshadpour F, Taherkhani R, Farajzadeh H. Hepatitis B infection among β-thalassemia major patients in Bushehr province of southern Iran. Journal of Immunoassay and Immunochemistry. 2022 Dec: 1-5. doi: 10.1080/15321819.2022.2163178.
Allamehzadeh Z, Hamadiyan H, Izadi Raeini M, Shams SA, Koolivand M. Prevalence of hepatitis B and C in thalassemia major patients in south of Iran-Bandar Abbas. Tropical Biomedicine. 2018 Jun; 35(2): 472-7.
Mishra K, Shah A, Patel K, Ghosh K, Bharadva S. Seroprevalence of HBV, HCV and HIV-1 and correlation with molecular markers among multi-transfused thalassemia patients in Western India. Mediterranean Journal of Hematology and Infectious Diseases. 2020; 12(1): e202003. doi: 10.4084/mjhid.2020.038.
Akhtar S, Nasir JA, Hinde A. The prevalence of hepatitis C virus infection in β-thalassemia patients in Pakistan: a systematic review and meta-analysis. BMC Public Health. 2020 Dec; 20(1): 1-9. doi: 10.1186/s12889-020-8414-5.
Mohammad J, Hussain M, Khan MA. Frequency of Hepatitis B & C infection in thalassaemic children. Pakistan Pediatric Journal. 2003; 27(4): 161-4.
Mubarak A, Muhammad S, Atta Ullah M. Hepatitis B and C status of thalassaemia major patients. Medical Channel Journal. 2005; 11: 19- 21.
Burki MF, Mumtaz H, Liaqat A, Wadood MZ. Frequency of hepatitis b virus in regularly blood transfused beta thalassemia major patients. Pakistan Paediatric Journal. 2009; 33(3): 153-6.
Ahmed S, Ayub M, Naeem M, Nazir FH, Hussain A, Ghilzai D, et al. Thalassemia patients from baluchistan in Pakistan are infected with multiple hepatitis B or C virus strains. The American Journal of Tropical Medicine and Hygiene. 2021 Apr; 104(4): 1569. doi: 10.4269/ajtmh.20-0740.
Bhuyan GS, Noor AU, Sultana R, Noor FA, Sultana N, Sarker SK, et al. Frequency of hepatitis B, C and HIV infections among transfusion-dependent beta thalassemia patients in Dhaka. Infectious Disease Reports. 2021 Jan; 13(1): 89-95. doi: 10.3390/idr13010011.
Dumaidi K, Al-Jawabreh A, Samarah F, Rabayaa M. Prevalence of sero-molecular markers of hepatitis C and B viruses among patients with β-thalassemia major in Northern West Bank, Palestine. Canadian Journal of Infectious Diseases and Medical Microbiology. 2018 Jan; 2018: 1039423. doi: 10.1155/2018/1039423.
Choudhry VP. Hepatitis B and C Infections in Multitransfused Thalassemic Patients. The Indian Journal of Pediatrics. 2015 Mar; 82(3): 212-4. doi: 10.1007/s12098-014-1676-0.
Mollah AH, Nahar N, Siddique MA, Anwar KS, Hassan T, Azam MG. Common transfusion-transmitted infectious agents among thalassaemic children in Bangladesh. Journal of Health, Population and Nutrition. 2003 Mar; 21(1): 67-71.
Moukhadder HM, Halawi R, Cappellini MD, Taher AT. Hepatocellular carcinoma as an emerging morbidity in the thalassemia syndromes: a comprehensive review. Cancer. 2017 Mar; 123(5): 751-8. doi: 10.1002/cncr.30462.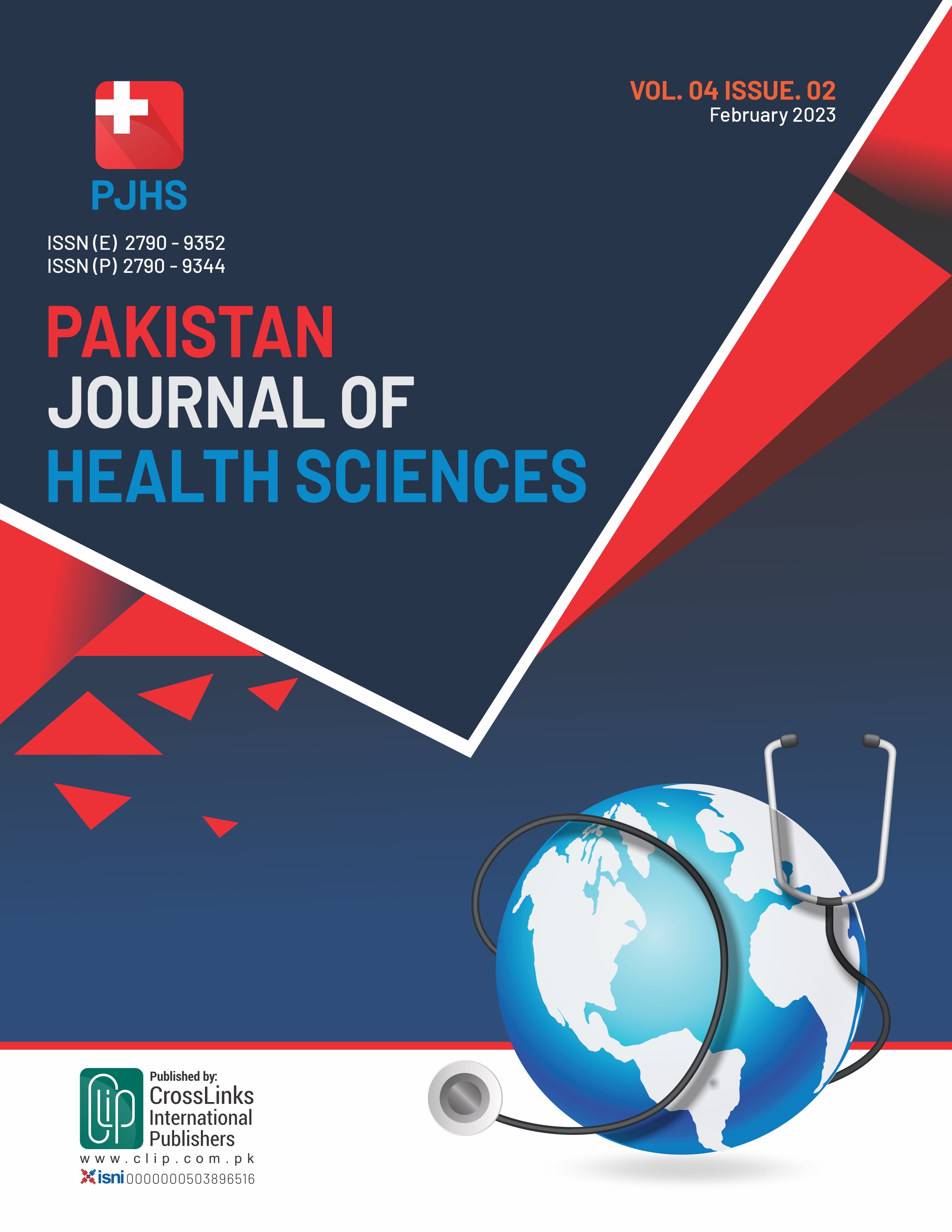 Downloads
How to Cite
Naz, R. . ., Ullah, F. ., Muhammad, T. ., Khan, O. ., Shah, F. ., Rehman, A. u ., & Basir, N. U. . (2023). Incidence of Hepatitis B Due to Multiple Transfusions in Patients of β-Thalassemia Major: Incidence of Hepatitis B in Patients of β-Thalassemia Major. Pakistan Journal of Health Sciences, 4(02), 86–90. https://doi.org/10.54393/pjhs.v4i02.558
License
Copyright (c) 2023 Pakistan Journal of Health Sciences
This work is licensed under a Creative Commons Attribution 4.0 International License.
This is an open-access journal and all the published articles / items are distributed under the terms of the Creative Commons Attribution License, which permits unrestricted use, distribution, and reproduction in any medium, provided the original author and source are credited. For comments