Nutritional Potential of Citrus Sinensis and its Pharmacological Action: A Concise Review
Nutritional and Pharmacological Potential of Citrus Sinensis
Keywords:
Fruits, Citrus sinensis, orange, health benefits.
Abstract
Currently, the pharmaceutical industry is becoming increasingly interested in the quest for novel medications derived from natural resources. Since ancient times, new pharmaceuticals have been created using natural ingredients. Secondary metabolites that have been discovered to have advantageous qualities are abundant in plants. This review highlights the medicinal potential of C. sinensis as a source of natural chemicals with significant health-promoting properties that could be exploited to create novel medications.
References
Hussain SZ, Naseer B, Qadri T, Fatima T, Bhat TA. Citrus fruits—Morphology, taxonomy, composition and health benefits. Fruits Grown in Highland Regions of the Himalayas: Nutritional and Health Benefits. 2021 Jun: 229-44. doi: 10.1007/978-3-030-75502-7_18.
Mahato N, Sharma K, Sinha M, Cho MH. Citrus waste derived nutra-/pharmaceuticals for health benefits: Current trends and future perspectives. Journal of Functional Foods. 2018 Jan; 40: 307-16. doi: 10.1016/j.jff.2017.11.015.
Ahmed W and Azmat R. Citrus: an ancient fruit of promise for health benefits. Citrus-Health Benefits and Production Technology. 2019 Feb: 19-30. doi: 10.5772/intechopen.79686.
Ochekwu EB, Ekeke C, Nwadiaro PO, Christopher S. Phytochemical evaluation of leaves of some medicinal plants from parts of Niger Delta. IOSR Journal of Pharmacy and Biological Sciences. 2015 Mar; 10(2); 26-31. doi: 10.9790/3008-10222631.
Wang L, Kong D, Tian J, Zhao W, Chen Y, An Y, et al. Tapinanthus species: A review of botany and biology, secondary metabolites, ethnomedical uses, current pharmacology and toxicology. Journal of Ethnopharmacology. 2022 Oct; 296: 115462. doi: 10.1016/j.jep.2022.115462.
Ngan TT, Nguyen OB, Muoi NV, Truc TT, My VT. Chemical composition and antibacterial activity of orange (Citrus sinensis) essential oils obtained by hydrodistillation and solvent free microwave extraction. Materials Science and Engineering. 2020 Dec; 991(1): 012023. doi: 10.1088/1757-899X/991/1/012023.
Nair A, Mallya R, Suvarna V, Khan TA, Momin M, Omri A. Nanoparticles—Attractive carriers of antimicrobial essential oils. Antibiotics. 2022 Jan; 11(1): 108. doi: 10.3390/antibiotics11010108.
Favela-Hernández JM, González-Santiago O, Ramírez-Cabrera MA, Esquivel-Ferriño PC, Camacho-Corona MD. Chemistry and Pharmacology of Citrus sinensis. Molecules. 2016 Feb; 21(2): 247. doi: 10.3390/molecules21020247.
Kandasamy GD, Kathirvel P. Insights into bacterial endophytic diversity and isolation with a focus on their potential applications–A review. Microbiological Research. 2023 Jan; 266: 127256. doi: 10.1016/j.micres.2022.127256.
Adebisi O. Comparative study of essential oil composition of fresh and dry peel and seed of Citrus sinensis (L) Osbeck var shamuti and Citrus Paradise Macfadyen var Marsh. Ife Journal of Science. 2014 Jul; 16(2): 211-7.
Vitali F, Pennisi C, Tomaino A, Bonina F, De Pasquale A, Saija A, et al. Effect of a standardized extract of red orange juice on proliferation of human prostate cells in vitro. Fitoterapia. 2006 Apr; 77(3): 151-5. doi: 10.1016/j.fitote.2005.10.001.
Li G, Tan F, Zhang Q, Tan A, Cheng Y, Zhou Q, et al. Protective effects of polymethoxyflavone-rich cold-pressed orange peel oil against ultraviolet B-induced photoaging on mouse skin. Journal of Functional Foods. 2020 Apr; 67: 103834. doi: 10.1016/j.jff.2020.103834.
Ding H, You Q, Li D, Liu Y. 5-Demethylnobiletin: Insights into its pharmacological activity, mechanisms, pharmacokinetics and toxicity. Phytomedicine. 2022 Sep; 104: 154285. doi: 10.1016/j.phymed.2022.154285.
Tedasen A, Sukrong S, Sritularak B, Srisawat T, Graidist P. 5, 7, 4⿲-Trihydroxy-6, 8-diprenylisoflavone and lupalbigenin, active components of Derris scandens, induce cell death on breast cancer cell lines. Biomedicine & Pharmacotherapy. 2016 Jul; 81: 235-41. doi: 10.1016/j.biopha.2016.03.044.
Reddy BA, Priya VV, Gayathri R. Comparative phytochemical analysis and total phenolic content of citrus seed extract (Citrus sinensis and Citrus limon). Drug Invention Today. 2018 Oct; 10(10): 2038-2040.
Bagetta D, Maruca A, Lupia A, Mesiti F, Catalano R, Romeo I, et al. Mediterranean products as promising source of multi-target agents in the treatment of metabolic syndrome. European Journal of Medicinal Chemistry. 2020 Jan; 186: 111903. doi: 10.1016/j.ejmech.2019.111903.
Takshak S and Agrawal SB. Defense potential of secondary metabolites in medicinal plants under UV-B stress. Journal of Photochemistry and Photobiology B: Biology. 2019 Apr; 193: 51-88. doi: 10.1016/j.jphotobiol.2019.02.002.
Hamzah RU, Jigam AA, Makun HA, Egwim EC. Antioxidant properties of selected African vegetables, fruits and mushrooms: A review. Mycotoxin and Food Safety in Developing Countries. 2013 Apr: 203-9. doi: 10.5772/52771.
Stea S, Beraudi A, De Pasquale D. Essential oils for complementary treatment of surgical patients: state of the art. Evidence-Based Complementary and Alternative Medicine. 2014 Jan; 2014: 726341. doi: 10.1155/2014/726341.
Castañeda R, Cáceres A, Velásquez D, Rodríguez C, Morales D, Castillo A. Medicinal plants used in traditional Mayan medicine for the treatment of central nervous system disorders: An overview. Journal of Ethnopharmacology. 2022 Jan; 283: 114746. doi: 10.1016/j.jep.2021.114746.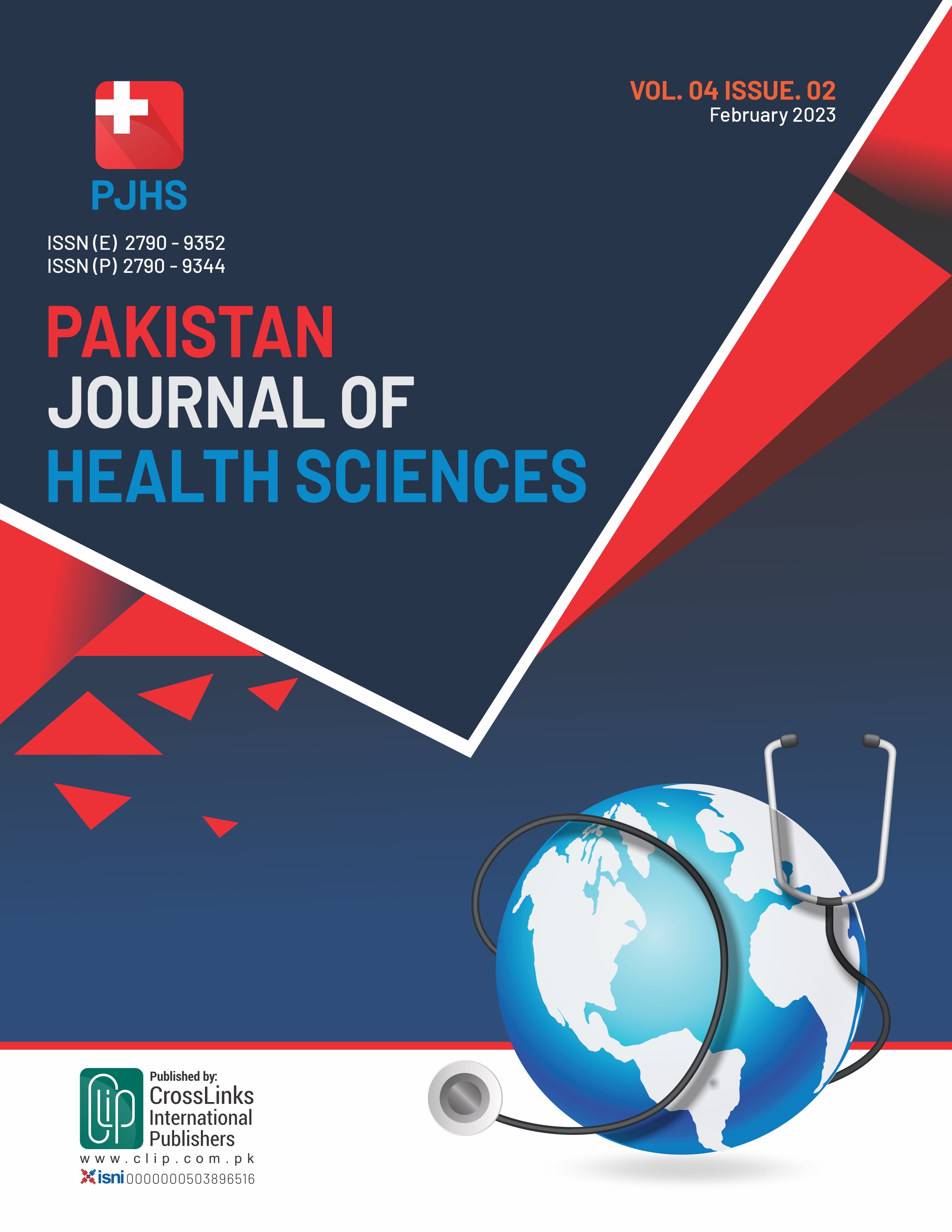 Downloads
How to Cite
Niazi, M. K., Hassan, F., Ul Hassan Zaidi, S. Z., Aslam, A. ., Shahid, Q. A., Arooj, W. ., Noor, T., Ghaffar, S. ., Sahi, A. A., & Naeem, N. . (2023). Nutritional Potential of Citrus Sinensis and its Pharmacological Action: A Concise Review: Nutritional and Pharmacological Potential of Citrus Sinensis. Pakistan Journal of Health Sciences, 4(02), 02–04. https://doi.org/10.54393/pjhs.v4i02.534
License
Copyright (c) 2023 Pakistan Journal of Health Sciences
This work is licensed under a Creative Commons Attribution 4.0 International License.
This is an open-access journal and all the published articles / items are distributed under the terms of the Creative Commons Attribution License, which permits unrestricted use, distribution, and reproduction in any medium, provided the original author and source are credited. For comments