Medical and Dental Faculty's Attitude towards E-Learning as the Mode of Teaching during Covid-19 Pandemic
Attitude towards E- Learning
Keywords:
E-Learning, Teaching Methodologies, Google Classroom, Google Meet, Zoom
Abstract
The use of modern technology infrastructure is regarded as critical for the successful adoption of innovative teaching approaches. Objective: To determine the attitudes and concerns of medical and dental faculty about the use of E-learning as a medium of instruction during the Covid-19 outbreak. Methods: This cross-sectional study included 368 faculty members from Medical and Dental Colleges of Punjab province was conducted utilizing a questionnaire developed following a thorough literature review and analysis of questionnaires from previous studies. A 5-point Likert scale was used to record knowledge, attitude, and practice, and the questionnaires were graded. SPSS version 22 was used to enter the data. The mean and SD of quantitative variables such as age and total score for knowledge, attitude, and practice score was calculated. Gender, education level, knowledge, attitude, and practice were all represented as frequency (%). Results: Zoom was shown to be the most commonly utilized software (69.0%). E-learning was deemed a beneficial tool in medical education by 56% of the respondents. An equal percentage of individuals (35%) agreed and disapproved the use of E-learning approaches over traditional ones. Only 30% participants resisted the change from traditional educational methods. Technological infrastructure was considered crucial for successful implementation of E-learning by 46% of the participants. Conclusion: Faculty members are using the available infrastructure to implement E-learning teaching modalities to the best of their knowledge and abilities.
References
Mukhtar K, Javed K, Arooj M, Sethi A. Advantages, Limitations and Recommendations for online learning during COVID-19 pandemic era. Pakistan Journal of Medical Sciences. 2020 May; 36(COVID19-S4): S27-31. doi: 10.12669/pjms.36.COVID19-S4.2785
Radha R, Mahalakshmi K, Kumar VS, Saravanakumar A. E-Learning during lockdown of Covid-19 pandemic: A global perspective. International Journal of Control and Automation. 2020 Jun; 13(4): 1088-99.
Kaur N, Dwivedi D, Arora J, Gandhi A. Study of the effectiveness of e-learning to conventional teaching in medical undergraduates amid COVID-19 pandemic. National Journal of Physiology, Pharmacy and Pharmacology. 2020 Jun; 10(7): 563-7. doi: 10.5455/njppp.2020.10.04096202028042020
Paules CI, Marston HD, Fauci AS. Coronavirus infections—more than just the common cold. Jama. 2020 Feb; 323(8):707-8. doi: 10.1001/jama.2020.0757
Sohrabi C, Alsafi Z, O'neill N, Khan M, Kerwan A, Al-Jabir A, et al. World Health Organization declares global emergency: A review of the 2019 novel coronavirus (COVID-19). International Journal of Surgery. 2020 Apr; 76: 71-6. doi: 10.1016/j.ijsu.2020.02.034
Haleem A, Javaid M, Vaishya R. Effects of COVID-19 pandemic in daily life. Current Medicine Research and Practice. 2020 Mar; 10(2): 78–9. doi: 10.1016/j.cmrp.2020.03.011
Abuhashesh M. E-Learning Adoption among Academic Staff during COVID-19 Pandemic Outbreak: The KAP Model. E-Learning. 2020 Jul; 29(03): 12260-72.
O'Doherty D, Dromey M, Lougheed J, Hannigan A, Last J, McGrath D. Barriers and solutions to online learning in medical education–an integrative review. BMC Medical Education. 2018 Dec; 18(1): 1. doi: 10.1186/s12909-018-1240-0
Bhardwaj A, Nagandla K, Swe KM, Abas AB. Academic Staff Perspectives Towards Adoption of E-learning at Melaka Manipal Medical College: Has E-learning Redefined our Teaching Model. Kathmandu University Medical Journal. 2015 Oct; 13(1): 12-8. doi: 10.3126/kumj.v13i1.13746
Akers A, Blough C, Iyer MS. COVID-19 Implications on Clinical Clerkships and the Residency Application Process for Medical Students. Cureus. 2020 Apr; 12(4): e7800–e. doi: 10.7759/cureus.7800
Kalolo JF. Digital revolution and its impact on education systems in developing countries. Education and Information Technologies. 2019 Jan; 24(1): 345-58. doi: 10.1007/s10639-018-9778-3
Olofsson AD, Fransson G, Lindberg JO. A study of the use of digital technology and its conditions with a view to understanding what 'adequate digital competence'may mean in a national policy initiative. Educational Studies. 2020 Nov; 46(6): 727-43. doi: 10.1080/03055698.2019.1651694
Han ER, Yeo S, Kim MJ, Lee YH, Park KH, Roh H. Medical education trends for future physicians in the era of advanced technology and artificial intelligence: an integrative review. BMC Medical Education. 2019 Dec; 19(1): 460. doi: 10.1186/s12909-019-1891-5
Al-alak BA and Alnawas IA. Measuring the acceptance and adoption of e-learning by academic staff. Knowledge Management & E-Learning: An International Journal. 2011; 3(2): 201-21. doi: 10.34105/j.kmel.2011.03.016
Kim KJ, Kang Y, Kim G. The gap between medical faculty's perceptions and use of e-learning resources. Medical Education Online. 2017 Jan; 22(1): 1338504. doi: 10.1080/10872981.2017.1338504
Alodan H. E-Learning transformation during the covid-19 pandemic among faculty members at princess nourah bint abdul rahman university. Utopía y Praxis Latinoamericana. 2021 Feb; 26(2): 286-304.
Zehry K, Halder N, Theodosiou L. E-Learning in medical education in the United Kingdom. Procedia-Social and Behavioral Sciences. 2011; 15: 3163-7. doi: 10.1016/j.sbspro.2011.04.265
Kamal Z, Jamil AZ, Waseem M, Iqbal MJ, Aziz N, Afzal HS. Advances in medical education; perceptions of faculty and students towards e-learning vs. traditional learning in a public sector medical college in Pakistan. Professional Medical Journal. 2021 May;28(5): 619-24. doi: 10.29309/TPMJ/2021.28.05.5396
Barbera J, Naibert N, Komperda R, Pentecost TC. Clarity on Cronbach's alpha use. Journal of Chemical Education. 2020 Dec; 98(2): 257-8. doi: 10.1021/acs.jchemed.0c00183
Zalat MM, Hamed MS, Bolbol SA. The experiences, challenges, and acceptance of e-learning as a tool for teaching during the COVID-19 pandemic among university medical staff. PLoS One. 2021 Mar; 16(3): e0248758. doi: 10.1371/journal.pone.0248758
Jamlan M. Faculty opinions towards introducing e-learning at the University of Bahrain.International Review of Research in Open and Distributed Learning. 2004;5(2):1-14. doi: 10.19173/irrodl.v5i2.185
Salari M, Yaghmayee F, Mehdizade S, Vafadar ZO, Afzali M. Factors related to accept of" e-learning" in nursing students. Education Strategies in Medical Sciences. 2009 Oct; 2(3): 103-8.
Frehywot S, Vovides Y, Talib Z, Mikhail N, Ross H, Wohltjen H, et al. E-learning in medical education in resource constrained low-and middle-income countries. Human resources for health. 2013 Dec; 11(1): 1-15. doi: 10.1186/1478-4491-11-4
Dhawan S. Online learning: A panacea in the time of COVID-19 crisis. Journal of Educational Technology Systems. 2020 Sep; 49(1): 5-22. doi: 10.1177/0047239520934018
Al Shorbaji N, Atun R, Car J, Majeed A, Wheeler EL, Beck D, et al. eLearning for undergraduate health professional education: a systematic review informing a radical transformation of health workforce development Geneva: World Health Organization. 2015 Jan. Available at: http://www.who.int/entity/hrh/documents/14126-eLearningReport.pdf?ua=1
Co M, Cheung KY, Cheung WS, Fok HM, Fong KH, Kwok OY, et al. Distance education for anatomy and surgical training–A systematic review. The Surgeon. 2022 Oct; 20(5): e195-205. doi: 10.1016/j.surge.2021.08.001
Co M, Chung PH, Chu KM. Online teaching of basic surgical skills to medical students during the COVID-19 pandemic: a case–control study. Surgery Today. 2021 Aug; 51: 1404-9. doi: 10.1007/s00595-021-02229-1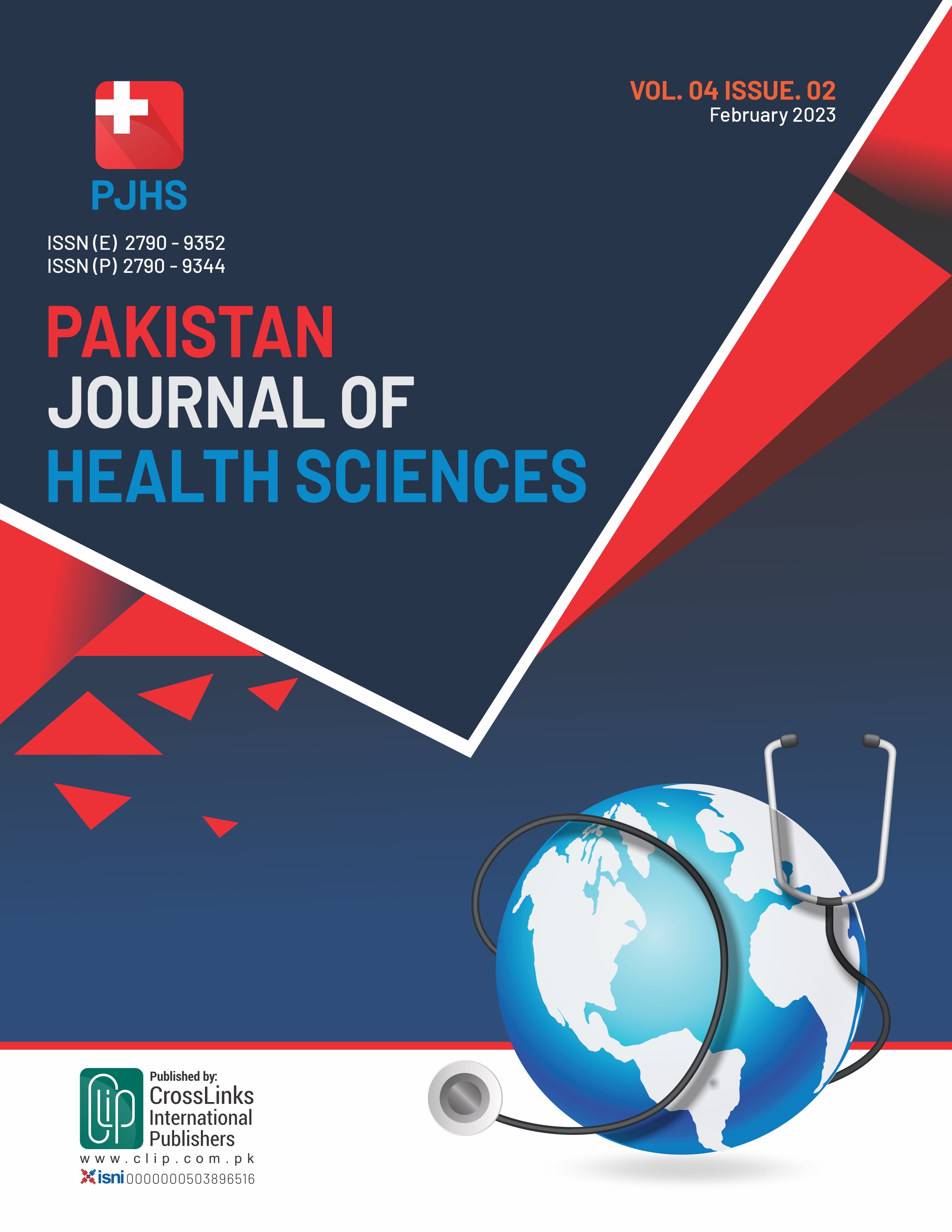 Downloads
CITATION
DOI: 10.54393/pjhs.v4i02.533
How to Cite
Wahad Khan , M. ., Ibrahim , S. ., Zaigham , A. M. ., Inayat, N. ., Tirmazi , S. M. ., & Munir, N. . (2023). Medical and Dental Faculty's Attitude towards E-Learning as the Mode of Teaching during Covid-19 Pandemic: Attitude towards E- Learning . Pakistan Journal of Health Sciences, 4(02), 56–60. https://doi.org/10.54393/pjhs.v4i02.533
License
Copyright (c) 2023 Pakistan Journal of Health Sciences
This work is licensed under a Creative Commons Attribution 4.0 International License.
This is an open-access journal and all the published articles / items are distributed under the terms of the Creative Commons Attribution License, which permits unrestricted use, distribution, and reproduction in any medium, provided the original author and source are credited. For comments