Prevalence of Sleep Disturbance Among DPT Students
Prevalence of Sleep Disturbance Among Students
Keywords:
Sleep, Disturbance, Students, Health
Abstract
Sleeping is essential for student physical as well as mental health. Sleep disturbance is distressing state that affect quality of work. Objective: To determine the sleep disturbance in DPT students. Methods: This observational study recruited 884 participants out of which 800 filled the questionnaire with mean age 21.54 ±1.76 from different medical universities and medical colleges of Punjab. Non probability convenient sampling technique was used. Both male and female students of all the years of DPT were included. Students with psychiatric illness, chronic medical illness, smoking and taking drugs excluded from the study. The effects of insomnia were checked by Athens Insomnia Scale (AIS) questionnaire. For data analysis SPSS version 26 was used. Results: Mean age of the physical therapy students was 21.54 ±1.76. Out of 800, 61.75% students were insomniac. Most of the students had unsatisfactory sleep quality (55.87%), awakening at the night time (62%), and day time sleepiness (76.25%). Conclusion: According to present study prevalence of sleep disturbance was very high among physical therapy students
References
Curcio G, Ferrara M, De Gennaro L. Sleep loss, learning capacity and academic performance. Sleep Medicine Reviews. 2006 Oct; 10(5): 323-37. doi: 10.1016/j.smrv.2005.11.001.
Rodrigues RN, Viegas CA, Abreu e Silva AA, Tavares P. Daytime sleepiness and academic performance in medical students. Arquivos de Neuro-Psiquiatria. 2002 Mar; 60(1): 6-11. doi: 10.1590/S0004-282X2002000100002.
Crowley SJ, Acebo C, Carskadon MA. Sleep, circadian rhythms, and delayed phase in adolescence. Sleep Medicine. 2007 Sep; 8(6): 602-12. doi: 10.1016/j.sleep.2006.12.002.
Gradisar M, Dohnt H, Gardner G, Paine S, Starkey K, Menne A, et al. A randomized controlled trial of cognitive-behavior therapy plus bright light therapy for adolescent delayed sleep phase disorder. Sleep. 2011 Dec; 34(12): 1671-80. doi: 10.5665/sleep.1432.
Datta A, Nag K, Karmakar N, Chakrabarty T. Sleep disturbance and its effect on academic performance among students of a medical college of Tripura. International Journal of Community Medical Public Health. 2019 Jan; 6(1): 293-8. doi: 10.18203/2394-6040.ijcmph20185261.
Perkinson-Gloor N, Lemola S, Grob A. Sleep duration, positive attitude toward life, and academic achievement: the role of daytime tiredness, behavioral persistence, and school start times. Journal of Adolescence. 2013 Apr; 36(2): 311-8. doi: 10.1016/j.adolescence.2012.11.008.
Nojoomi M, Ghalebandi MF, Akhbari R, Gorji R. Sleep pattern and prevalence of sleep disturbances in medical students and specialist residents. Medical Sciences Journal of Islamic Azad University. 2009 Jan; 19(1): 55-9.
Haile YG, Alemu SM, Habtewold TD. Insomnia and its temporal association with academic performance among university students: a cross-sectional study. BioMed Research International. 2017 Jun; 2017: 2542367. doi: 10.1155/2017/2542367.
Taylor DJ, Lichstein KL, Durrence HH. Insomnia as a health risk factor. Behavioral Sleep Medicine. 2003 Nov; 1(4): 227-47. doi: 10.1207/S15402010BSM0104_5.
Hamed H, Miskey A, Alkurd R, Ghazal Z, Sami R, Abduljaleel N, et al. The effect of sleeping pattern on the academic performance of undergraduate medical students at Ajman University of Science and Technology. Journal of Pharmacy and Pharmaceutical Sciences. 2015 Jun; 4(4): 18-21.
Mirghani HO, Mohammed OS, Almurtadha YM, Ahmed MS. Good sleep quality is associated with better academic performance among Sudanese medical students. BMC Research Notes. 2015 Dec; 8(1) :1-5. doi: 10.1186/s13104-015-1712-9.
Huen LL, Chan TW, Yu WM, Wing YK. Do medical students in Hong Kong have enough sleep?. Sleep and Biological Rhythms. 2007 Jul; 5(3): 226-30. doi: 10.1111/j.1479-8425.2007.00278.x.
Tsai LL and Li SP. Sleep patterns in college students: Gender and grade differences. Journal of Psychosomatic Research. 2004 Feb; 56(2): 231-7. doi: 10.1016/S0022-3999(03)00507-5.
Preišegolavičiūtė E, Leskauskas D, Adomaitienė V. Associations of quality of sleep with lifestyle factors and profile of studies among Lithuanian students. Medicina. 2010 Jul; 46(7): 482. doi: 10.3390/medicina46070070.
Mume CO, Olawale KO, Osundina AF. Excessive daytime sleepiness, nocturnal sleep duration and psychopathology among Nigerian university students. South African Journal of Psychiatry. 2011 Dec; 17(4): 108-11. doi: 10.4102/sajpsychiatry.v17i4.311.
Parker DC, Rossman LG, Kripke DF, Hershman JM, Gibson W, Davis C, et al. Endocrine rhythms across sleep-wake cycles in normal young men under basal state conditions. Physiology in Sleep: Elsevier. 1980: 145-79. doi: 10.1016/b978-0-12-527650-4.50010-4.
Bonnet MH. Performance and sleepiness as a function of frequency and placement of sleep disruption. Psychophysiology. 1986 May; 23(3): 263-71. doi: 10.1111/j.1469-8986.1986.tb00630.x.
Kazim M, Abrar A. Sleep Patterns and Academic Performance in Students of a Medical College in Pakistan. KUST Medical Journal. 2011 Jul; 3(2): 57-60.
Almojali AI, Almalki SA, Alothman AS, Masuadi EM, Alaqeel MK. The prevalence and association of stress with sleep quality among medical students. Journal of Epidemiology and Global Health. 2017 Sep; 7(3): 169-74. doi: 10.1016/j.jegh.2017.04.005.
Sitticharoon C, Srisuma S, Kanavitoon S, Summachiwakij S. Exploratory study of factors related to educational scores of first preclinical year medical students. Advances in Physiology Education. 2014 Mar; 38(1): 25-33. doi: 10.1152/advan.00162.2012.
Atkinson G and Davenne D. Relationships between sleep, physical activity and human health. Physiology & Behavior. 2007 Feb; 90(2-3): 229-35. doi: 10.1016/j.physbeh.2006.09.015.
Lund HG, Reider BD, Whiting AB, Prichard JR. Sleep patterns and predictors of disturbed sleep in a large population of college students. Journal of Adolescent Health. 2010 Feb; 46(2): 124-32. doi: 10.1016/j.jadohealth.2009.06.016.
Hysing M, Haugland S, Stormark KM, Bøe T, Sivertsen B. Sleep and school attendance in adolescence: results from a large population-based study. Scandinavian Journal of Public Health. 2015 Feb; 43(1): 2-9. doi: 10.1177/1403494814556647.
Ibrahim NK, Badawi F, Mansouri Y, Ainousa A, Jambi S, Fatani AN. Sleep quality among medical students at King Abdulaziz University: a cross-sectional study. Journal of Community Medicine and Health Education. 2017 Oct; 7(561): 2161-711. doi: 10.4172/2161-0711.1000561.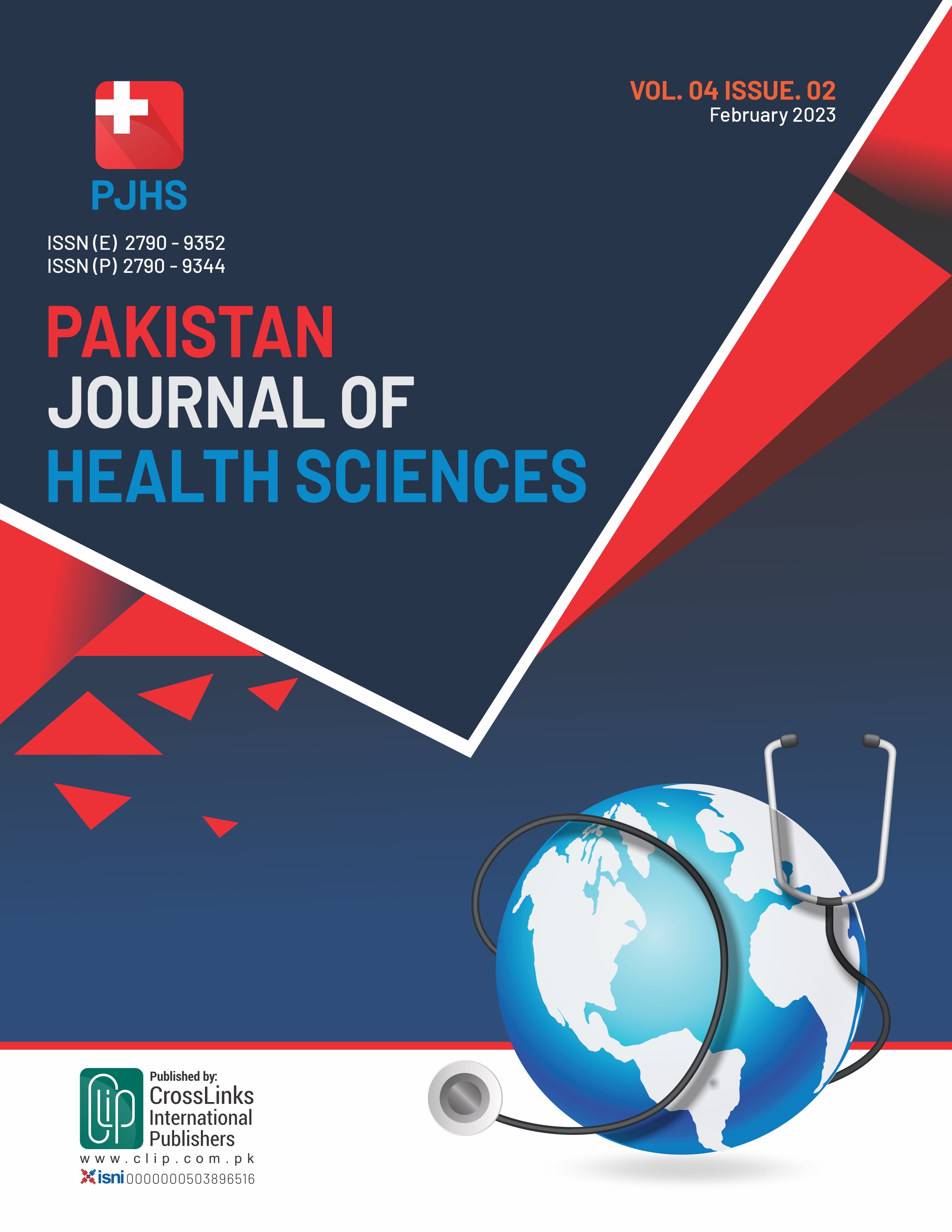 Downloads
How to Cite
Nadeem, I. ., Fatima , R. ., Avaid, A., Anwar, S. ., Nazik, N. ., Rani, Z. ., Shakoor, E. ., Asif, Q. ul A. ., Nizam, H. ., & Kompal, R. . (2023). Prevalence of Sleep Disturbance Among DPT Students : Prevalence of Sleep Disturbance Among Students. Pakistan Journal of Health Sciences, 4(02), 32–35. https://doi.org/10.54393/pjhs.v4i02.499
License
Copyright (c) 2023 Pakistan Journal of Health Sciences
This work is licensed under a Creative Commons Attribution 4.0 International License.
This is an open-access journal and all the published articles / items are distributed under the terms of the Creative Commons Attribution License, which permits unrestricted use, distribution, and reproduction in any medium, provided the original author and source are credited. For comments