Evaluation of patient satisfaction with fixed Prosthodontic therapy visiting Prosthodontic department of a Teaching Dental Hospital
Patient Satisfaction Towards Fixed Prosthodontic therapy
Keywords:
Fixed Prosthesis, Satisfaction, Aesthetics, Mastication, Speech
Abstract
One of the important aspects of any successful prosthodontics treatment is the satisfaction level of patients with that particular treatment. Crowns and fixed partial dentures besides fulfilling clinical and laboratory norms must also satisfy the needs of patients. Objective: To evaluate satisfaction level of patients with crown and bridge they received in the past. Methods:  This cross sectional study had a total of one hundred patients (males and females) who were evaluated for the satisfaction level of crown and bridges they received in recent past. Through a convenient sampling technique and present inclusion and exclusion criteria only those patients were considered who presented with the problem other than the existing fixed prostheses under consideration for the study. Self structured questionnaire was used to assess patient's satisfaction on the basis of type of prosthesis used, material of prosthesis, mastication, perceived aesthetics, taste of food and foul smell. Data were analysed through SPSS version 23.0. Results: Study had 46 males and 54 females with a mean age of 37 years. Majority of patients presented with metallic ceramic crowns. Approximately 79% patients were found to be comfortable with mastication. Most of the patients (98%) were satisfied with aesthetic while 93% patients did not feel any bad smell. A very small percentage of patients were not satisfied with their taste of food and speech. Conclusions: Overall satisfaction of patients on a scale from 1-10 showed that maximum number of patients were found to be satisfied from their previous crown and fixed partial denture treatment.
References
Al-Quran FA, Al-Ghalayini RF, Al-Zu'bi BN. Single-tooth replacement: factors affecting different prosthetic treatment modalities. BMC oral health. 2011 Dec; 11(1): 1-7. doi: 10.1186/1472-6831-11-34
Crăciun AE, Cerghizan D, Baloș MD, Gribincea V, Albu AI, Muică A. Statistical study on the degree of satisfaction of patients with fixed prosthetic dentures. Acta Stomatologica Marisiensis Journal. 2019 Jun; 2(1): 188-94. doi: 10.2478/asmj-2019-0006
Banerjee R, Gajbhiye V, Radke U, Bangare T. Patient satisfaction after rehabilitation with tooth-supported fixed partial dentures: A cross-sectional study. Indian Journal of Multidisciplinary Dentistry. 2019 Jan; 9(1): 3. doi: 10.4103/ijmd.ijmd_36_18
Shrestha L, Dahal S, Pradhan D, Lohani J. Satisfaction level among patients treated with fixed dental prosthesis in a tertiary care hospital: a descriptive cross-sectional study. JNMA: Journal of the Nepal Medical Association. 2020 Jan; 58(221): 15. doi: 10.31729/jnma.4720
Alma G, Emir B, Sanela S, Amela Đ, Lejla B, Enes P. Evaluation of Patient'S Satisfaction With Fixed-Prosthodontics Therapy. Stomatalogical Review. 2017; 6:17-24.
Kavita K, Iqubal MA, Singh R, Singh S, Nazeer J, Singh R. Factors affecting patient satisfaction among patients undergone removable prosthodontic rehabilitation. Journal of Family Medicine and Primary Care. 2020 Jul; 9(7): 3544.
Marchini L. Patients' satisfaction with complete dentures: an update. Brazilian dental science. 2014; 17(4): 5-16.
Uswah K, Pankaj D, Piyush T, Meena J. Assessment of patients' satisfaction with fixed partial denture and its correlation with patients' evaluation of clinicians. Annals of the Romanian Society for Cell Biology. 2021 Jul; 25(6): 17168-83.
Elias AC, Sheiham A. The relationship between satisfaction with mouth and number and position of teeth. Journal of oral rehabilitation. 1998 Sep; 25(9): 649-61. doi: 10.1046/j.1365-2842.1998.00313.x
Frank RP, Brudvik JS, Leroux B, Milgrom P, Hawkins N. Relationship between the standards of removable partial denture construction, clinical acceptability, and patient satisfaction. The Journal of Prosthetic Dentistry. 2000 May; 83(5): 521-7. doi: 10.1016/S0022-3913(00)70008-4
Aldosari MA, Tavares MA, Matta-Machado AT, Abreu MH. Factors associated with patients' satisfaction in Brazilian dental primary health care. PloS one. 2017 Nov; 12(11): e0187993. doi: 10.1371/journal.pone.0187993
Kashbur N, Bugaighis I. Patients' satisfaction, expectation, care, and maintenance of fixed prosthesis. Libyan International Medical University Journal. 2019 Jan; 4(1): 26. doi: 10.4103/LIUJ.LIUJ_42_18
Siqueira GP, Dos Santos MB, Santos JF, Marchini L. Patients' expectation and satisfaction with removable dental prosthesis therapy and correlation with patients' evaluation of the dentists. Acta Odontologica Scandinavica. 2013 Jan; 71(1): 210-4. doi: 10.3109/00016357.2012.654612
Tan K, Li AZ, Chan ES. Patient satisfaction with fixed partial dentures: a 5-year retrospective study. Singapore dental journal. 2005 Dec; 27(1): 23-9.
Geiballa GH, Abubakr NH, Ibrahim YE. Patients' satisfaction and maintenance of fixed partial denture. European journal of dentistry. 2016 Apr; 10(02): 250-3. doi: 10.4103/1305-7456.178313
Al-alsheikh H. A comparison of patient satisfaction and dentist evaluation of removable partial dentures therapy among saudi female patients. Journal of Pakistan Dental Association. 2011 Oct; 20(04): 239-44.
Bilhan H, Erdogan O, Ergin S, Celik M, Ates G, Geckili O. Complication rates and patient satisfaction with removable dentures. The journal of advanced prosthodontics. 2012 May; 4(2):109-15. doi: 10.4047/jap.2012.4.2.109
Wu JH, Yang YH, Wang CH, Lee HE, Du JK. Effects of denture maintenance on satisfaction levels of Taiwanese elderly using removable partial dentures: a pilot study. Gerodontology. 2012 Jun; 29(2): e458-63. doi: 10.1111/j.1741-2358.2011.00500.x
Anderson JD. The need for criteria on reporting treatment outcomes. The Journal of prosthetic dentistry. 1998 Jan; 79(1): 49-55. doi: 10.1016/S0022-3913(98)70193-3
Nayan K, Kumari L. Patient's Satisfaction with the Use of Fixed Partial Denture. Annals of International Medical and Dental Research. 2019 Mar.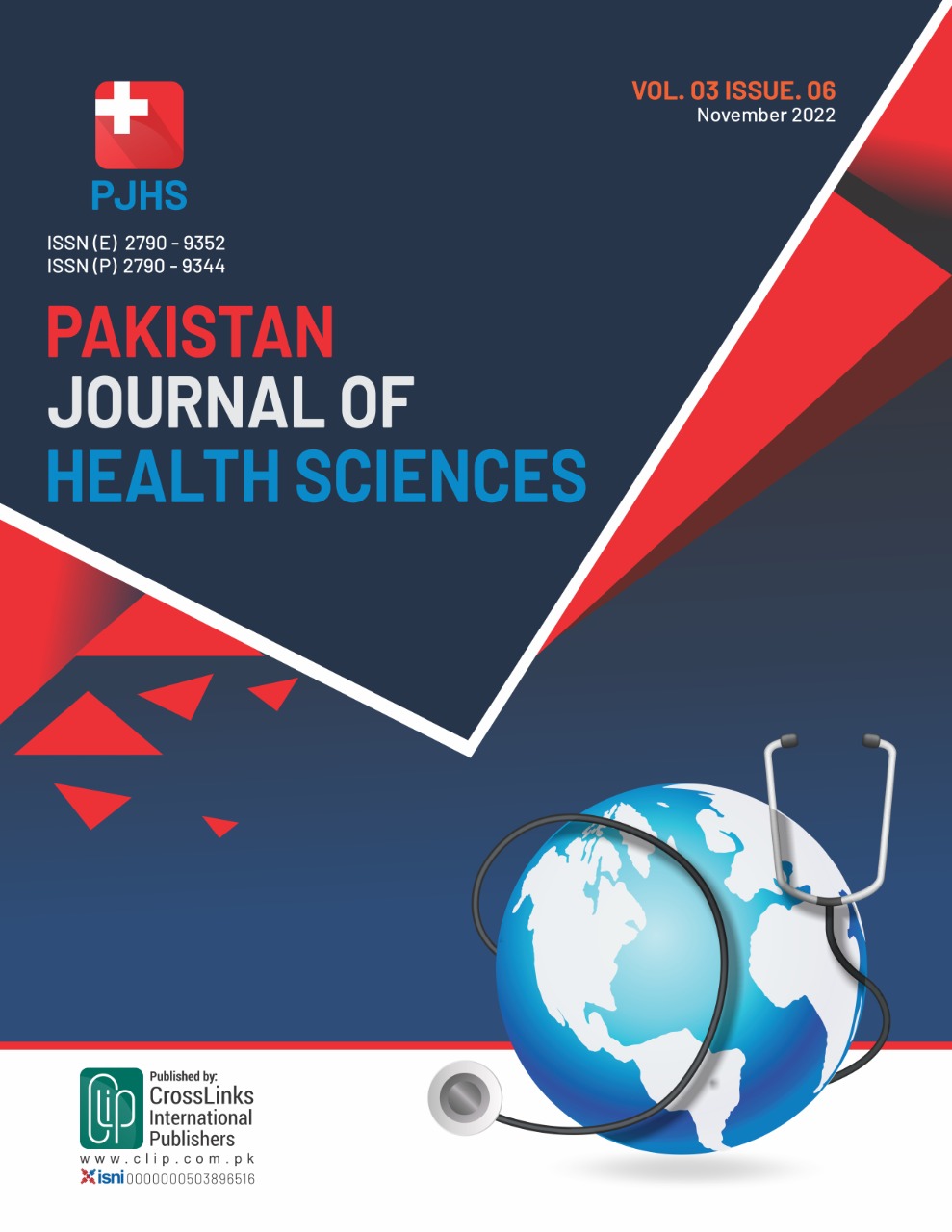 Downloads
CITATION
DOI: 10.54393/pjhs.v3i06.352
How to Cite
Zubair, N. ., Raza, M. ., Khan, M. S. ., Ubaid, B. ., Alam, A. ., Hashim, L. ., & Ali, Z. (2022). Evaluation of patient satisfaction with fixed Prosthodontic therapy visiting Prosthodontic department of a Teaching Dental Hospital : Patient Satisfaction Towards Fixed Prosthodontic therapy. Pakistan Journal of Health Sciences, 3(06), 212–215. https://doi.org/10.54393/pjhs.v3i06.352
License
Copyright (c) 2022 Pakistan Journal of Health Sciences
This work is licensed under a Creative Commons Attribution 4.0 International License.
This is an open-access journal and all the published articles / items are distributed under the terms of the Creative Commons Attribution License, which permits unrestricted use, distribution, and reproduction in any medium, provided the original author and source are credited. For comments