Frequency of Successful Extubation in Patients with Rapid Shallow Breathing Maximum (RSBImax)
Successful Extubation in Patients with RSBImax
Keywords:
Extubation, Mechanical Ventilation, Spontaneous Breathing Trial, Rapid Shallow Breathing
Abstract
Prolonged mechanical ventilation and premature removal from mechanical ventilation (MV) are independent risk factors for morbidity and mortality. Weaning and liberation from MV remain critical stages of a patient's ICU stay. To date, no weaning predictive index has proven to be ideal. Objectives: To determine the frequency of successful extubation in patients on mechanical ventilation after 2 hour of spontaneous breathing trial (SBT). Methods: A total of 100 consecutive patients admitted in Medical ICU, meeting the inclusion criteria was enrolled. Non probability purposive sampling was employed. Patients of both gender and age >18 years, on mechanical ventilator for more than 48hrs were included. Two hours of SBT was performed in a semi seated position. RSBI were measured at 1 min after extubation. Patient who have not developed any feature of SBT intolerance, was continued on SBT up to 120 min. All collected data was entered into Statistical Package for Social Sciences (SPSS) version 24.0 for analysis. Results: Successful extubation was found to be (86%). in patients with RSBImax <105. Among 43 patients with successful extubation, 60.5% were male and 39.5% were female. The average age was 53+ 14.6 yrs and the average days of MV were 7+ 2.3 days. Rate of successful extubation was high with the age < 60 yrs, in male gender and with duration of MV <7 days. Conclusion: It is concluded from the above study that patients with RSBImax <105 were found to have successful extubation
References
Jhou HJ, Chen PH, Ou-Yang LJ, Lin C, Tang SE, Lee CH. Methods of Weaning From Mechanical Ventilation in Adult: A Network Meta-Analysis. Frontiers in Medicine. 2021 Oct; 8. doi: 10.3389/fmed.2021.752984
Eggimann P and Pittet D. Infection control in the ICU. Chest. 2001 Dec; 120(6): 2059-93. doi: 10.1378/chest.120.6.2059
Powers SK, Shanely RA, Coombes JS, Koesterer TJ, McKenzie M, Van Gammeren D, et al. Mechanical ventilation results in progressive contractile dysfunction in the diaphragm. Journal of applied physiology. 2002 May; 92(5): 1851-8. doi: 10.1152/japplphysiol.00881.2001
Duarte H, França DL, Portes MC, Faria AP, Fontes RM, Wittmer VL, et al. Comparison of different methods of obtaining the rapid shallow breathing index. Brazilian Journal of Anesthesiology (English Edition). 2021 May. 1-6. doi: 10.1016/j.bjane.2021.05.001
Jaber S, Quintard H, Cinotti R, Asehnoune K, Arnal JM, Guitton C, Paugam-Burtz C, Abback P, Mekontso Dessap A, Lakhal K, Lasocki S. Risk factors and outcomes for airway failure versus non-airway failure in the intensive care unit: a multicenter observational study of 1514 extubation procedures. Critical Care. 2018 Dec; 22(1): 1-2. doi: 10.1186/s13054-018-2150-6
Faruq MO, Ahsan AA, Fatema K, Ahmed F, Sultana A, Mallick UK, et al. A Survey of Mechanical Ventilation Weaning Practices in ICUs of Bangladesh. Bangladesh Critical Care Journal. 2021 Apr; 9(1): 4-11. doi: 10.3329/bccj.v9i1.53049
Karthika M, Al Enezi FA, Pillai LV, Arabi YM. Rapid shallow breathing index. Annals of thoracic medicine. 2016 Jul; 11(3): 167-176. doi: 10.4103/1817-1737.176876
Khan MT, Munawar K, Hussain SW, Qadeer A, Saeed ML, Shad ZS, et al. Comparing ultrasound-based diaphragmatic excursion with rapid shallow breathing index as a weaning predictor. Cureus. 2018 Dec; 10(12): e3710. doi: 10.7759/cureus.3710
Yang KL and Tobin MJ. A prospective study of indexes predictingthe outcome of trials of weaning from mechanical ventilation. New England Journal of Medicine. 1991; 324: 1445-50. doi: 10.1056/NEJM199105233242101
Ghiasi F, Moghadam KG, Alikiaii B, Sadrzadeh S, Farajzadegan Z. The prognostic value of rapid shallow breathing index and physiologic dead space for weaning success in intensive care unit patients under mechanical ventilation. Journal of Research in Medical Sciences: the Official Journal of Isfahan University of Medical Sciences. 2019; 24: 1-6. doi: 10.4103/jrms.JRMS_349_18
Tonnelier JM, Prat G, Gal GL, Gobert CG, Renault A, Boles JM, et al. Impact of a nurses' protocol-directed weaning procedure on outcomes in patients undergoing mechanical ventilation for longer than 48 hours: a prospective cohort study with a matched historical control group. Critical Care. 2005; 9(2): 83–9. doi: 10.1186/cc3030
Rittayamai N, Ratchaneewong N, Tanomsina P, Kongla W. Validation of rapid shallow breathing index displayed by the ventilator compared to the standard technique in patients with readiness for weaning. BMC Pulmonary Medicine. 2021 Dec; 21(1): 1-8. doi: 10.1186/s12890-021-01680-7
Kim WY, Suh HJ, Hong SB, Koh Y, Lim CM. Diaphragm dysfunction assessed by ultrasonography: influence on weaning from mechanical ventilation. Critical care medicine. 2011 Dec; 39(12): 2627-30. doi: 10.1097/CCM.0b013e3182266408
Tanaka A, Yamashita T, Koyama Y, Uchiyama A, Fujino Y. Predictors of successful extubation in reintubated patients: The impact of fluid balance during the 24 hours prior to extubation. Indian Journal of Critical Care Medicine: Peer-reviewed, Official Publication of Indian Society of Critical Care Medicine. 2019 Jul; 23(7): 344-345. doi: 10.5005/jp-journals-10071-23212
Ferrari G, De Filippi G, Elia F, Panero F, Volpicelli G, Aprà F. Diaphragm ultrasound as a new index of discontinuation from mechanical ventilation. Critical ultrasound journal. 2014 Dec; 6(1): 1-6. doi: doi.org/10.1186/2036-7902-6-8
Hershenson MB, Kikuchi YO, Loring SH. Relative strengths of the chest wall muscles. Journal of Applied Physiology. 1988 Aug; 65(2): 852-62. doi: 10.1152/jappl.1988.65.2.852
Meade M, Guyatt G, Cook D, Griffith L, Sinuff T, Kergl C, et al. Predicting success in weaning from mechanical ventilation. Chest. 2001 Dec; 120(6): 400S-24S. doi: 10.1378/chest.120.6_suppl.400S
Epstein SK. Etiology of extubation failure and the predictive value of the rapid shallow breathing index. American Journal of Respiratory and Critical Care Medicine. 1995; 152(2): 545-9. doi: 10.1164/ajrccm.152.2.7633705
Martinez A, Seymour C, Nam M. Minute ventilation recovery time: a predictor of extubation outcome. Chest. 2003; 123(4): 1214-21. doi: 10.1378/chest.123.4.1214
Salam A, Tilluckdharry L, Amoateng-Adjepong Y, Manthous CA. Neurologic status, cough, secretions and extubation outcomes. Intensive Care Medicine. 2004; 30(7): 1334-9. doi: 10.1007/s00134-004-2231-7
Boynton JH, Hawkins K, Eastridge BJ, O'Keefe GE. Tracheostomy timing and the duration of weaning in patients with acute respiratory failure. Critical Care. 2004; 8(4): R261-7. doi: 10.1186/cc2885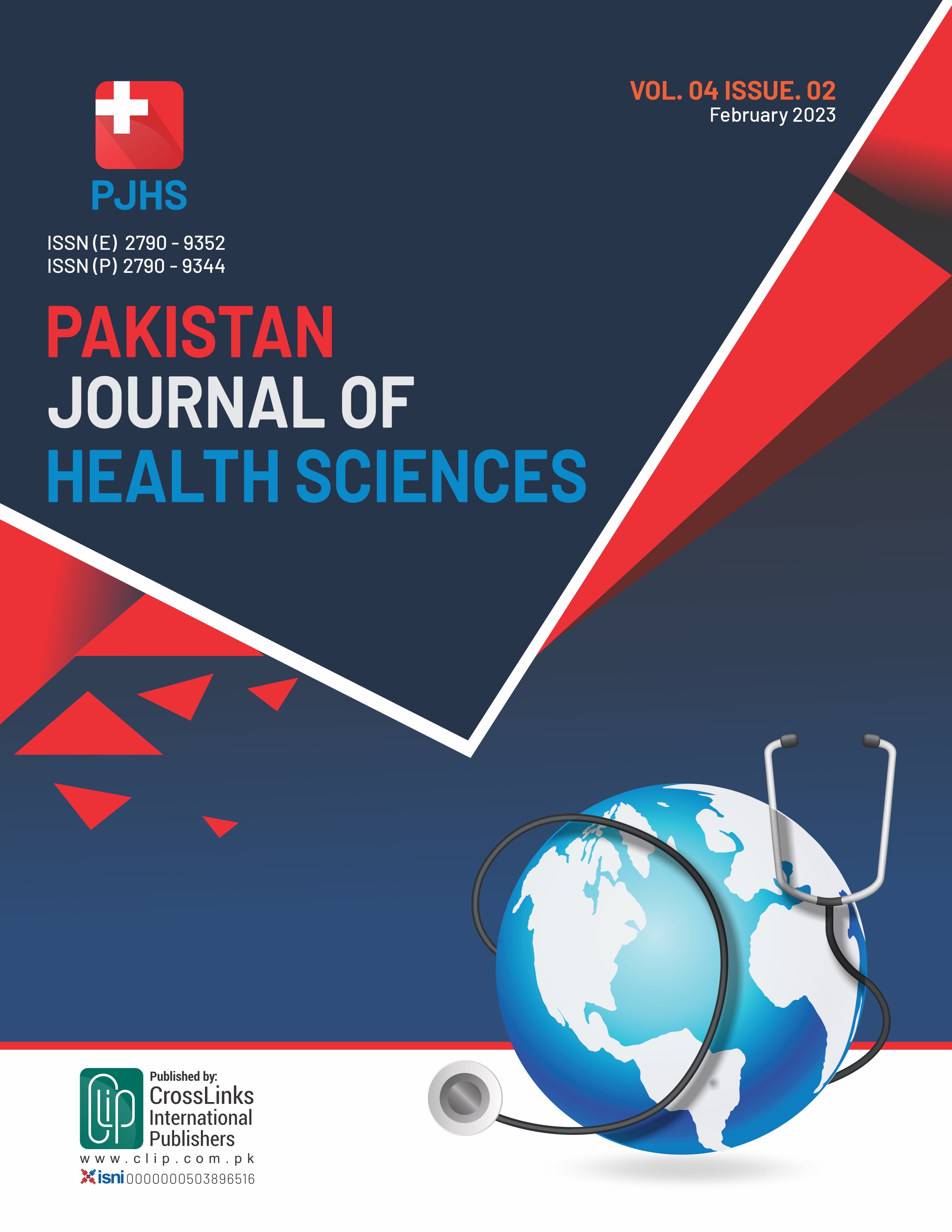 Downloads
How to Cite
Rabbani, B. ., Umar, M., Saeed, A. ., Ahmed, A., Yaseen, M., & Waseem, F. . (2023). Frequency of Successful Extubation in Patients with Rapid Shallow Breathing Maximum (RSBImax): Successful Extubation in Patients with RSBImax. Pakistan Journal of Health Sciences, 4(02), 18–21. https://doi.org/10.54393/pjhs.v4i02.254
License
Copyright (c) 2023 Pakistan Journal of Health Sciences
This work is licensed under a Creative Commons Attribution 4.0 International License.
This is an open-access journal and all the published articles / items are distributed under the terms of the Creative Commons Attribution License, which permits unrestricted use, distribution, and reproduction in any medium, provided the original author and source are credited. For comments