Social Autopsy a Tool for Maternal and Perinatal Death Surveillance and Response (MPDSR) Reporting in Pakistan
Social Autopsy: A Tool for Maternal and Perinatal Death
Keywords:
Social autopsy, Maternal death, Perinatal death
Abstract
Social autopsy is a relatively new technique to report non-biological causes of death along with biological causes, which accounts for 12/15 maternal deaths in Pakistan, through direct interaction with the community. Pakistan had a highest neonatal mortality in the entire world. A significant number of unreported cases contributed to the high prevalence of neonatal and maternal mortality. Pakistan is one of the top 10 nations that contribute to 60% of maternal and perinatal deaths worldwide which demands social autopsy adoption in Pakistan. Information acquired by social autopsy will therefore be useful in developing any efforts to stop or treat causes linked with death. Social autopsy is a way of health promotion as it encourages individual and communal behavioral change and contributes in achieving United Nations Sustainable Development Goal (SDG) 3.1 by reducing maternal and perinatal death mortality by 2030 and 2035 respectively. In discussion with the family of a woman and community, health workers examine the social reasons of death and pinpoint reforms that are required. In Bangladesh, Brazil, Tanzania, India and Nigeria, maternal and perinatal deaths have been lowered due to adoption of social autopsy. Pakistan has embraced verbal autopsy, but it is an ineffective technique which just deals with the medical cause of death. Maternal and perinatal deaths are not just because of medical causes, it is also the result of interactions between several social, cultural and economic factors. Government of Pakistan is just spending 0.8% of its GDP on health. Standard of primary maternity care is generally unsatisfactory. Only 25% basic health units have qualified staff. Government of Pakistan should create a provincial MPDSR committee, strengthen the health care network and pilot social autopsy in Pakistan to meet SGD goal 3.
References
Kalter HD, Salgado R, Babille M, Koffi AK, Black RE. Social autopsy for maternal and child deaths: a comprehensive literature review to examine the concept and the development of the method. Population Health Metrics. 2011 Aug; 9:45. doi: 10.1186/1478-7954-9-45
Waiswa P, Kalter HD, Jakob R, Black RE; Social Autopsy Working Group. Increased use of social autopsy is needed to improve maternal, neonatal and child health programmes in low-income countries. Bulletin of the World Health Organization. 2012 Jun; 90(6):403-403A. doi: 10.2471/BLT.12.105718
Irangani L, Prasanna IR, Gunarathne SP, Shanthapriya SH, Wickramasinghe ND, Agampodi SB, et al. Social determinants of health pave the path to maternal deaths in rural Sri Lanka: reflections from social autopsies. Research Sqaure. doi: 10.21203/rs.3.rs-1585439/v1
Rahman KM, Olsen A, Harley D, Butler CD, Mondal D, Luby SP, et al. Kala-azar in pregnancy in Mymensingh, Bangladesh: a social autopsy. PLoS Neglected Tropical Diseases. 2014 May; 8(5):e2710. doi: 10.1371/journal.pntd.0002710
Perin J, Koffi AK, Kalter HD, Monehin J, Adewemimo A, Quinley J, et al. Using propensity scores to estimate the effectiveness of maternal and newborn interventions to reduce neonatal mortality in Nigeria. BMC Pregnancy Childbirth. 2020 Sep; 20(1):534. doi: 10.1186/s12884-020-03220-3
Siddiqui MB, Ng CW, Low WY, Syed S, Ahmed S, Noushad S, et al. A Verbal/Social Autopsy (VASA) Child Mortality Inquiry to Investigate Under-Five Mortality Determinants in Slums of Karachi, Pakistan: A Mix Methods Interventional Study. 2016
Koffi AK, Maina A, Yaroh AG, Habi O, Bensaïd K, Kalter HD. Social determinants of child mortality in Niger: Results from the 2012 National Verbal and Social Autopsy Study. Journal of Global Health. 2016 Jun; 6(1):010603. doi: 10.7189/jogh.06.010603
Mahato PK, Waithaka E, van Teijlingen E, Pant PR, Biswas A. Social autopsy: a potential health-promotion tool for preventing maternal mortality in low-income countries. WHO South East Asia Journal of Public Health. 2018 Apr; 7(1):24-28. doi: 10.4103/2224-3151.228424
Zain S, Jameel B, Zahid M, Munir M, Kandasamy S, Majid U. The design and delivery of maternal health interventions in Pakistan: a scoping review. Health Care for Women International. 2021; 42(4-6):518-546. doi: 10.1080/07399332.2019.1707833
Jamison DT, Summers LH, Alleyne G, Arrow KJ, Berkley S, Binagwaho A, et al. Global health 2035: a world converging within a generation. Lancet. 2013 Dec 7;382(9908):1898-955. doi: 10.1016/S0140-6736(13)62105-4
Liu L, Oza S, Hogan D, Chu Y, Perin J, Zhu J, et al. Global, regional, and national causes of under-5 mortality in 2000-15: an updated systematic analysis with implications for the Sustainable Development Goals. Lancet. 2016 Dec; 388(10063):3027-3035. doi: 10.1016/S0140-6736(16)31593-8
Mackie J and Allwood G. The implementation of the 2030 Agenda's principles of 'leaving-no-one-behind'and 'addressing the needs of those furthest behind first'in the EU's development policy. 2022
Biswas A, Ferdoush J, Abdullah ASM, Halim A. Social autopsy for maternal and perinatal deaths in Bangladesh: a tool for community dialog and decision making. Public Health Reviews. 2018 Jul; 39:16. doi: 10.1186/s40985-018-0098-3
Rodrigues NC, Monteiro DL, Almeida AS, Barros MB, Pereira Neto A, O'Dwyer G, et al. Temporal and spatial evolution of maternal and neonatal mortality rates in Brazil, 1997-2012. Jornal de Pediatria. 2016 Dec; 92(6):567-573. doi: 10.1016/j.jped.2016.03.004
Leal LF, Malta DC, Souza MFM, Vasconcelos AMN, Teixeira RA, Veloso GA, et al. Maternal Mortality in Brazil, 1990 to 2019: a systematic analysis of the Global Burden of Disease Study 2019. Revista de Sociedade Brasileira de Medicina Tropical. 2022 Jan; 55(suppl 1):e0279. doi: 10.1590/0037-8682-0279-2021
World Health Organization. Reaching the every newborn national 2020 milestones: country progress, plans and moving forward. 2017
Demographic P. Health Survey 2006-07. National Institute of Population Studies, Pakistan; and, Macro International. 2007
Fottrell E, Kahn K, Tollman S, Byass P. Probabilistic methods for verbal autopsy interpretation: InterVA robustness in relation to variations in a priori probabilities. PLoS One. 2011; 6(11):e27200. doi: 10.1371/journal.pone.0027200
Ki-Moon B. Global strategy for women's and children's health. New York: United Nations. 2010.
Bhutta ZA, Chopra M, Axelson H, Berman P, Boerma T, Bryce J, et al. Countdown to 2015 decade report (2000-10): taking stock of maternal, newborn, and child survival. Lancet. 2010 Jun; 375(9730):2032-44. doi: 10.1016/S0140-6736(10)60678-2
Mikkelsen L, Phillips DE, AbouZahr C, Setel PW, de Savigny D, Lozano R, et al. A global assessment of civil registration and vital statistics systems: monitoring data quality and progress. Lancet. 2015 Oct; 386(10001):1395-1406. doi: 10.1016/S0140-6736(15)60171-4
Källander K, Kadobera D, Williams TN, Nielsen RT, Yevoo L, Mutebi A, et al. Social autopsy: INDEPTH Network experiences of utility, process, practices, and challenges in investigating causes and contributors to mortality. Population Health Metrics. 2011 Aug; 9:44. doi: 10.1186/1478-7954-9-44
Jokhio AH, Winter HR, Cheng KK. An intervention involving traditional birth attendants and perinatal and maternal mortality in Pakistan. The New England Journal of Medicine. 2005 May; 352(20):2091-9. doi: 10.1056/NEJMsa042830
Islam A and Tahir MZ. Health sector reform in South Asia: new challenges and constraints. Health Policy. 2002 May; 60(2):151-69. doi: 10.1016/s0168-8510(01)00211-1
Afzal U and Yusuf A. The state of health in Pakistan: An overview. Inthe State of Health in Pakistan: An Overview" with Anam Yusuf, paper presented at the Ninth Annual Conference on Management of the Pakistan Economy, Lahore School of Economics. Paper published in the Lahore Journal of Economics: Special Edition 2013 Sep.
St Pierre A, Zaharatos J, Goodman D, Callaghan WM. Challenges and Opportunities in Identifying, Reviewing, and Preventing Maternal Deaths. Obstetrics and Gynecology. 2018 Jan; 131(1):138-142. doi: 10.1097/AOG.0000000000002417
World Health Organization. Time to respond: a report on the global implementation of maternal death surveillance and response. 2016
World Health Organization. Strategies towards ending preventable maternal mortality (EPMM). 2015
Arif A, Sherani A, Uzma Q, Alam B, Thom E, Abro A, et al. Maternal and Perinatal Death Surveillance and Response in Balochistan, Pakistan-Causes & Contributory Factors of Maternal Deaths. Journal of Gynecology and Obstetrics. 2022; 10(1):1-5. doi: 10.11648/j.jgo.20221001.11
De Bernis L, Kinney MV, Stones W, ten Hoope-Bender P, Vivio D, Leisher SH, et al. Stillbirths: ending preventable deaths by 2030. The lancet. 2016 Feb; 387(10019):703-16. doi: 10.1016/S0140-6736(15)00954-X
Mahmud G, Zaman F, Jafarey S, Khan RL, Sohail R, Fatima S. Achieving Millennium Development Goals 4 and 5 in Pakistan. BJOG. 2011 Sep; 118 Suppl 2:69-77. doi: 10.1111/j.1471-0528.2011.03114.x
Hussein J, Newlands D, D'Ambruoso L, Thaver I, Talukder R, Besana G. Identifying practices and ideas to improve the implementation of maternal mortality reduction programmes: findings from five South Asian countries. BJOG. 2010 Feb; 117(3):304-13. doi: 10.1111/j.1471-0528.2009.02457.x
Chishtie J, Chishtie F, Jaglal S. Exploring knowledge translation practices in a global health program: case study on the establishment of the Pakistan National Maternal, Neonatal, and Child Health Program. Journal of Public Health. 2021 Feb; 29:215-28. doi: 10.1007/s10389-019-01115-y
https://phkh.nhsrc.pk/knowledge-article/national-guidelines-mpdsr-pakistan-who-2018pdf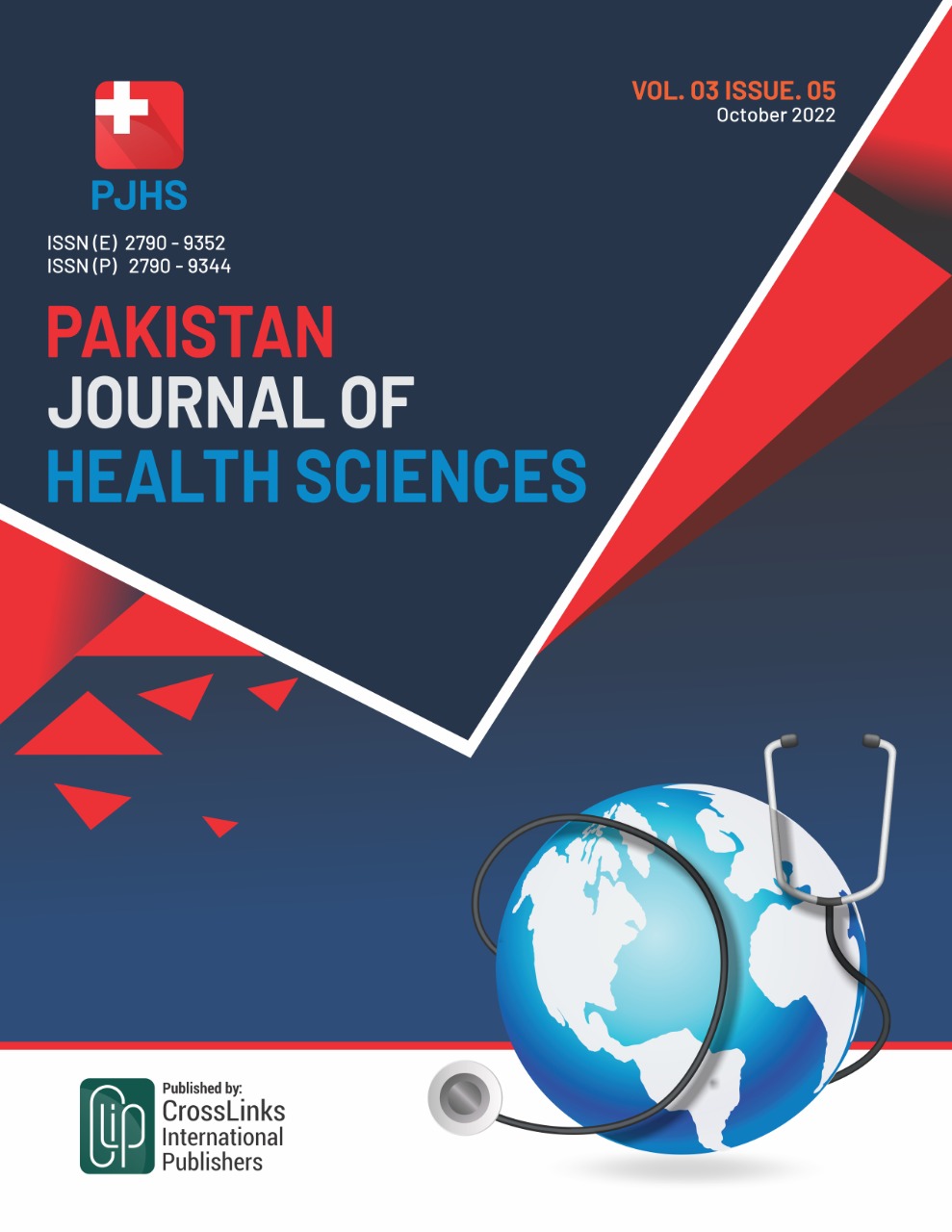 Downloads
How to Cite
Idrees, F. ., Ahmad, S. ., Waheed, E. ., Rubab, B. ., & Abbas, F. . (2022). Social Autopsy a Tool for Maternal and Perinatal Death Surveillance and Response (MPDSR) Reporting in Pakistan: Social Autopsy: A Tool for Maternal and Perinatal Death. Pakistan Journal of Health Sciences, 3(05), 08–12. https://doi.org/10.54393/pjhs.v3i05.146
License
Copyright (c) 2022 Pakistan Journal of Health Sciences
This work is licensed under a Creative Commons Attribution 4.0 International License.
This is an open-access journal and all the published articles / items are distributed under the terms of the Creative Commons Attribution License, which permits unrestricted use, distribution, and reproduction in any medium, provided the original author and source are credited. For comments