Nurses Knowledge regarding Permanent Pacemaker Care for Adult Patients with Cardiac Rhythm Disorder
Nurses Knowledge regarding Permanent Pacemaker Care
Keywords:
Knowledge, Nurses, Adult Patients, Pacemaker
Abstract
Now a day, number of implantations increases day by day. It's crucial to evaluate the understanding of patients and their caretakers to prevent any issues or malfunctions and offer quick treatment. Objective: To assess nurses' knowledge regarding permanent pacemaker care for adult patients with cardiac rhythm disorder. Methods: Descriptive Cross-sectional study conducted in Punjab institute of cardiology. A total of 185 the nurses working on the clinical side were selected based on inclusion and exclusion criteria. The questionnaire was used to collect data analyzed using SPSS with statistical test chi-square with p < 0.05 for categorical variable. Results: According to this study, most of the participants (77.3%) were women aged 21 to 30 years, unmarried (57.3%), and had completed their diploma (50.8%). The study found that 66.5% of nurses were with satisfactory level of knowledge in nursing care for adult patients with pacemakers, while 33.5% had an unsatisfactory level of knowledge. The knowledge of nurses who held a BSN or a POST RN qualification was significantly higher than those who only held a diploma with a p-value of 0.001. Conclusions: Majority of the participants possessed satisfactory knowledge regarding the care of patients with permanent pacemakers. The study also revealed a significant association between the level of education of nurses and their knowledge scores. The study concludes that consistency in the provision of education is necessary for the enhancement of nurses' knowledge, expertise, and competencies in providing care to patients with permanent pacemakers
References
Snegalatha D, Anand J, Seetharaman B, John B. Knowledge and attitude regarding permanent pacemaker and the quality of life of patients after permanent pacemaker implantation. Indian Journal of Continuing Nursing Education. 2019 Jan; 20(1): 33. doi: 10.4103/IJCN.IJCN_15_19.
Hassani P. Dual Perspective on Experiences of Iranian Patients with Pacemaker: A Mixed Method Study. Online Journal of Health and Allied Sciences. 2017 Oct; 16(4): 6.
van Weerd JH and Christoffels VM. The formation and function of the cardiac conduction system. Development. 2016 Jan; 143(2): 197-210. doi: 10.1242/dev.124883.
Feroze M, Afzal M, Sarwar H, Galani A, Afshan S. Assess Knowledge and Practice of Registered Nurses about Patient Safety after Cardiac Catheterization in Punjab Institute of Cardiology Hospital, Lahore. International Journal of Musculoskeletal Pain prevention. 2017 Apr; 2(2): 2-5.
Rakhshan M, Hassani P, Ashktorab T, Alavi Majd H. Lived experiences of cardiac pacemaker patients. Journal of Qualitative Research in Health Sciences. 2020 Jul; 2(1): 33-45.
Benjamin EJ, Muntner P, Alonso A, Bittencourt MS, Callaway CW, Carson AP, et al. heart disease and stroke statistics—2019 update: a report from the American Heart Association. Circulation. 2019 Mar; 139(10): e56-28. doi: 10.1161/CIR.0000000000000659.
Zubair F, Nawaz SK, Nawaz A, Nangyal H, Amjad N, Khan MS. Prevalence of cardiovascular diseases in Punjab, Pakistan: a cross-sectional study. Journal of Public Health. 2018 Oct; 26: 523-9. doi: 10.1007/s10389-018-0898-4.
Raatikainen MP, Arnar DO, Merkely B, Nielsen JC, Hindricks G, Heidbuchel H, et al. A decade of information on the use of cardiac implantable electronic devices and interventional electrophysiological procedures in the European Society of Cardiology Countries: 2017 report from the European Heart Rhythm Association. Ep Europace. 2017 Aug; 19(suppl_2): 1-90. doi: 10.1093/europace/eux258.
van Eif VW, Devalla HD, Boink GJ, Christoffels VM. Transcriptional regulation of the cardiac conduction system. Nature Reviews Cardiology. 2018 Oct; 15(10): 617-30. doi: 10.1038/s41569-018-0031-y.
Thabet EM, Helmy HA, Abdelaziz MA, Khalf GS. Assessment of Nurses' knowledge And Practices Regarding Temporary Pacemaker patients care. Assiut Scientific Nursing Journal. 2019 Dec; 7(19): 9-16. doi: 10.21608/asnj.2019.74169.
Hassan Ali Awad W, El Shahat Ahmed El Gammal W, Anwar Aly A, Hussein Mohamed Abd Elrhman S. Effect of the Nursing Protocol of Care on Health-Related Outcomes for Patients Undergoing Permanent Pacemaker Implant. Egyptian Journal of Health Care. 2022 Dec; 13(4): 815-33. doi: 10.21608/ejhc.2022.265124.
Pavliček D. Specificity of care for patients in the process of pacemaker implantation at the General Hospital "Dr. Tomislav Bardek "Koprivnica. Cardiologia Croatica. 2022 Dec; 17(9-10): 310. doi: 10.15836/ccar2022.310.
Joseph J, Gopichandran L, Seth S, Tirwa M. Effectiveness of a structured heart failure clinical pathway on nurses' knowledge and patient care outcomes. Journal of the Practice of Cardiovascular Sciences. 2020 Jan; 6(1): 53.
Ali NS, Youssef W, Mohamed A, Hussein A. Nurses' knowledge and practice regarding implantable cardiac devices in Egypt. British Journal of Cardiac Nursing. 2015 Jan; 10(1): 34-40. doi: 10.12968/bjca.2015.10.1.34.
Muizz Ismail MA, Ibrahim NM, Kamil Che Hasan M. What Do Our Nurses Know about Managing Patient with Permanent Pacemakers? Jurnal Ners. 2020 Oct; 15(2): 157-161. doi: 10.20473/jn.v15i2.18925.
Henedy WM, El-Sayad HE. Nurses' Knowledge and practice regarding patient's safety Post Cardiac Catheterization. IOSR Journal of Nursing and Health Science. 2019 May; 8(3): 43-52.
Ahmed AM, Taha NM, Zytoon HK, Mohammed MA. Nurses Role Regarding the Care of Patients with Permanent Pacemaker. Zagazig Nursing Journal. 2021 Jul; 17(2): 161-74.
Han SH and Kang JH. Study on Recipients' Experience of Adapting to Permanent Pacemakers. Journal of Korean Critical Care Nursing. 2018 Oct; 11(3): 23-34. doi:
Elgazzar SE. Efficacy of an Intervention Protocol on Nurse's Knowledge, Practices regarding Permanent Pacemaker Patient's Care. International Journal of Novel Research in Healthcare and Nursing. 2021 Dec; 8(3): 324-33.
Angelidou D. Counseling Patients with Implanted Cardiac Devices: The Nurses Role. Hospital Chronicles. 2009 Dec; 4(2): 56-62. doi: 10.2015/hc.v4i2.322.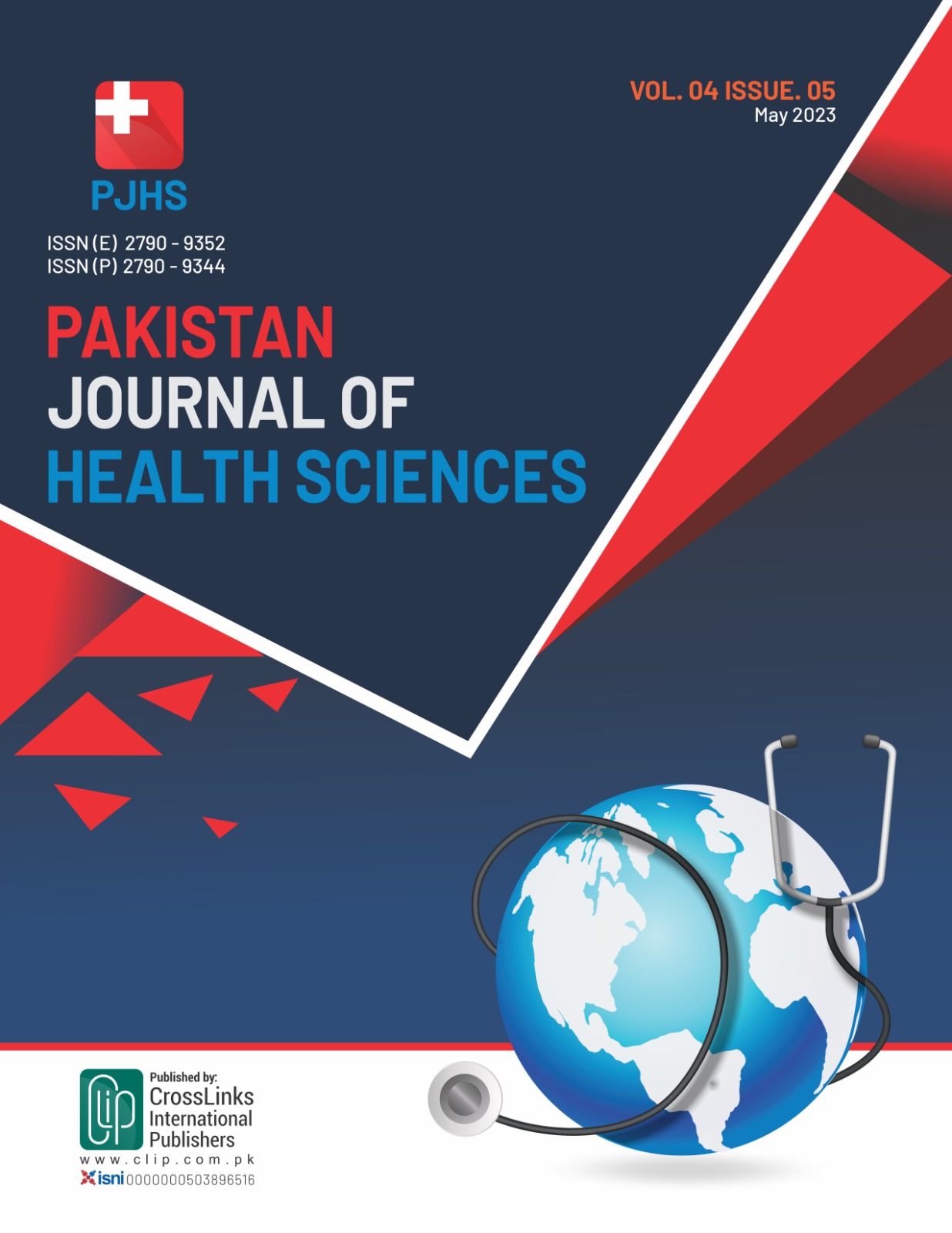 Downloads
CITATION
DOI: 10.54393/pjhs.v4i05.765
How to Cite
Aimen, U. E. ., Mansoor, S. ., Rafique, N. ., Ali, A. ., Nazir, I. ., Fatima, R. ., Waris, S. ., & Kosar, L. . (2023). Nurses Knowledge regarding Permanent Pacemaker Care for Adult Patients with Cardiac Rhythm Disorder : Nurses Knowledge regarding Permanent Pacemaker Care. Pakistan Journal of Health Sciences, 4(05), 105–109. https://doi.org/10.54393/pjhs.v4i05.765
License
Copyright (c) 2023 Pakistan Journal of Health Sciences
This work is licensed under a Creative Commons Attribution 4.0 International License.
This is an open-access journal and all the published articles / items are distributed under the terms of the Creative Commons Attribution License, which permits unrestricted use, distribution, and reproduction in any medium, provided the original author and source are credited. For comments