Association of Elevated Heart Risk Score with Myocardial Infarction in Patients with Chest Pain
Elevated Heart Risk Score in Myocardial Infarction
Keywords:
HEART Risk Score, Myocardial Infarction, Hypertension, Diabetes Mellitus
Abstract
The HEART score is a widely used diagnostic tool in patients with chest pain. This tool is a very effective method for the stratification of patients with chest pain in the emergency department.  It is composed of five components, i.e., history, ECG, age risk factors and troponins. Objective: To assess the importance of HEART score in our population. Methods: This study was conducted at emergency department of Ziauddin University Hospital, Karachi, Pakistan from 01 January 2021 to 30 June 2022. A cohort study of the HEART risk score in myocardial infarction (MI) patients presented with chest pain was conducted. 244 patients were selected by consecutive sampling and distributed into two groups i.e., non-exposed (HEART risk score 0-3) and exposed group (HEART risk score ≥ 4). The HEART risk score was calculated and patients were followed for the next 48 hours. Results: Patients of both groups were monitored for forty-eight hours and the results were myocardial infarction (MI) in 1 (0.8%) patient and 86 (70.5%) patients in group A (low risk) and group B (high risk) respectively.  One patient (0.8%) in each group A (low risk) and in group B (high risk) left against medical advice (LAMA). One hundred twenty (98.4%) patients in group A and thirty-five (28.7%) patients in group B (high risk) were discharged. No patient (0.0%) expired in group A (low risk) and in group B (high risk) respectively. Conclusions: It was concluded from the study that the HEART risk score is very much helpful as a diagnostic tool in patients with chest pain, presented in the emergency
References
Thygesen K, Alpert JS, White HD, Jaffe AS, Apple FS, Galvani M, et al. Universal definition of myocardial infarction. Circulation. 2019 Nov 27;116(22):2634-53.
Apple FS, Sandoval Y, Jaffe AS, Ordonez-Llanos J, IFCC Taskforce on clinical applications of cardiac biomarkers. Cardiac troponin assays: guide to understanding analytical characteristics and their impact on clinical care. Clinical Chemistry. 2017 Jan;63(1):73-81.
Goodman SG, Steg PG, Eagle KA, Fox KA, López-Sendón J, Montalescot G, et al. The diagnostic and prognostic impact of the redefinition of acute myocardial infarction: lessons from the global registry of acute coronary events (GRACE). American Heart Journal. 2019 Mar;151(3):654-60.
Thom T, Haase N, Rosamond W, Howard VJ, Rumsfeld J, Manolio T, et al. Heart disease and stroke statistics--2006 update: a report from the American heart association statistics committee and stroke statistics subcommittee. Circulation. 2019 Feb 14;113(6):e85-151.
World Health Organization. The Global Burden of Disease: 2004. Switzerland, Geneva: WHO; 2018.
White HD, Chew DP. Acute myocardial infarction. Lancet. 2018 Aug;372(9638):570-84.
O'Gara PT, Kushner FG, Ascheim DD, Casey DE, Chung MK, de Lemos JA, et al. 2013 ACCF/AHA guideline for the management of ST-elevation myocardial infarction: a report of the American college of cardiology foundation/American heart association task force on practice guidelines. Circulation. 2019Jan;127(4):e362-425.
Siddiqui TI, Kumar KSA, Dikshit DK. Platelets and atherothrombosis: causes, targets and treatments for thrombosis. Curr Med Chem. 2019;20(22):2779-97.
Gaziano TA, Bitton A, Anand S, Abrahams-Gessel S, Murphy A. Growing epidemic of coronary heart disease in low- and middle-income countries. Current Problems in Cardiology. 2021;35(2):72-115.
Kearney P, Whelton M, Reynolds K, Muntner P, Whelton P, He J. Global burden of hypertension: analysis of worldwide data. Lancet. 2018;365(9455):217-23.
Joshi P, Islam S, Pais P, Reddy S, Dorairaj P, Kazmi K, et al. Risk factors for early myocardial infarction in South Asians compared with individuals in other countries. Journal of American Medical Association. 2017;297(3):286-94.
Lee TH, Goldman L. Evaluation of the patient with acute chest pain. New England Journal of Medicine. 2018 Apr 20;342(16):1187-95.
Bassand JP, Hamm CW, Ardissino D, Boersma E, Budaj A, Fernández-Avilés F, et al. ESC guidelines for the diagnosis and treatment of non-ST-segment elevation acute coronary syndromes. European Heart Journal. 2017 Jul 1;28(13):1598-660.
Swap CJ, Nagurney JT. Value and limitations of chest pain history in the evaluation of patients with suspected acute coronary syndromes. Journal of American Medical Association. 2019 Nov 23;294(20):2623-9.
Boersma E, Pieper KS, Steyerberg EW, Wilcox RG, Chang WC, Lee KL, et al. Predictors of outcome in patients with acute coronary syndromes without persistent ST-segment elevation. Results from an international trial of 9461 patients. The PURSUIT Investigators. Circulation. 2020 Jun 6;101(22):2557- 67.
Antman EM, Cohen M, Bernink PJ, McCabe CH, Horacek T, Papuchis G, et al. The TIMI risk score for unstable angina/non-ST elevation MI: A method for prognostication and therapeutic decision making. Journal of American Medical Association. 2000 Aug 16;284(7):835-42.
Sanchis J, Bodí V, Núñez J, Bertomeu-González V, Gómez C, Bosch MJ, et al. New risk score for patients with acute chest pain, non-ST-segment deviation, and normal troponin concentrations: a comparison with the TIMI risk score. Journal of the American College of Cardiology. 2018; Aug 2;46(3):443-9.
Six AJ, Backus BE, Kelder JC. Chest pain in the emergency room: the value of the HEART score. Netherlands Heart Journal. 2020 Jun 1;16(6):191-6.
Mahler SA, Riley RF, Hiestand BC, Russell GB, Hoekstra JW, Lefebvre CW, et al. The HEART pathway randomized trial: identifying emergency department patients with acute chest pain for early discharge. Circulation. 2018 Mar;8(2):195-203.
Burman RA, Zakariassen E, Hunskaar S. Management of chest pain: a prospective study from Norwegian out-of-hours primary care. BMC Family Practice. 2019 Dec 1;15(1):51.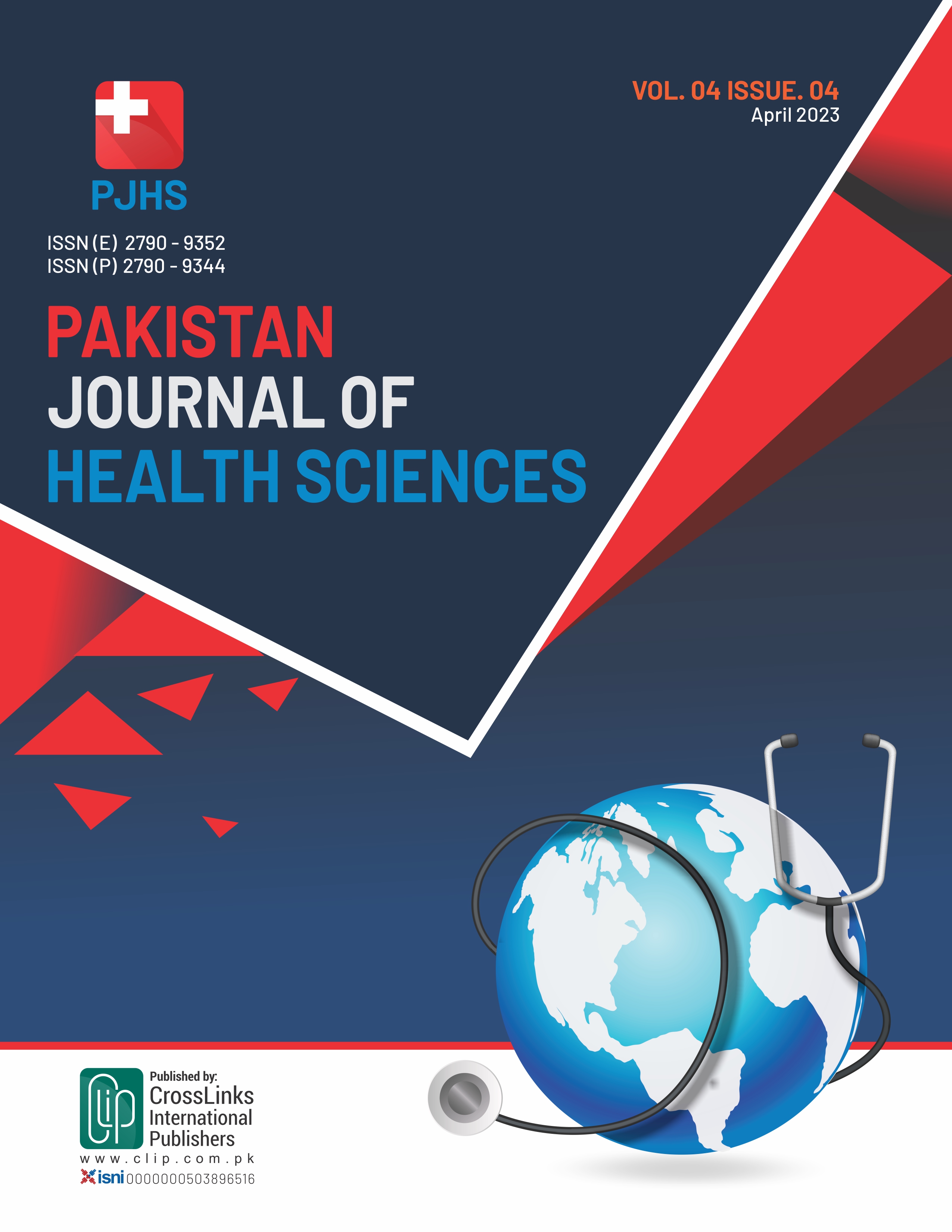 Downloads
How to Cite
Ghulam Rasool, A. ., & Ayaz , A. . (2023). Association of Elevated Heart Risk Score with Myocardial Infarction in Patients with Chest Pain: Elevated Heart Risk Score in Myocardial Infarction. Pakistan Journal of Health Sciences, 4(04), 151–155. https://doi.org/10.54393/pjhs.v4i04.759
License
Copyright (c) 2023 Pakistan Journal of Health Sciences
This work is licensed under a Creative Commons Attribution 4.0 International License.
This is an open-access journal and all the published articles / items are distributed under the terms of the Creative Commons Attribution License, which permits unrestricted use, distribution, and reproduction in any medium, provided the original author and source are credited. For comments