Comparing Medical Doctor's view on Alternative Medicine in Taiwan and Sweden
Comparing Medical Doctors' Views on Alternative Medicine
Keywords:
Alternative Medicine, Cross-Cultural Medical Practices, Evidence-Based, Health Management, Symbolic Interaction, Western Medicine
Abstract
Numerous research endeavors have delved into the perceptions of medical physicians regarding alternative medicine; nevertheless, none have employed the symbolic interaction paradigm to scrutinize their individual viewpoints. Objective: To broaden our knowledge of complementary medicine by analyzing the viewpoints and engagement with it among individuals hailing from Taiwan and Sweden. Methods: Semi-structured interviews were conducted with a diverse group of medical professionals from Taiwan and Sweden, representing a range of specialties and levels of experience. Results: Four themes were identified: (1) Evidence-based medicine, (2) The views of medical doctors on alternative medicine, (3) Belief associated with alternative medicine, and (4) Stigma associated with alternative medicine. Conclusions: The findings indicate a common understanding of Western medicine as evidence-based among both Taiwanese and Swedish doctors, with Taiwanese doctors also viewing alternative medicine as experience-based, reflecting the influence of local history, social context, and regulations.
References
Manning N. Sociology, biology and mechanisms in urban mental health. Social Theory & Health. 2019 Mar; 17(1): 1-22. doi: 10.1057/s41285-018-00085-7.
Burbank PM and Martins DC. Symbolic interactionism and critical perspective: divergent or synergistic? Nursing Philosophy. 2010 Jan; 11(1): 25-41. doi: 10.1111/j.1466-769X.2009.00421.x.
Kaminskas R and Darulis Ž. Peculiarities of medical sociology: application of social theories in analyzing health and medicine. Medicina. 2007 Feb; 43(2): 110. doi: 10.3390/medicina43020013.
Pérard M, Mittring N, Schweiger D, Kummer C, Witt CM. MERGING conventional and complementary medicine in a clinic department–a theoretical model and practical recommendations. BMC Complementary and Alternative Medicine. 2015 Dec; 15(1): 1-8. doi: 10.1186/s12906-015-0696-2.
Whorton JC. Nature cures: The history of alternative medicine in America. Oxford University Press; 2002.
Lindquist R, Tracy MF, Snyder M, editors. Complementary and alternative therapies in nursing. Springer Publishing Company; 2018. doi: 10.1891/9780826144348.
Wang HP and Wang CL. Risk undermined in the bilateral pharmaceutical regulatory system in Taiwan. Journal of Food and Drug Analysis. 2018 Apr; 26(2): S3-11. doi: 10.1016/j.jfda.2017.11.012.
Oxelmark L, Lindberg A, Löfberg R, Sternby B, Eriksson A, Almer S, et al. Use of complementary and alternative medicine in Swedish patients with inflammatory bowel disease: a controlled study. European Journal of Gastroenterology & Hepatology. 2016 Nov; 28(11): 1320. doi: 10.1097/MEG.0000000000000710.
Carter MJ and Fuller C. Symbols, meaning, and action: The past, present, and future of symbolic interactionism. Current Sociology. 2016 Oct; 64(6): 931-61. doi: 10.1177/0011392116638396.
Maycock B. Understanding the Public's Health Problems: Applications of Symbolic Interaction to Public Health. Asia Pacific Journal of Public Health. 2015 Jan; 27(1): 24-8. doi: 10.1177/1010539514561086.
Huber CM, Barth N, Linde K. How young german general practitioners view and use complementary and alternative medicine: a qualitative study. Complementary Medicine Research. 2020 Jun; 27(6): 383-91. doi: 10.1159/000507073.
Izgu N and Metin ZG. Complementary and alternative therapies from the Turkish Physician's perspective: An embedded mixed-method study. Complementary Therapies in Clinical Practice. 2020 May; 39: 101144. doi: 10.1016/j.ctcp.2020.101144.
Liem A. Beliefs, attitudes towards, and experiences of using complementary and alternative medicine: A qualitative study of clinical psychologists in Indonesia. European Journal of Integrative Medicine. 2019 Feb; 26: 1-10. doi: 10.1016/j.eujim.2019.01.003.
Münstedt K, Harren H, von Georgi R, Hackethal A. Complementary and alternative medicine: comparison of current knowledge, attitudes and interest among German medical students and doctors. Evidence-Based Complementary and Alternative Medicine. 2011 Jan; 2011: 790951. doi: 10.1093/ecam/nen079.
Baig MMF. Adding meaning to medicine. 2021. Available at: https://stud.epsilon.slu.se/17166/.
Baig MMF. Digital Healthcare Technologies in a Comparative Perspective: The Case of Taiwan and Sweden: Digital Healthcare Technologies in a Comparative Perspective. Pakistan Journal of Health Sciences. 2023 Jan; 4(1): 43-8. doi: 10.54393/pjhs.v4i01.472.
Tam KP and Milfont TL. Towards cross-cultural environmental psychology: A state-of-the-art review and recommendations. Journal of Environmental Psychology. 2020 Oct; 71: 101474. doi: 10.1016/j.jenvp.2020.101474.
Tranmer J, Squires S, Brazil K, Gerlach J, Johnson J, Muisiner D, et al. Factors that influence evidence-based decision-making. Canadian Health Action: Building on the Legacy. 1998; 5: 5-97.
French P. What is the evidence on evidence‐based nursing? An epistemological concern. Journal of Advanced Nursing. 2002 Feb; 37(3): 250-7. doi: 10.1046/j.1365-2648.2002.02065.x.
Saltman RB, Yeh MJ, Liu Y. Can Asia provide models for tax-based European health systems? A comparative study of Singapore and Sweden. Health Economics, Policy and Law. 2022 Apr; 17(2): 157-74. doi: 10.1017/S1744133120000390.
Goffman E. Stigma: Notes on the management of spoiled identity. Simon and Schuster; 2009.
Link BG, Wells J, Phelan JC, Yang L. Understanding the importance of "symbolic interaction stigma": How expectations about the reactions of others adds to the burden of mental illness stigma. Psychiatric Rehabilitation Journal. 2015 Jun; 38(2): 117. doi: 10.1037/prj0000142.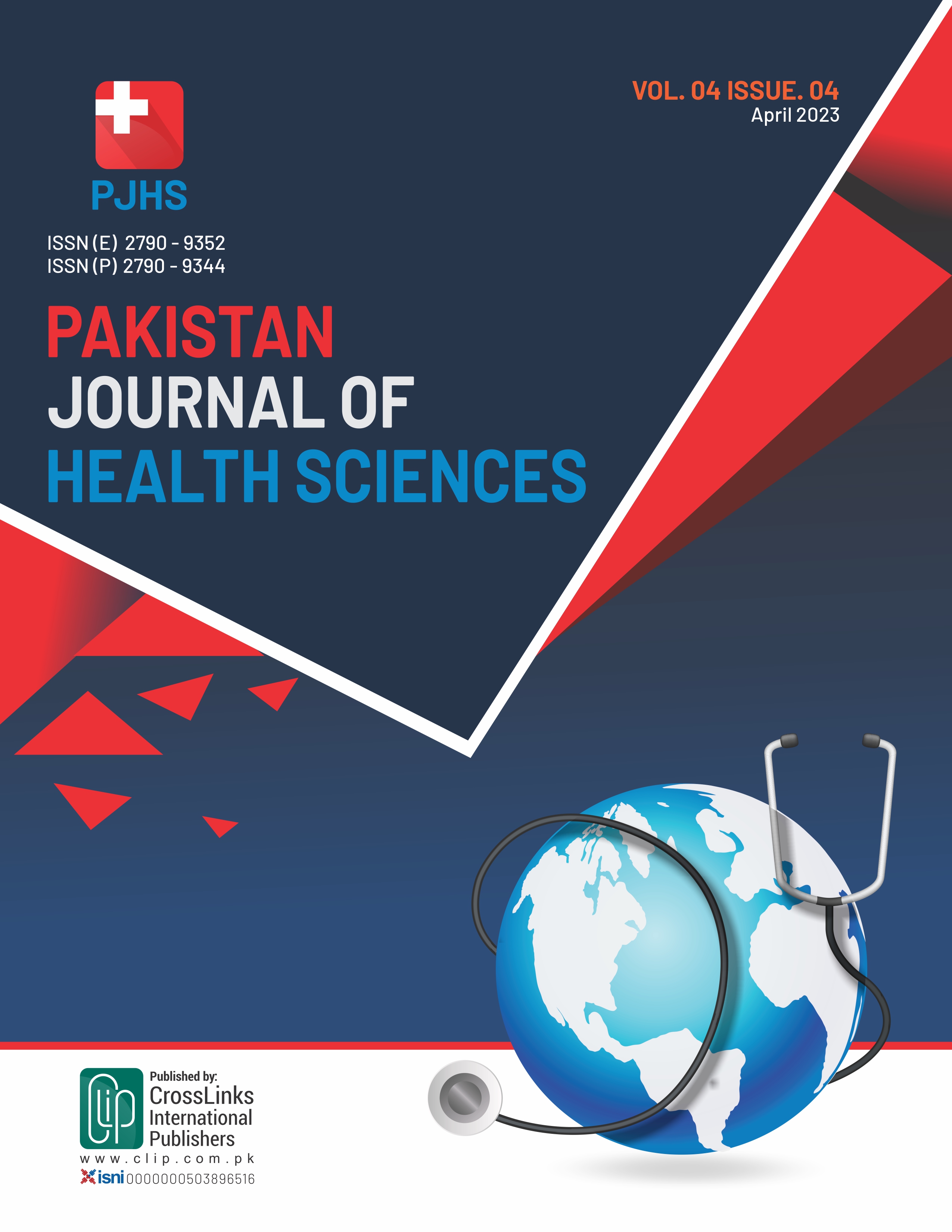 Downloads
How to Cite
Fahad Baig, M. M. . (2023). Comparing Medical Doctor's view on Alternative Medicine in Taiwan and Sweden: Comparing Medical Doctors' Views on Alternative Medicine. Pakistan Journal of Health Sciences, 4(04), 156–160. https://doi.org/10.54393/pjhs.v4i04.617
License
Copyright (c) 2023 Pakistan Journal of Health Sciences
This work is licensed under a Creative Commons Attribution 4.0 International License.
This is an open-access journal and all the published articles / items are distributed under the terms of the Creative Commons Attribution License, which permits unrestricted use, distribution, and reproduction in any medium, provided the original author and source are credited. For comments