Prevalence of Anxiety and Depression in Medically Ill Patients Admitted In OPD of AIMS Muzaffarabad AJ&K
Prevalence of Anxiety and Depression
Keywords:
Anxiety, Depression, HADS, Medical Conditions
Abstract
Neuropsychiatric disorders, particularly high levels of anxiety and depressive symptoms, are increasing in primary health care settings because of their impact on quality of life, service satisfaction, medication adherence, patient outcomes, and functioning increase. Objective: To assess the prevalence of anxiety and depression disorder in patients of medical OPD and investigates its prevalence with medical illnesses. To contribute in raising awareness about the significance of medical illnesses and its relation with anxiety and depression. Methods: Descriptive study design was used. The study analyzed 120 male and females. Hospital anxiety and depression Scale (HADS) was used to investigate the prevalence in medically unwell patients across all age and gender categories. The study took place in Muzaffarabad October 2020 to March 2021. Performa was circulated physical availability of participants. Convenient sampling technique was used for data collection. Patients with recognized psychiatric problems were not allowed to participate in trail. Analyze data with IBM SPSS (Statistical Package for the Social Sciences) version-21.0. Results: Overall 91% of patients showed depression and anxiety disorders of various severities. A significant inverse correlation is found between Anxiety and depression and medical illnesses of p-value of p 0.05 as per chi-square test. Conclusions: Finding suggests that medical illnesses may have positive influences on mental health disorder. The occurrence of co-morbidity between anxiety and depression and medical condition is common and remain undiagnosed, thus lowering depressive scores and enhancing mental health.
References
Ader R and Cohen N. Psychoneuroimmunology: interactions between the nervous system and the immune system. The Lancet. 1995; 345(8942): 99-103. doi:
Di Marco F, Verga M, Reggente M, Casanova FM, Santus P, Blasi F, et al. Anxiety and depression in COPD patients: the roles of gender and disease severity. Respiratory Medicine. 2006 Oct; 100(10): 1767-74. doi:10.1016/jrmed.2006.01.026.
Watkins LR and Maier SF. Implications of immune-to-brain communication for sickness and pain. Proceedings of the National Academy of Sciences. 1999 Jul; 96(14): 7710-3. doi: 10.1073/pnas.96.14.7710.
DeJean D, Giacomini M, Vanstone M, Brundisini F. Patient experiences of depression and anxiety with chronic disease: a systematic review and qualitative meta-synthesis. Ontario Health Technology Assessment Series. 2013 Sep; 13(16): 1.
Yirmiya R. Behavioral and psychological effects of immune activation: implications for'depression due to a general medical condition'. Current Opinion in Psychiatry. 1997 Nov; 10(6): 470-6. doi: 10.1097/00001504-199711000-00011.
Katon W and Sullivan MD. Depression and chronic medical illness. Journal of Clinical Psychiatry. 1990 Jun; 51(Suppl 6): 3-11.
Guze SB. Diagnostic and Statistical Manual of Mental Disorders. 4th ed. Washington, DC: American Psychiatric Association; 1994. doi: 10.1176/ajp.152.8.1228.
Hall S and Smith A. Investigation of the effects and aftereffects of naturally occurring upper respiratory tract illnesses on mood and performance. Physiology & Behavior. 1996 Mar; 59(3): 569-77. doi: 10.1016/0031-9384(95)02112-4.
Yinclinc KW, Wulsin LR, Arnold LM, Rouan GW. Estimated prevalences of panic disorder and depression among consecutive patients seen in an emergency department with acute chest pain. Journal of General Internal Medicine. 1993 May; 8: 231-5. doi: 10.1007/BF02600087.
Wulsin LR, Arnold LM, Hillard JR. Axis I disorders in ER patients with atypical chest pain. The International Journal of Psychiatry in Medicine. 1991 Mar; 21(1): 37-46. doi: 10.2190/HFQ4-J41N-6M1E-MBN3.
Krishnan KR, France RD, Pelton S, McCann UD, Davidson J, Urban BJ. Chronic pain and depression. II. Symptoms of anxiety in chronic low back pain patients and their relationship to subtypes of depression. Pain. 1985 Jul; 22(3): 289-94. doi: 10.1016/0304-3959(85)90029-6.
Magni G, Moreschi C, Rigatti-Luchini S, Merskey H. Prospective study on the relationship between depressive symptoms and chronic musculoskeletal pain. Pain. 1994 Mar; 56(3): 289-97. doi: 10.1016/0304-3959(94)90167-8.
Vetere G, Ripaldi L, Ais E, Korob G, Kes M, Villamil A. Prevalence of anxiety disorders in patients with essential hypertension. Vertex (Buenos Aires, Argentina). 2007 Jan; 18(71): 20-5.
Raval A, Dhanaraj E, Bhansali A, Grover S, Tiwari P. Prevalence & determinants of depression in type 2 diabetes patients in a tertiary care centre. Indian Journal of Medical Research. 2010 Aug; 132(2): 195-200.
Van der Kooy K, Van Hout H, Marwijk H, Marten H, Stehouwer C, Beekman A. Depression and the risk for cardiovascular diseases: systematic review and meta-analysis. International Journal of Geriatric Psychiatry: A Journal of The Psychiatry of Late Life and Allied Sciences. 2007 Jul; 22(7): 613-26. doi: 10.1002/gps.1723.
Herrmann C. International experiences with the Hospital Anxiety and Depression Scale-a review of validation data and clinical results. Journal of Psychosomatic Research. 1997 Jan; 42(1): 17-41. doi: 10.1016/S0022-3999(96)00216-4.
Misgan E and Belete H. High-level of anxiety and depressive symptoms among patients with general medical conditions and community residents: a comparative study. BMC Psychiatry. 2021 Dec; 21(1): 1-0. doi: 10.1186/s12888-021-03336-6.
Mossie TB, Berhe GH, Kahsay GH, Tareke M. Prevalence of depression and associated factors among diabetic patients at Mekelle City, North Ethiopia. Indian Journal of Psychological Medicine. 2017 Jan; 39(1): 52-8. doi: 10.4103/0253-7176.198947.
Deribew A, Tesfaye M, Hailmichael Y, Apers L, Abebe G, Duchateau L, et al. Common mental disorders in TB/HIV co-infected patients in Ethiopia. BMC Infectious Diseases. 2010 Dec; 10(1): 1-8. doi: 10.1186/1471-2334-10-201.
Roy-Byrne PP, Davidson KW, Kessler RC, Asmundson GJ, Goodwin RD, Kubzansky L, et al. anxiety disorders and comorbid medical illness. General Hospital Psychiatry. 2008 May; 30(3): 208-25. doi: 10.1016/j.genhosppsych.2007.12.006.
Castro M, Kraychete D, Daltro C, Lopes J, Menezes R, Oliveira I. Comorbid anxiety and depression disorders in patients with chronic pain. Arquivos de Neuro-psiquiatria. 2009 Dec; 67(4): 982-5. doi: 10.1590/s0004-282x2009000600004.
Waheed A, Hameed K, Khan AM, Syed JA, Mirza AI. The burden of anxiety and depression among patients with chronic rheumatologic disorders at a tertiary care hospital clinic in Karachi, Pakistan. Journal of Pakistan Medical Association. 2006 May; 56(5): 243.
McLean CP, Asnaani A, Litz BT, Hofmann SG. Gender differences in anxiety disorders: prevalence, course of illness, comorbidity and burden of illness. Journal of Psychiatric Research. 2011 Aug; 45(8): 1027-35. doi: 10.1016/j.jpsychires.2011.03.006.
Katon W, Lin EH, Kroenke K. The association of depression and anxiety with medical symptom burden in patients with chronic medical illness. General Hospital Psychiatry. 2007 Mar; 29(2): 147-55. doi: 10.1016/j.genhosppsych.2006.11.005.
Katon WJ. Epidemiology and treatment of depression in patients with chronic medical illness. Dialogues in Clinical Neuroscience. 2022 Apr; 13(1): 7-23. doi: 10.31887/DCNS.2011.13.1/wkaton.
Nikbakhsh N, Moudi S, Abbasian S, Khafri S. Prevalence of depression and anxiety among cancer patients. Caspian Journal of Internal Medicine. 2014 Apr; 5(3): 167.
Mossie TB, Berhe GH, Kahsay GH, Tareke M. Prevalence of depression and associated factors among diabetic patients at Mekelle City, North Ethiopia. Indian Journal of Psychological Medicine. 2017 Jan; 39(1): 52-8. doi: 10.4103/0253-7176.198947.
Bringager CB, Arnesen H, Friis S, Husebye T, Dammen T. A long-term follow-up study of chest pain patients: effect of panic disorder on mortality, morbidity, and quality of life. Cardiology. 2008 Apr; 110(1): 8-14. doi: 10.1159/000109400.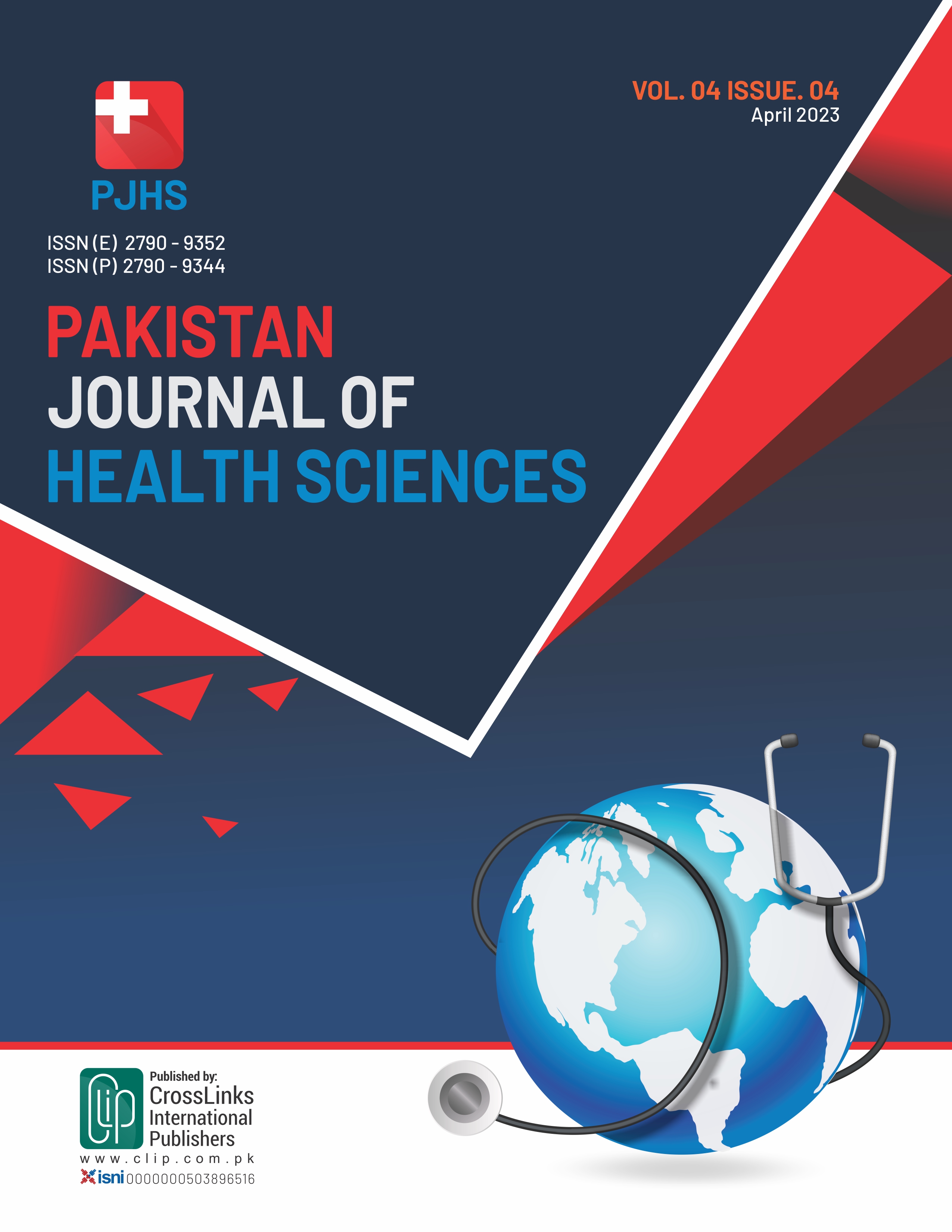 Downloads
How to Cite
Manzoor, S. . (2023). Prevalence of Anxiety and Depression in Medically Ill Patients Admitted In OPD of AIMS Muzaffarabad AJ&K: Prevalence of Anxiety and Depression . Pakistan Journal of Health Sciences, 4(04), 145–150. https://doi.org/10.54393/pjhs.v4i04.488
License
Copyright (c) 2023 Pakistan Journal of Health Sciences
This work is licensed under a Creative Commons Attribution 4.0 International License.
This is an open-access journal and all the published articles / items are distributed under the terms of the Creative Commons Attribution License, which permits unrestricted use, distribution, and reproduction in any medium, provided the original author and source are credited. For comments