Awareness About Nutrition Facts on Food Labels and Their Influence on Food Selection Among Consumers
Nutrition Facts on Food Labels
Keywords:
Nutrition Facts, Food Labels, Awareness, Eating Habits
Abstract
Nutrition facts on food labels contain complete information about nutrients (fats, proteins, cholesterol, salt, sugar and vitamins) and calorie content of packaged food items. Objective: To determine the awareness about nutrition facts on food labels and their influence on food selection among consumers. Methods:  This is a cross-sectional study and was done by using self-designed questionnaire, among 206 individuals of age group between 18 to 65 years, which were selected from different grocery stores and nearby area, after getting their consent. Results: Study findings revealed that around 53% of selected respondents sometimes read nutrition facts on food labels, only 13.1% consumers always read nutrition facts, 14.5% of them never read food labels and only 39% changed their purchasing decision after reading food labels. Results also showed that 48.1% of consumers found nutrition facts helpful and reliable and 60% respondents felt confident an made better choices after reading food labels. Conclusions: The percentage of consumers using food labels is low which means that unhealthy eating is prevailing, so this study can be used as a reference to develop policies regarding awareness about use of nutrition facts on food labels, promoting healthy eating habits in the country.
References
Huang Z, Li H, Huang J. Analysis of Chinese Consumers' Nutrition Facts Table Use Behavior Based on Knowledge-Attitude-Practice Model. International Journal of Environmental Research and Public Health. 2021 Jan; 18(22): 12247. doi: 10.3390/ijerph182212247.
Seyedhamzeh S, Nedjat S, Hosseini H, Shakibazedeh E, Viera AJ, Dorosty Motlagh A. Potential effect of different nutritional labels on food choices among mothers: a study protocol. BMC Public Health. 2020 Dec; 20(1): 1-7. doi: 10.1186/s12889-020-8411-8.
Bleich SN, Herring BJ, Flagg DD, Gary-Webb TL. Reduction in purchases of sugar-sweetened beverages among low-income black adolescents after exposure to caloric information. American Journal of Public Health. 2012 Feb; 102(2): 329-35. doi: 10.2105/AJPH.2011.300350.
Wolfson JA, Graham DJ, Bleich SN. Attention to physical activity–equivalent calorie information on nutrition facts labels: an eye-tracking investigation. Journal of nutrition education and behavior. 2017 Jan; 49(1): 35-42. doi: 10.1016/j.jneb.2016.10.001.
Sy DC and Bullecer ER. Prevalence and factors associated with nutrition label use among selected Filipino adults. Acta Medica Philippina. 2020 Oct; 54(5): 612-9. doi: 10.47895/amp.v54i5.2269.
Besler HT, Buyuktuncer Z, Uyar MF. Consumer understanding and use of food and nutrition labeling in Turkey. Journal of Nutrition Education and Behavior. 2012 Nov; 44(6): 584-91. doi: 10.1016/j.jneb.2012.01.005.
Wahab RA. Food label use and awareness of nutritional information among consumers in Bahrain: an exploratory study. KnE Life Sciences. 2018 Oct; 4(6): 26-36. doi: 10.18502/kls.v4i6.3088.
Madilo FK, Owusu-Kwarteng J, Kunadu AP, Tano-Debrah K. Self-reported use and understanding of food label information among tertiary education students in Ghana. Food control. 2020 Feb; 108: 106841. doi: 10.1016/j.foodcont.2019.106841.
Buttriss JL. The role of nutritional labelling and signposting from a European perspective. Proceedings of the Nutrition Society. 2018 Aug; 77(3): 321-30. doi: 10.1017/S0029665117004098.
Van der Merwe D, Bosman M, Ellis S. Consumers' opinions and use of food labels: Results from an urban− rural hybrid area in South Africa. Food Research International. 2014 Sep; 63: 100-7. doi: 10.1016/j.foodres.2014.03.032.
Abdul Latiff ZA, Rezai G, Mohamed Z, Amizi Ayob M. Food labels' impact assessment on consumer purchasing behavior in Malaysia. Journal of Food Products Marketing. 2016 Feb; 22(2): 137-46. doi: 10.1080/10454446.2013.856053.
Mohan Kathuria L and Singh V. Product attributes as purchase determinants of imported fruits in Indian consumers. Journal of Food Products Marketing. 2016 Ma; 22(4): 501-20. doi: 10.1080/10454446.2014.885865.
Jackey BA, Cotugna N, Orsega-Smith E. Food label knowledge, usage and attitudes of older adults. Journal of nutrition in gerontology and geriatrics. 2017 Jan; 36(1): 31-47. doi: 10.1080/21551197.2017.1280868.
Zhang J, Zhai L, Osewe M, Liu A. Analysis of factors influencing food nutritional labels use in Nanjing, China. Foods. 2020 Dec; 9(12): 1796. doi: 10.3390/foods9121796.
Huang Z, Huang B, Huang J. The Relationship between Nutrition Knowledge and Nutrition Facts Table Use in China: A Structural Equation Model. International Journal of Environmental Research and Public Health. 2021 Jun; 18(12): 6307. doi: 10.3390/ijerph18126307.
Ni Mhurchu C, Volkova E, Jiang Y, Eyles H, Michie J, Neal B, et al. Effects of interpretive nutrition labels on consumer food purchases: the Starlight randomized controlled trial. The American Journal of Clinical Nutrition. 2017 Mar; 105(3): 695-704. doi: 10.3945/ajcn.116.144956.
Bryła P. Who reads food labels? Selected predictors of consumer interest in front-of-package and back-of-package labels during and after the purchase. Nutrients. 2020 Aug; 12(9): 2605. doi: 10.3390/nu12092605.
Talagala IA and Arambepola C. Use of food labels by adolescents to make healthier choices on snacks: a cross-sectional study from Sri Lanka. BMC Public Health. 2016 Dec; 16: 1-1. doi: 10.1186/s12889-016-3422-1.
Mhurchu CN, Eyles H, Jiang Y, Blakely T. Do nutrition labels influence healthier food choices? Analysis of label viewing behaviour and subsequent food purchases in a labelling intervention trial. Appetite. 2018 Feb; 121: 360-5. doi: 10.1016/j.appet.2017.11.105.
Kumar N and Kapoor S. Do labels influence purchase decisions of food products? Study of young consumers of an emerging market. British Food Journal. 2017 Feb; 119(2): 218-29. doi: 10.1108/BFJ-06-2016-0249.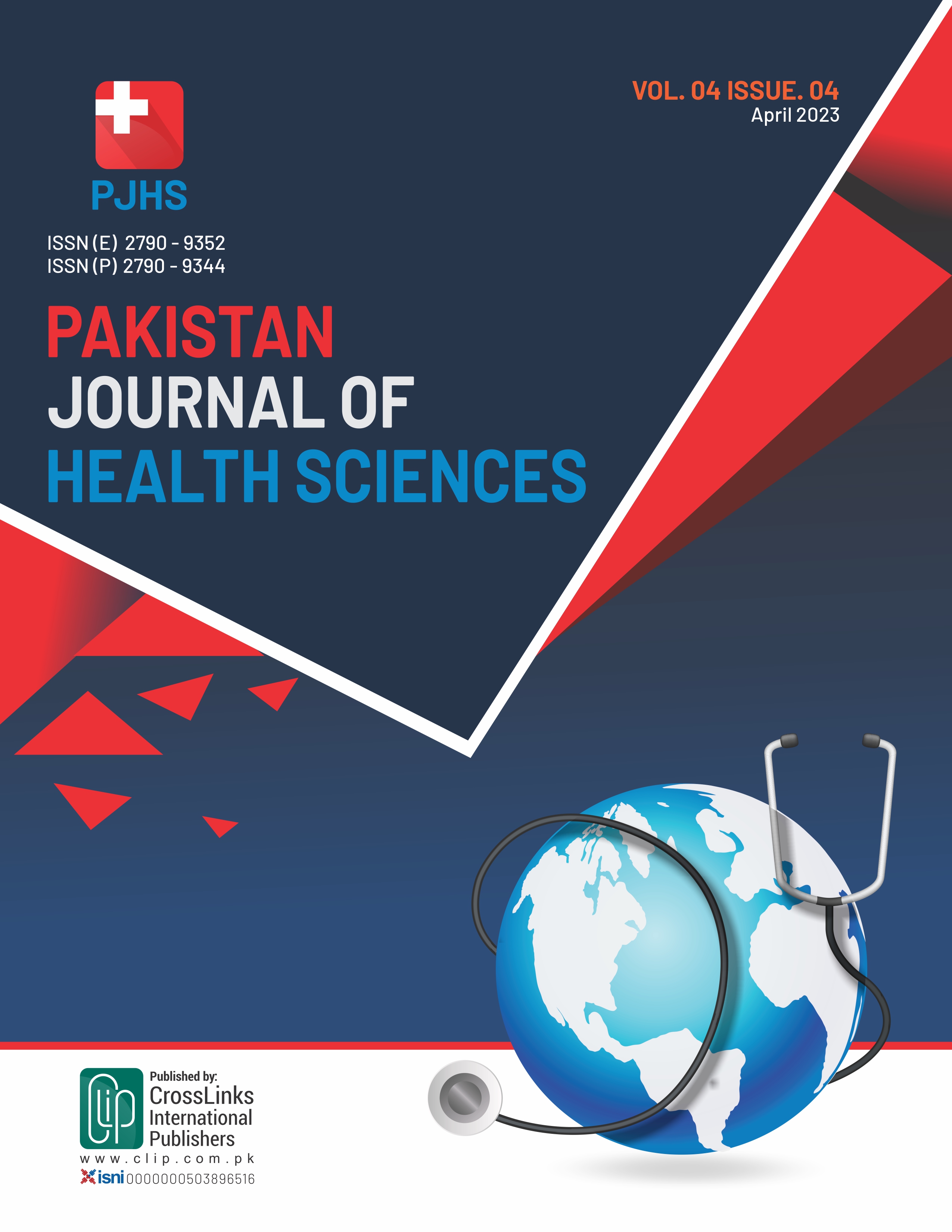 Downloads
How to Cite
Rai, F. H. ., Jalal, K. ., Hussain, Z. ., Fatima Rai, A. ., Maqsud , M. ., & Khan, M. . (2023). Awareness About Nutrition Facts on Food Labels and Their Influence on Food Selection Among Consumers: Nutrition Facts on Food Labels. Pakistan Journal of Health Sciences, 4(04), 185–189. https://doi.org/10.54393/pjhs.v4i04.442
License
Copyright (c) 2023 Pakistan Journal of Health Sciences
This work is licensed under a Creative Commons Attribution 4.0 International License.
This is an open-access journal and all the published articles / items are distributed under the terms of the Creative Commons Attribution License, which permits unrestricted use, distribution, and reproduction in any medium, provided the original author and source are credited. For comments