Predictors of Outcome in The Treatment of In-Stent Restenosis with Drug-Eluting Balloons
Outcomes in the treatment of In-Stent Restenosis with Drug-Eluting Balloons
Keywords:
In-stent restenosis, Drug-eluting balloons, Target Lesion Revascularization (TLR)
Abstract
The prognosis of coronary revascularization in patients has been significantly altered by the Interventional cardiology. With the advancement of the novel drugs and stent technology the new complications i.e., in-stent restenosis, have emerged. Objective: To analyze the predictors of outcome in the treatment of in-stent restenosis with drug-eluting balloons. Methods: It was a retrospective study conducted at Pir Abdul Qadir Shah Jeelani Institute of Medical Sciences Gambat for the duration of one year from August 2021 to July 2022. The patients older than 18 years were eligible for the trial. The patients who have undergone coronary intervention with a drug-eluting balloon during the duration of the study were also eligible. This study received approval from the institution's research ethics board. The patient demographic features, procedure complications and operative results were recorded. Results: The mean age of patients was 65 years. There were 62 male participants. There were 54 patients that had history of diabetes mellitus, 87 had hypertension, 32 reported about smoking habits. There were 91 patients that reported about history of percutaneous coronary intervention (PCI), 72 about myocardial infraction (MI) and 30 reported about coronary artery bypass graft (CABG). Kidney related inflammation or infection was found in case of 19 patients.  Conclusions: This single center study showed significantly low rate of target lesion revascularization (TLR) for a period of one year and moderate rate was found at five years.
References
Murnaghan K, Bishop H, Sandila N, Kidwai B, Quraishi AU, Kells C, et al. Incidence and Predictors of Outcome in the Treatment of In-Stent Restenosis with Drug-Eluting Balloons, a Real-Life Single-Centre Study. Journal of Interventional Cardiology. 2022 Aug; 2022: 1395980. doi: 10.1155/2022/1395980
Lu H, Bekker RJ, Grundeken MJ, Woudstra P, Wykrzykowska JJ, Tijssen JG, et al. Five-year clinical follow-up of the STENTYS self-apposing stent in complex coronary anatomy: a single-centre experience with report of specific angiographic indications. Netherlands Heart Journal. 2018 May; 26(5):263-71. doi: 10.1007/s12471-018-1111-7
Dangas GD, Claessen BE, Caixeta A, Sanidas EA, Mintz GS, Mehran R. In-stent restenosis in the drug-eluting stent era. Journal of the American College of Cardiology. 2010 Nov; 56(23):1897-907. doi: 10.1016/j.jacc.2010.07.028
Klaus H, Agneta W, Daniel H, Claudia Z, Christian P, Werner R. Single-centre all-comers registry reveals promising long-term clinical results of the Endeavor TM-Stent. World Journal of Cardiovascular Diseases. 2012 Apr; 2(2): 18744. doi: 10.4236/wjcd.2012.22013
Mangieri E, Tanzilli G, Greco C, Pelliccia F, Puddu PE, Acconcia MC, et al. Clinical results of two-year dual antiplatelet therapy after primary percutaneous coronary intervention with paclitaxel-eluting stents: a single centre study. Eurointervention: Journal of Europcr in Collaboration with the Working Group on Interventional Cardiology of the European Society of Cardiology. 2007 Aug; 3(2):222-227. doi: 10.4244/eijv3i2a38
Voon V, Gumani D, Craig C, Cahill C, Mustafa K, Hennessy T, et al. Incidence of symptom-driven Coronary Angiographic procedures post-drug-eluting Balloon treatment of Coronary Artery drug-eluting stent in-stent Restenosis-does it matter? Journal of Cardiology and Cardiovascular Medicine. 2017 Jun; 2:35-41. doi: 10.29328/journal.jccm.1001011
Tornyos A, Aradi D, Horváth IG, Kónyi A, Magyari B, Pintér T, et al. Clinical outcomes in patients treated for coronary in-stent restenosis with drug-eluting balloons: Impact of high platelet reactivity. Plos one. 2017 Dec; 12(12):e0188493. doi: 10.1371/journal.pone.0188493
Bergman R, Hiemstra B, Nieuwland W, Lipsic E, Absalom A, van der Naalt J, et al. Long-term outcome of patients after out-of-hospital cardiac arrest in relation to treatment: a single-centre study. European Heart Journal: Acute Cardiovascular Care. 2016 Aug; 5(4):328-38. doi: 10.1177/2048872615590144
Seabra-Gomes R. Percutaneous coronary interventions with drug eluting stents for diabetic patients. Heart. 2006 Mar; 92(3):410-9. doi: 10.1136/hrt.2005.062992
Martin DM and Boyle FJ. Drug-eluting stents for coronary artery disease: a review. Medical engineering and physics. 2011 Mar; 33(2):148-63. doi: 10.1016/j.medengphy.2010.10.009
Ge L, Airoldi F, Iakovou I, Cosgrave J, Michev I, Sangiorgi GM, et al. Clinical and angiographic outcome after implantation of drug-eluting stents in bifurcation lesions with the crush stent technique: importance of final kissing balloon post-dilation. Journal of the American College of Cardiology. 2005 Aug; 46(4):613-20. doi: 10.1016/j.jacc.2005.05.032
Indolfi C, De Rosa S, Colombo A. Bioresorbable vascular scaffolds—basic concepts and clinical outcome. Nature Reviews Cardiology. 2016 Dec; 13(12):719-29. doi: 10.1038/nrcardio.2016.151
Colombo F, Biondi-Zoccai G, Infantino V, Omedé P, Moretti C, Sciuto F, et al. A long-term comparison of drug-eluting versus bare metal stents for the percutaneous treatment of coronary bifurcation lesions. Acta cardiologica. 2009 Oct; 64(5):583-8. doi: 10.2143/AC.64.5.2042686
Mehmedbegovic Z, Janicijevic A, Dedovic V, Zivkovic M, Milasinovic D, Dobric M, et al. Primary percutaneous coronary intervention for acute coronary syndrome due to stent thrombosis. European Heart Journal. 2013 Aug; 34(suppl_1):1264. doi: 10.1093/eurheartj/eht308.P1264
Urban P, Gershlick AH, Guagliumi G, Guyon P, Lotan C, Schofer J, et al. Safety of coronary sirolimus-eluting stents in daily clinical practice: one-year follow-up of the e-Cypher registry. Circulation. 2006 Mar; 113(11):1434-41. doi: 10.1161/CIRCULATIONAHA.104.532242
Mitsutake Y, Ueno T, Ikeno F, Yokoyama S, Sasaki KI, Ohtsuka M, et al. Second-generation everolimus-eluting stents demonstrate better vascular function, less thrombus formation, and less yellow intima than first-generation drug-eluting stents. Asia Intervention. 2015; 1:33-40.
Puricel S, Cuculi F, Weissner M, Schmermund A, Jamshidi P, Nyffenegger T, et al. Bioresorbable coronary scaffold thrombosis: multicenter comprehensive analysis of clinical presentation, mechanisms, and predictors. Journal of the American College of Cardiology. 2016 Mar; 67(8):921-31. doi: 10.1016/j.jacc.2015.12.019
Baschet L, Bourguignon S, Marque S, Durand-Zaleski I, Teiger E, Wilquin F, et al. Cost-effectiveness of drug-eluting stents versus bare-metal stents in patients undergoing percutaneous coronary intervention. Open Heart. 2016 Aug; 3(2):e000445. doi: 10.1136/openhrt-2016-000445
Inoue T, Shite J, Yoon J, Shinke T, Otake H, Sawada T, et al. Optical coherence evaluation of everolimus-eluting stents 8 months after implantation. Heart. 2011 Sep; 97(17):1379-84. doi: 10.1136/hrt.2010.204339
Garg S and Serruys PW. Coronary stents: current status. Journal of the American College of Cardiology. 2010 Aug; 56(10S):S1-42. doi: 10.1016/j.jacc.2010.06.007
Jensen LO, Maeng M, Kaltoft A, Thayssen P, Hansen HH, Bottcher M, et al. Stent thrombosis, myocardial infarction, and death after drug-eluting and bare-metal stent coronary interventions. Journal of the American college of cardiology. 2007 Jul; 50(5):463-70. doi: 10.1016/j.jacc.2007.06.002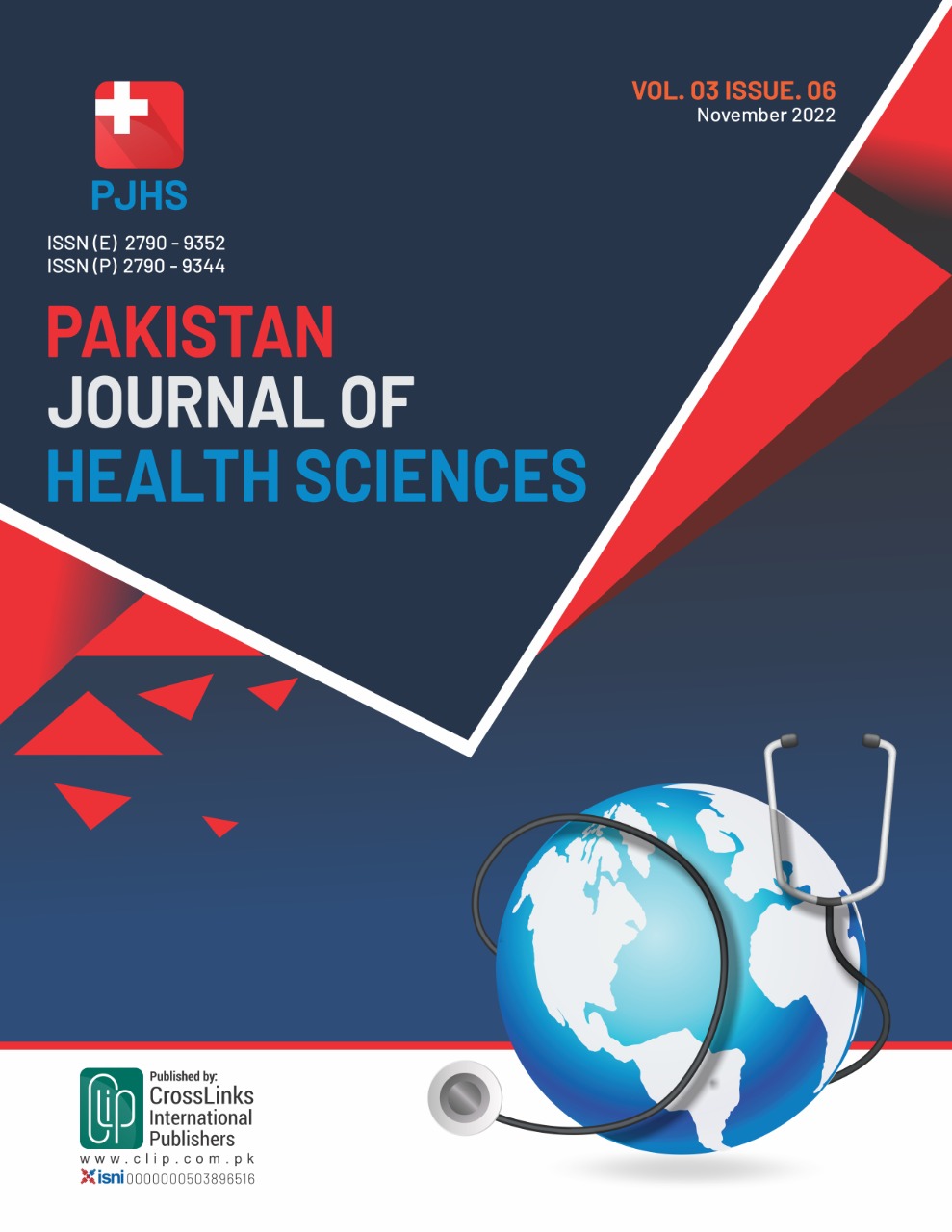 Downloads
CITATION
DOI: 10.54393/pjhs.v3i06.325
How to Cite
Faraz, N. ., Qadir Bhutto, A., Ellahi Soomroo, I. ., Khan, J. ., Nawaz, M. ., & Humza, M. . (2022). Predictors of Outcome in The Treatment of In-Stent Restenosis with Drug-Eluting Balloons: Outcomes in the treatment of In-Stent Restenosis with Drug-Eluting Balloons. Pakistan Journal of Health Sciences, 3(06), 119–123. https://doi.org/10.54393/pjhs.v3i06.325
License
Copyright (c) 2022 Pakistan Journal of Health Sciences
This work is licensed under a Creative Commons Attribution 4.0 International License.
This is an open-access journal and all the published articles / items are distributed under the terms of the Creative Commons Attribution License, which permits unrestricted use, distribution, and reproduction in any medium, provided the original author and source are credited. For comments