Prevalence of Low Back Pain and Its Intensity Among Teachers of Universities in Lahore
Prevalence of Low Back Pain and Its Intensity Among Teachers
Keywords:
Low Back Pain, Intensity, Universities
Abstract
Back pain (BP) is one of the most debilitating conditions inflicting grief, discomfort, and disability to its bearer. Teachers are more at risk of having low back. As teaching requires such activities like long standing and sitting as occupational demand so making this profession more prone to develop low back pain. Objectives: To check the prevalence and intensity of low back pain in the teachers of universities in Lahore.Methods: This study was based on cross-sectional research. Total 261 participants were included in the study with systematic random sampling technique, and collection of the data is done by using an authentic scale "Owestery Disability Scale". SPSS version 21.0 was used and frequency charts and bar charts are used. Results: Low back pain prevalence in university teachers is 56% and 44% participants were having no pain. Most of the teachers having pain were in age range of 31 to 40 years, 52.5% were females and 47.5% were male. Most of the participants who were having low back pain experienced mild pain which constitute about 86% of total respondents with low back pain. Moderate pain was experienced by 24% participants. Only 6% teachers from the sample size felt severe pain. Conclusion: There was a significant prevalence of low back pain in teachers of universities in Lahore. The intensity of pain varied from mild to severe and most of the teachers experienced mild low back pain.
References
Balagué F, Mannion AF, Pellisé F, Cedraschi C. Non-specific low back pain. The lancet. 2012 Feb; 379(9814):482-91. doi: 10.1016/S0140-6736(11)60610-7
Eyiah AK, Kheni NA, Quartey PD. An assessment of occupational health and safety regulations in Ghana: a study of the construction industry. Journal of Building Construction and Planning Research. 2019 May; 7(2):11-31. doi: 10.4236/jbcpr.2019.72002
Urits I, Burshtein A, Sharma M, Testa L, Gold PA, Orhurhu V, et al., Low back pain, a comprehensive review: pathophysiology, diagnosis, and treatment. Current pain and headache reports. 2019 Mar; 23(3):1-0. doi: 10.1007/s11916-019-0757-1
Wood L, Bishop A, Lewis M, Smeets RJ, Bronfort G, Hayden JA, et al., Treatment targets of exercise for persistent non-specific low back pain: a consensus study. Physiotherapy. 2021 Sep; 112:78-86.
Tu Y, Jung M, Gollub RL, Napadow V, Gerber J, Ortiz A, et al., Abnormal medial prefrontal cortex functional connectivity and its association with clinical symptoms in chronic low back pain. Pain. 2019; 160(6):1308. doi: 10.1016/j.physio.2021.03.005
Moreira RF, Moriguchi CS, Carnaz L, Foltran FA, Silva LC, Coury HJ. Effects of a workplace exercise program on physical capacity and lower back symptoms in hospital nursing assistants: a randomized controlled trial. International Archives of Occupational and Environmental Health. 2021 Feb; 94(2):275-84. doi: 10.1007/s00420-020-01572-z
Blackburn AN. Living with pain or living in pain: narrative journeys with low back pain. University of Northumbria at Newcastle (United Kingdom); 2011.
Abu-Naser SS and Aldahdooh R. Lower back pain expert system diagnosis and treatment. 2016.
O'Sullivan K, O'Keeffe M, O'Sullivan P. NICE low back pain guidelines: opportunities and obstacles to change practice. British journal of sports medicine. 2017 Nov; 51(22): 1632-3. doi: 10.1136/bjsports-2017-097810
Linton SJ, Nicholas M, Shaw W. Why wait to address high-risk cases of acute low back pain? A comparison of stepped, stratified, and matched care. Pain. 2018 Dec; 159(12):2437-41. doi: 10.1097/j.pain.0000000000001308
Ghahremani E, Parandeh A, Vafadar Z, Ebadi A. Survey of the occupational hazards and related factors in health care workers in military hospitals during 2016-2017. Journal of Military Medicine. 2018 Apr; 20(1):56-64.
Pransky G, Buchbinder R, Hayden J. Contemporary low back pain research–and implications for practice. Best practice & research Clinical rheumatology. 2010 Apr; 24(2):291-8. doi: 10.1016/j.berh.2010.01.001
Van Dillen LR, Lanier VM, Steger-May K, Wallendorf M, Norton BJ, Civello JM, Czuppon SL, Francois SJ, Roles K, Lang CE. Effect of motor skill training in functional activities vs strength and flexibility exercise on function in people with chronic low back pain: a randomized clinical trial. JAMA neurology. 2021 Apr; 78(4):385-95. doi: 10.1001/jamaneurol.2020.4821
Kebede A, Abebe SM, Woldie H, Yenit MK. Low back pain and associated factors among primary school teachers in Mekele City, North Ethiopia: a cross-sectional study. Occupational therapy international. 2019 Jul; 2019:1-8. doi:/10.1155/2019/3862946
Behera S and Koley S. Low Back Pain And Its Associated Factors Among Secondary School Teachers In Cuttack, Odisha: A Cross-Sectional Study. IJMSDR. 2021; 5(6):90-7. doi: https://doi.org/10.32553/ijmsdr.v5i6.816
Vaghela NP and Parekh SK. Prevalence of the musculoskeletal disorder among school teachers. National Journal of Physiology, Pharmacy and Pharmacology. 2018 Aug; 8(2):197-201. doi: 10.5455/njppp.2018.8.0830218082017
Mwangi A, Downing R, Elias HE. Low back pain among primary school teachers in Rural Kenya: Prevalence and contributing factors. African Journal of Primary Health care and family medicine. 2019 Jan; 11(1):1-7. doi: 10.4102/phcfm.v11i1.1819
Abdel-Salam DM, Almuhaisen AS, Alsubiti RA, Aldhuwayhi NF, Almotairi FS, Alzayed SM, et al., Musculoskeletal pain and its correlates among secondary school female teachers in Aljouf region, Saudi Arabia. Journal of Public Health. 2021 Apr; 29(2):303-10. doi: 10.1007/s10389-019-01127-8
Diallo SY, Mweu MM, Mbuya SO, Mwanthi MA. Prevalence and risk factors for low back pain among university teaching staff in Nairobi, Kenya: a cross-sectional study. F1000Research. 2019; 8:808. doi: 10.12688%2Ff1000research.19384.1
Ng YM, Voo P, Maakip I. Psychosocial factors, depression, and musculoskeletal disorders among teachers. BMC public health. 2019 Dec; 19(1):1-0. doi: 10.1186/s12889-019-6553-3
Prieto-González P, Šutvajová M, Lesňáková A, Bartík P, Buľáková K, Friediger T. Back pain prevalence, intensity, and associated risk factors among female teachers in Slovakia during the COVID-19 pandemic: a cross-sectional study. InHealthcare 2021 Jul 7 (Vol. 9, No. 7, p. 860). MDPI. doi: 10.3390/healthcare9070860
Aldera MA, Alexander CM, McGregor AH. Prevalence and incidence of low back pain in the Kingdom of Saudi Arabia: a systematic review. Journal of Epidemiology and Global Health. 2020 Dec; 10(4):269. doi: 10.2991/jegh.k.200417.001
Anuar NF, Rasdi I, Saliluddin SM, Abidin EZ. Work task and job satisfaction predicting low back pain among secondary school teachers in Putrajaya. Iranian Journal of Public Health. 2016 Mar; 45(Supple 1):85-92.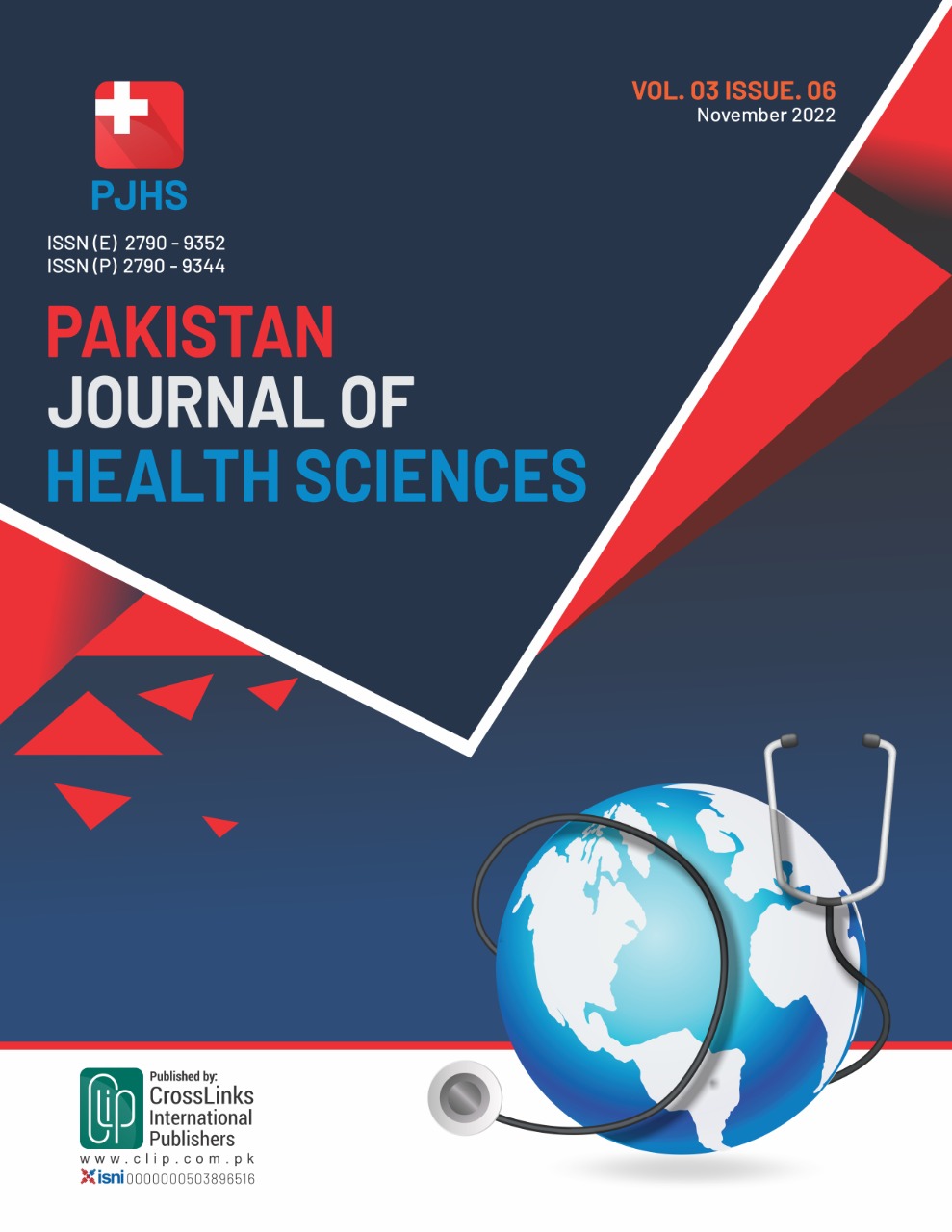 Downloads
CITATION
DOI: 10.54393/pjhs.v3i06.309
How to Cite
Mushtaq, M. ., Qamar, S. ., Rafiq, S. ., Zia, S. Z., Mohiuddin, M. ., Ghafoor, A. ., Saeed, M., & Iqbal , S. . (2022). Prevalence of Low Back Pain and Its Intensity Among Teachers of Universities in Lahore: Prevalence of Low Back Pain and Its Intensity Among Teachers. Pakistan Journal of Health Sciences, 3(06), 180–184. https://doi.org/10.54393/pjhs.v3i06.309
License
Copyright (c) 2022 Pakistan Journal of Health Sciences
This work is licensed under a Creative Commons Attribution 4.0 International License.
This is an open-access journal and all the published articles / items are distributed under the terms of the Creative Commons Attribution License, which permits unrestricted use, distribution, and reproduction in any medium, provided the original author and source are credited. For comments